According to a study published in the European Journal of Nutrition in 2018, American ginseng may help regulate blood sugar. There is a cumulative effect over 12 weeks, but more studies are needed to confirm this. Another study from the University of Toronto in 2000 randomly administered 3 grams of American ginseng 40 minutes before consuming 25 grams of glucose to 10 healthy people and 9 people with type 2 diabetes. The results of this study showed that non-diabetic subjects did not experience any effect on their blood sugar levels after eating, while diabetic subjects who consumed ginseng before or together with glucose experienced a decrease in blood sugar levels.
However, taking American ginseng may lower blood sugar, so diabetics who take blood sugar-lowering drugs should be aware of their blood sugar levels.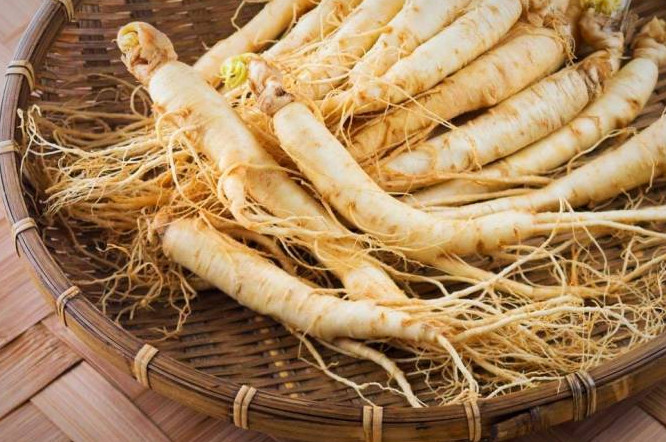 Respiratory infection properties of American ginseng
North American ginseng extract, which contains polysaccharides and oligosaccharides, has been shown to improve immunity to upper respiratory tract infections. As a result, it can increase the immune response, including the production of immunoglobulin from lymphocytes and the natural immune response of macrophages.
In a 2005 study published in the Journal of the Canadian Medical Association, 323 people aged 18 to 65 who had at least two colds in the previous year took two capsules a day of North American ginseng extract for four months. The average number of colds per person is reduced when this extract is consumed versus those who do not consume it, but further studies are needed to confirm its safety in children and immunocompromised individuals.
Children with ADHD can benefit from American Ginseng
Taking a product containing 200 mg of American ginseng extract and 50 mg of ginkgo Biloba extract twice daily for two weeks may reduce ADHD symptoms in children aged 3 to 17, according to a preliminary unconfirmed study from the University of Alberta in 2001. However, more research is needed.
Breast cancer-fighting properties of American ginseng
A study published in 2010 in the Journal of Supportive Care in Cancer randomly assigned people with cancer to take 750, 1,000, or 2,000 milligrams of American ginseng or nothing for eight weeks. The readings between the two groups did not differ significantly. In spite of this, more research is needed to prove that this type of ginseng reduces cancer fatigue.
A 2006 Vanderbilt University study found that people with breast cancer who had previously taken American ginseng had a lower risk of death, and continued use of the herb reduced the risk of death after a cancer diagnosis. It improves their quality of life and psyche.
Ginseng may help some processes that may have a positive effect on cancer and some of its symptoms are experienced by cancer survivors. In cancer survivors, preliminary studies support the benefits of ginseng for fatigue and general health, but more research is needed.
Brain-boosting properties of American ginseng
According to a University of Hong Kong study published in 2011, 64 people with schizophrenia were given HT1001, a compound found in American ginseng, and their memory function and side effects improved. More studies are still needed to explore the effect of HT1001 on reducing schizophrenia by improving memory function and reducing side effects.
However, people with schizophrenia should be cautious about consuming large amounts of American ginseng. Some sleep disorders are associated with it.
Blood pressure benefits of American ginseng
Some studies have found that taking 1,500 milligrams of American ginseng twice a day for 12 weeks did not lower blood pressure levels, while other studies found that taking 1,000 milligrams of this ginseng extract three times a day for 12 weeks did, and this may be due to ginsenoside concentrations. American ginseng contains this active chemical.
An observational study showed that ginseng can increase blood pressure, so a randomized study in the journal Hypertension in 2005 involving 16 people with high blood pressure confirmed the herb's effects. American ginseng blood pressure was measured every 10 minutes for 160 minutes, systolic and diastolic blood pressure levels increased at 140 and 160 minutes, but not the total level. High blood pressure in those who suffer from it.
Menopause properties of American ginseng
According to some recent research, taking a specific supplement containing American ginseng, along with other herbs, twice daily for three months may reduce symptoms associated with menopause. This product may cause hot flashes, night sweats, and poor sleep quality, but it is not clear if these effects are caused by ginseng or other ingredients.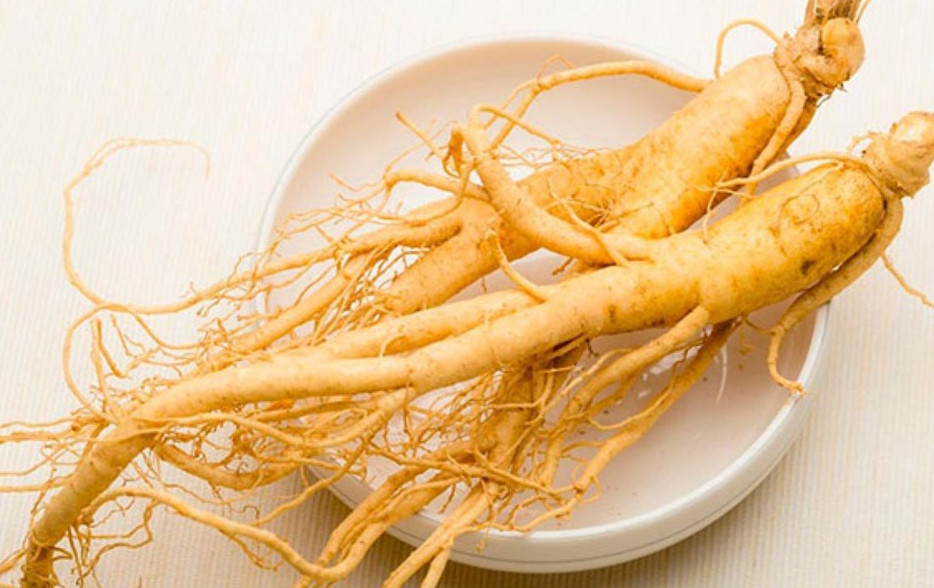 American ginseng's cancer-fighting properties
Cancer-related fatigue can be relieved by taking American ginseng. Inflammatory cytokines are increased and cortisol levels, which are released in response to stress, are poorly regulated.
The American Society of Clinical Oncology in Chicago found in 2012 that taking high doses of American ginseng for more than two months reduced cancer-related fatigue compared to no use, and animal studies showed that ginsenosides in ginseng reduced cytokine production. It is likely that these substances will cause inflammation and regulate cortisol levels, although further research is needed to confirm this theory.
Stress-relieving properties of American ginseng
A study conducted by Sungkyun Kwan University in 2017 found that the tissues may help restore balance in the body after abnormal physiological changes caused by stress. However, ginseng's effects on cytokines, metabolic systems, and stress-induced hormonal changes may facilitate the development of treatments for physical and mental illnesses.
Benefits of American ginseng for athletes
A study found that taking 1,600 mg of American ginseng orally for four weeks did not improve exercise performance, but it may reduce muscle damage.
Alzheimer's properties of Korean ginseng
Korean ginseng has been shown to improve Alzheimer's disease cases. A progressive deterioration of mental capacity, memory, and quality of life, this disease may eventually lead to death.
The herb appears to have improved cognitive function in women between the ages of 40 and 83 according to a preliminary study conducted at Seoul National University Hospital in 2004. However, additional studies are needed to confirm these results.
Korean ginseng benefits chronic obstructive pulmonary disease
People with chronic obstructive pulmonary disease can benefit from Korean ginseng. Phlegm secretion, inability to breathe, and coughing are all symptoms of this disease.
In a 2002 study published in the Monaldi Archives for Chest Disease, Korean ginseng extract was used to evaluate lung function tests, spirometers, and maximal oxygen consumption. All respiratory indices related to obstructive lung disease were increased by this extract.
Korean ginseng benefits erectile dysfunction
Researchers found that taking 900 milligrams of Korean red ginseng three times a day for eight weeks improved the results of an index used to measure men's erectile function in a 2002 study published in the Journal of Urology. The IIEF is also known as the IIEF. Men who did not take it may benefit from it, although more studies are needed to prove its effectiveness.
Enhancing brain function with Korean ginseng
An Annals of Pharmacotherapy study published in 2002 found that taking 200 mg of Korean ginseng per day for 4 weeks improved mental health and social functioning, but the benefits diminished after 8 weeks. Consuming this plant continuously may reduce its brain-enhancing effects.
Researchers observed improvements in calmness, relaxation, and mental arithmetic ability in 30 volunteers who received Korean ginseng for 8 days in a study published in 2018 in Human Psychopharmacology. 
Korean ginseng benefits the flu
Studies in mice suggest that ginseng consumption may reduce the risk of influenza and respiratory syncytial virus. Chunbuk National University Hospital conducted a study in 2012 that included 100 people aged 30 to 70, some of whom took nine capsules of ginseng extract daily for three months, while others did not. Results decreased. Studying the duration and severity of the symptoms of this disease without reducing the risk of infection is still needed.
Korean ginseng's sexual stimulation benefits
Researchers at Chonnam National University examined the effect of consuming 3 grams of Korean red ginseng extract on sexual arousal levels in 32 postmenopausal women and found that it improved arousal levels.
Memory benefits of Korean ginseng
Red ginseng was shown in an early 2015 study conducted by Ewha University of Madhya Pradesh to prevent the production of proteins and enzymes responsible for triggering the signs of aging, as well as to have antioxidant properties. When consumed by mice, this compound causes long-term improvement in symptoms related to aging, such as decreased learning ability and memory.
Furthermore, one preliminary 12-week trial found that 4.5 grams of Korean ginseng supplement improved mental performance by 15%, but this improvement diminished once ginseng was stopped.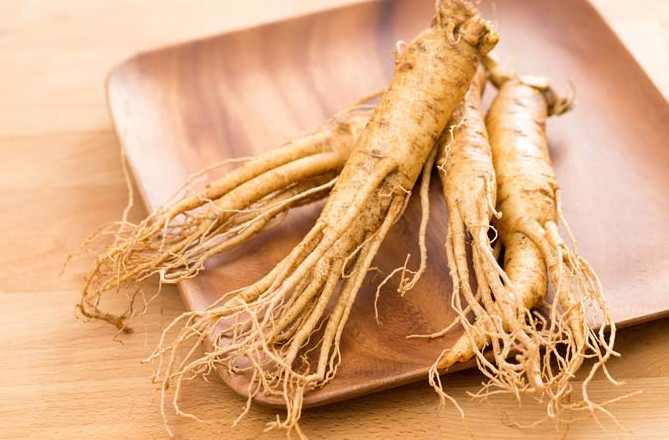 Korean ginseng benefits for bronchitis
Research conducted at the University of Milan found that taking ginseng extract products with antibacterials resulted in a greater reduction of disease-causing bacteria than taking antibacterials alone, which may help reduce the number of bacteria in the respiratory tract in people with severe chronic bronchitis attacks.
Cancer-fighting properties of Korean ginseng
Studies on rats and mice found that Korean ginseng consumption reduced breast, cervical, ovarian, kidney, stomach, and skin cancers, and a preliminary study found that red ginseng extract reduced lung cancer cell formation. 
A study published in the Journal of Ginseng Research in 2018 clearly linked consumption of this type of ginseng to a reduced risk of cancer.
Ginseng contains ginsenosides that reduce inflammation, but more studies are needed. In cancer patients undergoing chemotherapy, ginseng can improve their health and reduce their side effects.
A 2017 study published in the Journal of the National Comprehensive Cancer Network found Korean ginseng extract did not reduce anxiety, depression, or other issues in cancer patients, but it did improve cancer fatigue. Studies are still needed.
There are many health benefits associated with Korean ginseng
According to a preliminary study published in 2011 by the University of Western Ontario, ginseng reduces hemodynamic, hypertrophic, and calcineurin activity in animals.
Furthermore, no studies have been conducted on the safety of Korean ginseng use by cardiovascular patients, so caution should be exercised.
Korean ginseng benefits diabetes
A 2002 study at the University of Chicago found that Korean ginseng extract reduced high blood sugar and obesity in diabetic rats. The rats were given ginseng extract for 12 days, and the extract improved their health. As well as reducing sugar levels and insulin levels, ginseng extract also reduced cholesterol levels.
In 2006, the University of Toronto found that Korean red ginseng supplements helped control blood sugar levels, glucose levels, and insulin levels in patients with type 2 diabetes. I find it helpful. Plasma levels have improved, but more studies are needed to confirm its effectiveness.
According to a study published in 2014 from Yonsei University, Korean red ginseng supplements may be beneficial to the body. Blood glucose control in people with diabetes, impaired fasting glucose, impaired glucose tolerance, and those newly diagnosed with type 2 diabetes.
Diabetes patients, however, should control their blood sugar levels. Taking Korean ginseng with antidiabetic medications lowers blood sugar levels significantly.
Korean Ginseng benefits fibromyalgia
Over the course of 12 weeks in 2013, Federal University researchers followed 38 people with fibromyalgia. A total of three groups were formed. First group received 25 mg of amitriptyline, second group received nothing, and third group received 100 mg of Korean ginseng daily. Further research is needed to determine the efficacy of ginseng in treatment.
Korean ginseng benefits gallstones
A study at Ilsan Hospital of Donguk University in 2013 found that 28 people with gallstones took ginseng along with treatment for 24 weeks, but no specific effects were observed. There is a case for it.
Korean ginseng benefits for bad breath
People with stomach ulcers can reduce bad breath by taking Korean ginseng. An investigation at Jachon University in 2009 found that taking a Korean red ginseng supplement for 10 weeks after routine treatment for Helicobacter pylori may help treat bad breath caused by volatile sulfur compounds. To be effective, bacteria must be present.
HIV benefits of Korean Ginseng
According to a 2017 study from Ulsan University, consumption of Korean red ginseng was clearly associated with an increased likelihood of survival in HIV-positive individuals. This is accomplished by slowing the decline of helper T cells in the immune system, which the virus targets.
Blood pressure benefits of Korean ginseng
The effects of Korean ginseng on lowering blood pressure are conflicting. One study found that taking Korean ginseng for 8 weeks may lower blood pressure in people suffering from high blood pressure, however, when taking products from this plant, blood pressure According to a comprehensive review and statistical analysis published in the journal Human Blood Pressure in 2016, several studies found no effect on people with high blood pressure. Blood pressure was not affected by medicinal plants. Ginseng and its extracts may require more high-quality studies to confirm their effects.
Infertility benefits of Korean ginseng
Taking Korean ginseng for 28 days may affect sperm motility and formation, according to an early study from Keung University published in 2004.
Depression and anxiety benefits of Korean ginseng
A 2010 study in the Journal of Ginseng Research demonstrated the effects of Korean ginseng on anxiety by administering 3 grams of ethanol per kilogram of body weight to rats for 28 days. The subjects were then given 20 or 60 milligrams of Korean ginseng once a day for three days, and the results showed that this herb may reduce anxiety symptoms.
Korean ginseng benefits anemia
According to a preliminary study published by the Journal of Integrative Chinese and Western Medicine in 1992, which included 29 people with aplastic anemia and healthy subjects, the saponins in Korean ginseng may inhibit progenitor cell proliferation. An instrument for increasing. 14 of 29 infected people responded to this plant, which produces cells that differentiate into a specific type of normal cell in the body. Over 30% more cells are formed.
Digestion benefits of Korean ginseng
Some digestive problems can be solved by taking Korean ginseng. Korean red ginseng may help maintain stomach health according to a 2010 study at Gifu University of Pharmacy. In addition to its effect on expanding blood vessels in the stomach membrane, it also improves blood flow in the stomach mucosa, though it should be noted that its side effects were also noted.
Insomnia benefits of Korean ginseng
Taking 1,500 mg of red ginseng extract three times a day for seven days reduced total waking hours in 15 men aged 15 to 37, according to a study by Quandong University published in 2013. In addition to improving sleep quality, the extract also helped people with sleep disorders.
On the other hand, Korean ginseng consumption by insomniacs is associated with insomnia, so it is recommended to be careful about its consumption by insomniacs.
Ginseng safety and precautions
During pregnancy and while breastfeeding, American ginseng may be unsafe to consume. Because of its chemicals, which are linked to birth defects, and because of the lack of information about its safety for nursing mothers, these groups should avoid eating this type of food.
Patients who are going to have surgery: American ginseng may affect blood sugar levels during and after surgery, so it is recommended two weeks before surgery. Ginseng consumption should be stopped on a regular basis.
Sleep problems have been linked to eating large amounts of American ginseng.
American ginseng contains ginsenosides that act like estrogen, so people with hormone-sensitive conditions should avoid it, although some types of extracts of this ginseng may not contain ginsenosides. Low concentrations or low concentrations. As a result, estrogen is not affected.
Korean ginseng safety grade and precautions
Korean ginseng should not be consumed by pregnant or lactating women during this period, as it can be harmful to them. Based on preliminary results, breastfeeding mothers are advised to avoid its use due to insufficient information about its safety.
It is not recommended to consume Korean ginseng by children and infants due to its potential for toxic exposure.
Korean ginseng may interfere with blood clotting, so those with bleeding disorders should not take it.
Patients who have undergone an organ transplant should avoid consuming Korean ginseng. Due to Korean ginseng's role in increasing immune activity, this reduces the effect of drugs used after this procedure to reduce the risk of the body rejecting these organs.
For patients with breast, ovarian, uterine, and endometriosis cancer, Korean ginseng may affect estrogen, which may worsen their condition, so it is not recommended to consume it.
Ginseng FAQs
How does ginseng help you gain weight?
Weight gain is not proven by scientific evidence with ginseng pills.
How does ginseng help you lose weight?
Saponin is a substance found in ginseng plants. It has been found to help with weight loss in older studies published in the Journal of Agricultural and Food Chemistry.
How does ginseng benefit hair?
The ginseng plant has been used for hair care since ancient times because it revitalizes the scalp and gives hair luster and shine. Ginseng also helps treat hair dandruff problems.
How is ginseng used?
If the consumer wishes to get ginseng's benefits for the skin, they should apply it topically or in its oil, while others may prefer to use other ginseng recipes. Other benefits are available