Nutrition
Discover the benefits of thyme honey
Known for its herbal flavor and amber color, thyme honey is one of the most popular types of honey, derived from thyme flowers scattered in Mediterranean regions such as Southern Europe, Malta, Croatia and North Africa. More studies are needed to prove its effectiveness, but it has many health benefits, including: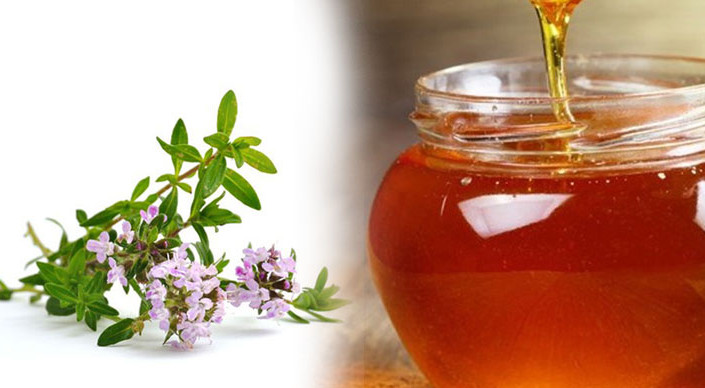 An antioxidant-rich food:
As thyme honey contains the highest concentration of polyphenols and flavonoids, it has strong antioxidant properties and neutralizes free radicals and unstable molecules that can occur as a result of pollution, sunlight, cigarettes, pesticides, metabolism, etc. As they form, they help. Due to their instability, these molecules can cause many chronic diseases, such as heart disease, diabetes, etc., and increase skin aging.
Cancer risk can be reduced by:
Because thyme honey contains chemical compounds that help reduce free radicals that cause cancer cells, strengthen the immune system, and support healthy cell growth, thyme honey has anti-cancer properties.
Allergic symptoms can be reduced by:
Honey contains compounds that help relieve seasonal allergies as a result of spring, since pollen collected by bees has an anti-allergic effect by inhibiting the immunoglobulin that causes allergy symptoms, and it also contains rosmarinic acid, a polyphenol found in honey.
Thyme honey comes in the following types:
The following are the most prominent types of thyme honey, depending on the type of thyme bees feed on:
Honey made from mountain thyme or Greek thyme.
Honey made from Sicilian mountain thyme.
Thyme honey from New Zealand.
Thyme honey should be used with caution:
Thyme honey does not require special precautions, however, there are groups that should consult a doctor before consuming honey, since it is a type of honey. These categories include: Mentioned the following:
Honey should not be given to infants under 12 months of age as it increases the risk of serious food poisoning.
It is safe to consume moderate amounts of honey by pregnant and lactating women, but there is not enough scientific information about the safety of consuming large amounts.
Sugar in honey can increase blood sugar levels, so diabetics should consume honey in moderation and monitor their sugar levels regularly.
Those allergic to pollen, honey, or bees should not consume honey.
Thyme and honey have nutritional value
There are more than 300 types of honey and the following values ​​show the nutritional value of one tablespoon of honey:
| Foodstuff | Nutritional Value |
| --- | --- |
| calories | 64 calories |
| Fat calories | 0.0 calories |
| Fats | 0.0 grams |
| Cholesterol | 0.0 mg |
| sodium | 1 mg |
| potassium | 11 mg |
| carbohydrates | 17 grams |
| sugars | 17 grams |
| Protein | 0.0 grams |
The table below shows some of the nutritional values ​​of one tablespoon, which is specifically equivalent to 2 grams of dried thyme leaves:
| Foodstuff | Nutritional Value |
| --- | --- |
| calories | 6.9 calories |
| Fat calories | 1.6 calories |
| Fats | 0.2 grams |
| Cholesterol | 0.0 grams |
| sodium | 1.4 mg |
| potassium | 20.3 mg |
| carbohydrates | 1.6 grams |
| sugars | 0.0 grams |
| Protein | 0.2 grams |
| Vitamin K | 42.9 micrograms |