Pears are rich in fiber: Fiber is an indigestible component of carbohydrates that promotes intestinal health and lowers harmful cholesterol levels.
It is important to note that pears are good sources of insoluble fiber. An average serving of 6 grams of fiber provides 22 percent of the recommended daily fiber intake, according to a Nutrients review from 2013. Inflammation and immune function are also improved by fiber.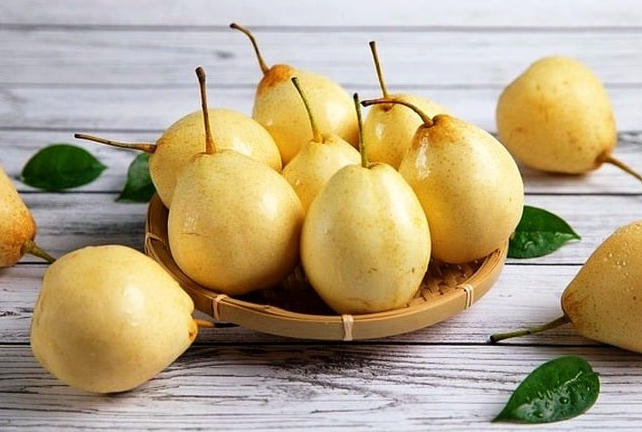 Providing around 13% of the daily requirement for vitamin C, pears are an excellent source of this vitamin. In addition to strengthening immunity, vitamin C reduces the risk of infectious diseases, stimulates cell growth, heals wounds, reduces bruising, and reduces oxidative damage.
Research shows that diets rich in potassium and magnesium, along with calcium, reduce blood pressure, and eating pears is a great way to get these nutrients. Low sodium diets also help to maintain normal blood pressure.
Source of antioxidants: which can prevent damage to the body's cells caused by free radicals that can damage cell membranes and protein molecules, increasing the risk of heart disease. There are 32 different phytochemical compounds in pears that work as antioxidants as well as serving other functions in the body.
Benefits of pears based on their effectiveness
Pear fruit carbohydrates can boost athletes' performance and reduce their time during long-distance cycling, according to a preliminary study published in the journal Proteome Research in 2015. However, more research is needed to confirm this study's findings.
In 2003, a study published in the American Journal of Clinical Nutrition found that fruits and vegetables reduced lung cancer risk. This study found that fruit consumption can reduce lung cancer risk.
As well as reducing constipation, which causes bloating, fruit has also been shown to improve constipation. A small unpeeled pear contains 4.4 grams of fiber, and its edible skin is rich in a water-soluble fiber called pectin.
According to a 2014 study, taking it for four weeks alleviates constipation symptoms and decreased bowel movements.
In addition to liver disorders, colic, nausea, and muscle cramps, there is not enough evidence that pear is effective.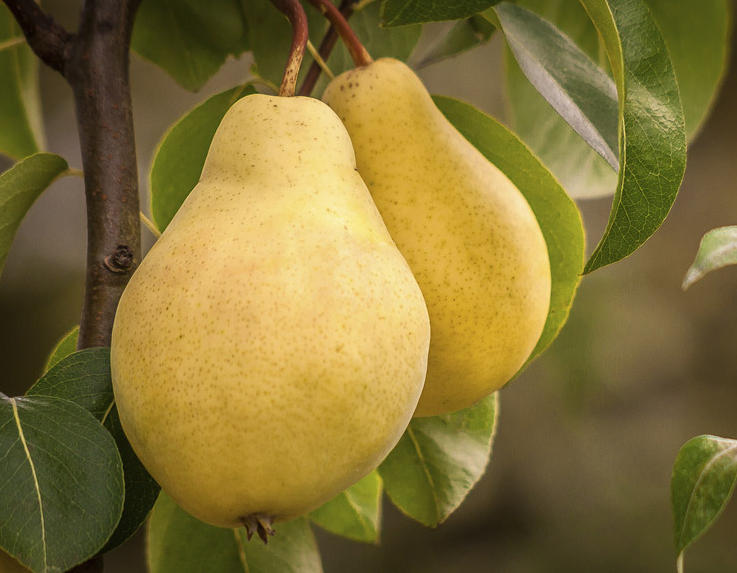 Scientific studies on the benefits of pears
According to a preliminary study published in the American Journal of Clinical Nutrition in 2012, pears may reduce the risk of type 2 diabetes.
In a 12-week study published in Food & Function in 2019, eating fresh pears daily improved cardiovascular health in adults with metabolic syndrome, including:
Due to its low calorie, high fiber, water, and water content, pears help people lose weight. As a result of its low calorie content, it increases satiety and naturally reduces hunger. The study published in the journal Food & Function in 2019 involved 40 adults and lasted 12 weeks. A healthy diet is the key to losing weight, which is why they ate two pears a day and saw a 2.7 cm reduction in waist circumference.
Pears' nutritional value
Pears contain the following nutrients in 100 grams:
| | |
| --- | --- |
| Nutrient | Number |
| calories | 57 calories |
| Water | 83.96 ml |
| carbohydrates | 15.23 grams |
| fiber | 3.1 grams |
| sugars | 9.75 grams |
| proteins | 0.36 grams |
| Fats | 0.14 grams |
| saturated fats | 0.022 grams |
| Saturated fat | 0.084 grams |
| Polyunsaturated fat | 0.094 grams |
| sodium | 1 mg |
| Calcium | 9 mg |
| magnesium | 7 mg |
| phosphorus | 12 mg |
| potassium | 116 mg |
| Vitamin C | 4.3 mg |
| iron | 0.18 mg |
| caffeine | 0 mg |
| Zinc | 0.1 mg |
| Selenium | 0.1 micrograms |
| folate | 7 micrograms |
| copper | 0.082 mg |
| Vitamin B1 | 0.012 mg |
| Vitamin B2 | 0.026 mg |
| Vitamin B3 | 0.161 mg |
| Vitamin B6 | 0.029 mg |
| Vitamin E | 0.12 mg |
| Vitamin A | 1 microgram |
| beta carotene | 14 micrograms |
| Vitamin K | 4.4 micrograms |
Normal food quantities of pears are safe for most people, including pregnant and lactating women, but they may have side effects when consumed in medicinal quantities. In pregnancy, therefore, it is recommended to consume it in normal amounts.
Consumption of pears is associated with the following precautions in certain groups:
People with Irritable Bowel Syndrome, abbreviated as IBS, should consult a nutritionist before eating pears. Because of its high fructose content, it is one of the foods that are high in FODMAPs, which are fermentable short-chain carbohydrates. FODMAPs, which are fermentable short-chain carbohydrates, are associated with diarrhea, bloating, gas, and pain.