Ironing is a tool that is used to smooth and wrinkle clothes, fabrics, curtains. Ironing to beautify clothes and materials and the high temperature of the metal of the ironing floor kills bacteria in Clothing, which is healthy Clothing helps. Below is a guide to the types of irons and tools for buying this machine.
In the past, ironing coal was used. Still, due to the production of toxic gas and the growth and development of the electricity industry, charcoal ironing was abandoned and replaced by electric iron. At the same time, irons today are made to be used as both dry iron and steam iron. We have a total of four types of irons, including dry and steam irons, press irons, irons with separate steam tanks and vaporizers, and for more information, we will briefly explain in this article:
Dry or regular ironing
Dry ironing is suitable for ironing non-woolen fabrics. This type of iron is available in different models and designs. One of the advantages of using a dry iron is that it is easier and cheaper to repair and use. These irons have a voltage of 220 volts and are usually designed with a power of 1100 watts. The floor of these irons is made of steel, and its temperature is from 85 to 210 degrees Celsius. It also weighs approximately 2.7 kg.
steam iron
To put more pressure on ironing woolen fabrics and a heavier weight or pad should be used, so steam irons are designed to be lighter due to steam power and prevent the fabric from burning. The specifications of the steam iron are permanently engraved on it by the manufacturer. This iron has a voltage of 220 volts and is designed with a minimum power of 1800 watts and a maximum of 2600 watts. The maximum length of the wires of this series of irons is 2.3 meters, and their water tank is about 300 ml. The floor of these irons is made of Teflon or ceramic in cheap steel models and with small and large holes that cover the iron tip.
Press iron
The use of ironing machines has increased dramatically since production, and this is due to their excellent performance and cost-effectiveness, which no longer requires additional payment for washing. Today, automatic presses have numerous features that raise the quality of their work to the level of a professional ironing machine. Although there is now a steam iron in almost every home, making an ironing press creates a different experience that makes sense.
The auto press is easy to use. All you have to do is place the garment or fabric between the two ironing boards and start ironing. Pants and shirts are probably the easiest things to do when ironing. It is said that women's blouses are among the items that are tightened with ironing due to the thinness of the fabric. The large ironing board, which is sometimes up to 10 times larger than a regular steam iron, allows you to use it quickly and efficiently, saving you a lot of time.
 For those who use ironing a lot, it is affordable and recommended. There is no doubt that drying clothes are expensive, so even if you iron your pants, shirt, or blouse once or twice a week, it will be reimbursed over time and cost.
Press irons use high steam pressure to prevent clothes from shrinking at high temperatures, but it should be noted that thick fabrics made from natural materials such as cotton and fabric shrink, and some of them require more steam than usual. Have. When placing the fabric on the auto press, make sure that it is smooth, because in this case, there will be no unwanted wrinkles on the clothes.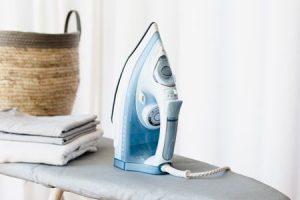 New ironing machines have modern features and a digital display that allows you to control the temperature depending on the type and material of the fabric. In the ironing press, different keys are used so that the user can easily adjust the temperature.
The device's water tank must have indicators that show the amount of water remaining without the need to open the door. Many models have enough water in their tank so that you can iron for more than 1.5 hours without interruption to fill the water tank, and in some cases, the volume of the ironing water tank reaches about 1 liter.
The advantages of the auto press machine have been mentioned many times, but these devices also have drawbacks. First, the machine should generally be in a fixed position. On the other hand, parts of the garment around the button on the garment and the sewn areas of the curve are not wholly ironed, and a simple iron may be needed to complete the ironing work.
Ironing with the separate steam tank
Ironing machines that have a separate steam tank pleasure ironing with a lot of steam. The function of this type of iron is that a tank is installed on the side of the iron, which is connected to the ironing handle through wires and hoses. The required steam is supplied in the device's tank, usually placed on the table and fixed, and the steam is transferred to the iron through the pipe.
Notable advantages of ironing machines with a separate steam tank include ironing with a large volume of steam, the possibility of ironing with a cold ironing board, and only with steam (in some models), which is especially suitable for suits because of the shine. The fabric prevents. Wrinkles are easy to remove due to the large volume of steam irons, large water tank, and no need to fill the tank in longer use constantly.
Evaporator
An evaporator is a device that has no iron heating plate and only a steam source. Ironing should only be done by steam. Features of using this type of ironing, providing a large volume of steam, complete safety in ironing all kinds of clothes, especially expensive clothes such as wedding dresses, evening dresses and  Another advantage of this device is the possibility of ironing the curtains vertically, ironing clothes on the body, which has made the use of this device common in clothing stores.