Medical
In the sixth month, what is the baby's food?
In the sixth month, the baby's main source of nutrition is mother's milk. Foods that are solid are considered complementary to milk and do not replace it. It is usually at this stage that grains such as barley or rice begin to grow. Starting with grains rather than mashed foods. At this age, it acts as a bridge between milk and solid foods since it is rich in iron, which is essential for a baby.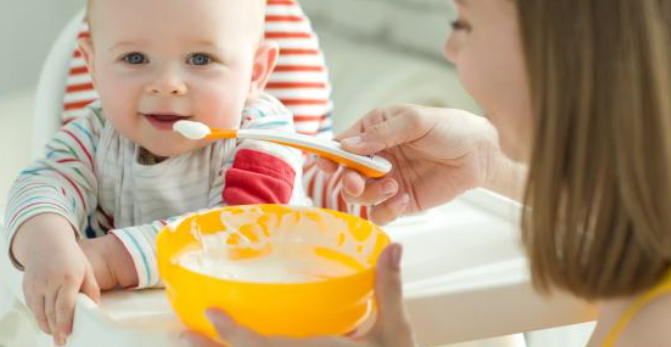 Once the child accepts the cereal mixed with water or milk, the amount can be increased to 3-4 tablespoons, and the number of daily cereal meals can be increased to two meals a day for one or two weeks.
Baby is usually fed yellow or orange fruits and vegetables at first, followed by bananas and avocados and it is recommended to try each type of food for at least 3 days before moving on to the next. Children who do not eat vegetables and fruits during the period of six months to 12 months are likely to do so even as adults. This helps identify foods that may cause allergies in the child. 
In addition to drinking water in very hot weather and eating a small amount of water while the baby feeds solid foods, fluoride can be added to the baby's diet when the baby starts feeding solid foods.
Recipes
To ensure that the child gets all the health benefits of fresh vegetables and fruits, there are some recipes that can be prepared at home. From the sixth month to the eighth month, the following recipes are suitable for children:
Cereals are the traditional first choice for feeding children, and it is preferable to focus on nutritious grains rather than rice grains, for example, recipes for barley include the following:
In a food processor, blend 1/4 cup (30 grams) of oats until smooth.
Bring the oats to a boil over medium-high heat, then reduce the heat and cook for five minutes, stirring frequently until it thickens. Make the texture light and fluffy by adding more water or milk.
Let the mixture cool after removing the pan from the heat source.
Cook 4 dried, seedless peaches in three-quarters of a cup (180 ml) of water for 8 minutes over low heat until tender, then remove from the pan. Let it cool off from the heat source.
In a blender, puree the peaches until they are soft, and add water if the mixture is too thick.
A few tablespoons of plum puree should be added to the baby's bowl of oats.
Oats and peaches can be stored in closed containers in the refrigerator for 3 days or in the freezer for 3 months.
The sweet potato is one of the common foods to feed babies in the beginning, as it has fiber, vitamin A, vitamin C, and beta-carotene, as well as being sweet and light.
The following recipes are suitable for children from 6 months of age: 
Cut a small sweet potato into 2.5cm pieces after peeling it (250g).
Add enough cold water to cover the potatoes in a pan.
Bring the pan to a boil, then reduce the heat and let it sit for 20 minutes, until the potatoes are very soft.
Cool the potatoes slightly after straining the mixture and reserving some of the cooking liquid.
For a soft texture, blend the potatoes in a blender with some cooking liquid, water or milk.
The recipe yields approximately 2/3 cup of mashed potatoes.
In the refrigerator or freezer, mashed potatoes can be stored for 3 days or 3 months in a closed container.
Eating habits that are good for you
Good eating habits should be instilled in your child at an early age, including:
When eating, sit down, use a spoon, rest between bites, and stop when satisfied.
Children's development is positively impacted by family meals; feeding children during meals; encouraging family meals.
If you are concerned about your child's food, whether it is too little or too much, it is recommended that you consult a pediatrician.