Sleep and rest are good for children's physical and mental development. The baby spends many hours sleeping in the first months of life, so it is important to have a safe and comfortable place for the baby to sleep. The cradle is the best option for keeping and sleeping the baby during childhood. In the past, beds were used to put children to sleep, but today's beds are modified and much safer than the old beds.
Types of cribs and the advantages and disadvantages of each:
There are several types of cradles on the market.
Standard baby cradle
This type of cradle is the cheapest type of baby cradle on the market with simple construction and can be used for a long time but is less portable.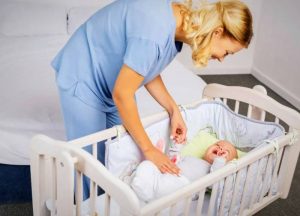 Convertible cradle to bed
This bed has a strong and stable structure and can be turned into a bed, but it is more expensive than other cribs and may not be compatible with the design of the child's room in the future.
Movable cradle
This cradle is suitable for houses with limited space and a more limited design than other cradles. If you are looking for a movable cradle, you should also consider the floor of your house because the wheels are difficult to move on the carpet.
Travel cradle
This type of cradle takes up little space and is easily packed with quality, and you can take it with you when traveling or on vacation because they are lightweight but do not use a fixed cradle. In addition, these cradles have more wearability than wooden samples due to the materials used in them.
Versatile cradle
This type of cradle is easy to use, and you do not need to buy additional equipment.
Round cradle
This cradle has a different and attractive design and uses a canopy, but it can be used for a short time for a child, and it has a high price.
Echo cradle
The structure of the Echo cradle does not use chemicals and organic compounds and is made of environmentally friendly materials, and is completely safe for babies.
Buy a comfortable and safe cradle.
When buying a crib, keep in mind that the first thing you buy is safety and comfort. Therefore, when choosing or buying, pay attention to the JPMA brand on the cradle packaging, as this mark is one of the main standards for the production of cradles.
The cradle should look good.
During the first months, the baby can not be put to sleep away from the parents, and he should rest in the cradle near his parents, so the bed is usually in all parts of the house, so he should look beautiful and try his luck.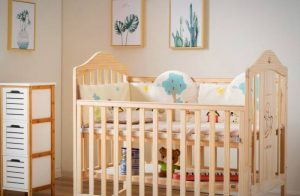 Consider cradle options
Some beds have a full bed service, including mattresses, pillows and bedspreads, music hangers, wheels, and extra baskets to hold baby items. These devices make your child comfortable and attract attention. However, note that having these devices increases the price of cradles.
Buy a cradle attached to the parent cradle.
There is a type of cradle on the market that you can attach to your bed. It has a guard on three sides, and its unprotected side can be attached to the bed, and its height can be adjusted with the bed surface. The advantage of this bed is that the baby is completely next to the mother in her bed.
Choose a lightweight, retractable cradle.
Choose a cradle that you can easily carry and be light and compact to use when traveling.
Note the size of the cradle.
When buying, pay attention to the size of the cradle because it should be large enough for the baby to roll over or spin on it.
Cradle railings should not be too far apart.
The distance between the fences should not be more than 7 cm. If the fence is too long, the child can cross it or get his hands, feet, and head stuck in it.
There should be no sharp edges in the cradle.
 Buy a cradle that does not have a sharp edge so that the baby is not injured.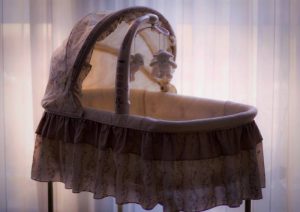 When buying a cradle, could you pay attention to its mattress?
The crib mattress should be firm and dense and should not sink under the baby's body and completely cover the cradle compartment and leave no gaps. By providing an anti-roll mattress, you can prevent Sudden Infant Death Syndrome in SIDS.
Important points when using the cradle:
Keep the cradle away from the window as the curtain may fall on the baby and cause suffocation.
 Keep out of direct sunlight as direct sunlight is uncomfortable for babies.
Keep the bed in your room for up to 6 months.
Inspect wood chips, loose screws, nails, or penetrating nuts to avoid hazards.
To keep your baby safe, remove extra items such as soft duvets, shock absorbers, pillows, blankets, toys, and dolls.
Put the baby on its back in the cradle. Never place a baby who is not yet able to roll over on his or her tummy or side.