Nutrition
Properties and benefits of thyme for the treatment of diseases
The properties of thyme are so vast that it can treat various diseases for skin and hair's health and beauty. This plant is the best treatment for infections of all parts of the body, and it can be said that it is one of the medicinal plants that has been used in various ways to treat various diseases since ancient times.
Properties and benefits of thyme for skin:
Acne treatment
Thyme has excellent antibacterial properties and is useful for fighting acne-causing bacteria on the skin. It is often used as an ingredient in creams and acne cleansers.
Keep your skin healthy.
This plant helps maintain healthy skin by killing bacteria that cause various skin problems. The oil of this plant can be diluted with water and used as a skin tonic. It is a gentle skin toner and can be used for all skin types.
Athlete's foot treatment
The antifungal properties of this plant are useful for treating an athlete's foot.
hair growth
The nutrients in thyme help hair follicles to grow. Apply a mixture of olive oil and plant oil to the scalp, promoting healthy hair growth and shine.
 Hair loss treatment
Using thyme oil alone or with other ingredients can make your hair thick and shiny and prevent it from falling out.
Dandruff treatment with thyme
Due to its antibacterial properties, it can cleanse the scalp and is effective in treating dandruff. This plant is often used as a substance in shampoos or conditioners.
Anti-inflammatory properties
Thyme's anti-inflammatory properties effectively prevent chronic inflammation in the body and get rid of acne problems.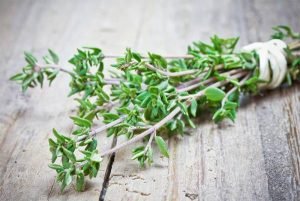 Treatment of indigestion
Thyme tea enhances good digestion and reduces gas and bloating. It also contains oils that can heal stomach ulcers.
Treatment of respiratory disorders
Its antiseptic and antibiotic properties are an effective treatment for respiratory problems such as cough and bronchitis, sore throat, and headaches. You can drink its tea and use honey to sweeten it. Regular consumption of this tea is very beneficial for health.
Bone health
This plant is an excellent source of vitamin K, iron, calcium, and manganese. These minerals play an essential role in bone health, proper bone growth and density, and bone problem reduction.
Cardiovascular benefits
This plant prevents chronic inflammation due to its antioxidant and anti-inflammatory effects, which are among the leading causes of heart disease. It narrows blood vessels and strengthens the heart. In general, it is an excellent tonic for improving heart health because it enables the heart to function more efficiently.
Blood pressure control
Due to its richness in potassium, this plant's extract plays a vital role in controlling blood pressure and heart rate.
Treatment of muscle cramps
One of the most important benefits of this plant is its effectiveness in treating menstrual cramps and other body spasms.
Improve vision
Thyme is rich in vitamin A, which helps eliminate eye diseases (except retinal problems).
Antibacterial properties
The antibacterial properties of this plant have many benefits in fighting bacteria, fungi, and eczema. They can also increase the power of antibiotics and kill bacteria inside and outside the body. Thyme tea is also used for skin and superficial tissues.
Prevention and treatment of anemia
Thyme is an excellent source of iron. It is recommended to consume approximately 20% of it to supply minerals during the day. Iron is effective in recommending red blood cells and producing energy. Iron deficiency causes anemia, fatigue, increased susceptibility to infection, and including it in the diet helps prevent and treat anemia and other blood disorders.
Oral Health
This plant's antibacterial properties make it an excellent solution for bad breath because it helps kill bacteria and mouth infections, and it is also used as an element in mouthwashes.
Strengthen the immune system
This plant prevents infection and disease due to its antioxidant properties. This plant's oil increases omega-3 in the brain to help maintain the body's cells and slow down the aging process.
Diuretic properties
This plant helps eliminate excess salts, water, and other toxins by increasing the amount of urine and is also useful for chronic kidney failure people.
Sleep well and reduce fatigue
Thyme tea with honey is hypnotic. The oil of this plant has excellent sedative effects and can reduce fatigue and improve mood.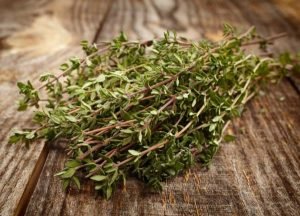 Other unique properties of thyme:
 It causes heat and digestion of food in the body.
The decoction of this plant is very effective in treating diarrhea and intestinal cavities.
This substance is highly recommended for the treatment of cough and sore throat. It has beneficial effects for treating diseases of the upper respiratory tract such as bronchitis and asthma. In traditional medicine, this plant is used as antispasmodic, relieving shortness of breath and cough.
Thyme bath is recommended in traditional medicine to treat people with muscle cramps and muscle and joint pain, especially rheumatism.
Due to thymol and carvacrol in thyme, this plant has strong antifungal and antibacterial effects.
Thyme consumption warning:
Thyme should not be eaten too much because it causes albumin in the urine.
Some traditional medicine books mention the effects of thyme abortion, so its use is not recommended for pregnant women.
Also Read:
Proper nutrition in the second trimester of pregnancy
Misconceptions about pregnancy nutrition