Nutrition
How long does it take to digest a variety of foods?
Have you ever wondered how long it takes for food to be digested? Digestion is when large pieces of food are broken down into small particles absorbed into the bloodstream. A complete digestion process takes between 24 and 72 hours. The complete digestion of food in the body depends on a person's physical health, body metabolism, age, and even gender.
Have you ever noticed that you get hungry quickly after eating certain foods and others keep you full longer? In this section, we try to describe the digestion time of some common foods.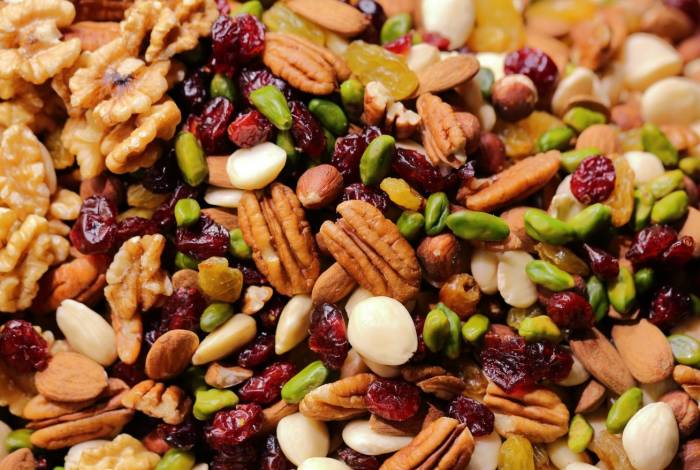 Seeds and nuts
Digestion of hard seeds such as sunflower seeds and pumpkin seeds takes about an hour. In the case of almond and hazelnut kernels, this time is doubled.
Processed meat
Digestion of processed meat is very complicated due to saturated fat, salt, nitrate, and preservatives, and this digestion process takes 3 to 4 hours.
smoothie
It takes 20 to 30 minutes to digest smoothies, which are a combination of fruits and vegetables.
the vegetables
Digestion of juicy vegetables such as lettuce, celery, watercress, asparagus, cucumber, pepper, tomato, and radish takes 30 to 40 minutes.
Digestion of vegetables and cooked leafy vegetables such as kale, Brussels sprouts, cauliflower, broccoli, and Chinese cabbage takes 40 to 50 minutes.
Digestion of root vegetables such as corn, carrots, pumpkin, squash, and potatoes takes 60 minutes.
Cereals
Digestion of brown rice, millet, wheat, oats, wheat flour, and cornflour takes about an hour and a half. Digestion of lentils, peas, red beans, soy takes about 2 to 3 hours.
Fruits
Digestion of watermelon takes 20 to 25 minutes, and digestion of melon takes 30 minutes. It also takes 30 minutes to digest fruits such as oranges, grapefruits, and bananas, and 40 minutes for fruits such as apples, pears, cherries, and kiwis.
Juice and meat extract
Digestion of water and meat extract takes about a quarter due to lack of fiber.
egg
It takes 30 minutes to digest an egg yolk and 45 minutes to digest a whole egg.
Water
Water enters the intestine immediately, and digestion will be very short.
Juices and vegetables
Digestion of fruit and vegetable juices takes 15 to 20 minutes.
Raw vegetables
Digestion of raw vegetables takes 30 to 40 minutes.
Cooked vegetables
Digestion of cooked vegetables takes 40 minutes.
Fish
Digestion of fish takes 45 minutes to 1 hour.
Oily salad
It takes 1 hour to digest a salad with oil.
Starchy vegetables
Digestion of starchy vegetables takes 1 hour and a half to 2 hours.
dairy products
Digestion of dairy products takes about 2 hours.
Important note
The best time to digest food with different types of food with varying digestion programs is lunch because the digestive system is fully active.
You should preferably choose foods that are easily digested for breakfast and lunch to get energy and point for better rest after dinner.