You must have heard the famous saying that the foot is our second heart and it is necessary to take care of it. Buying the right shoes is one way to take care of this vital part of the body, and there is no doubt that walking in the wrong shoes can cause pain and bruise in the legs.
Choosing the right shoes for the foot reduces the damage to different foot parts, but you think buying the right shoes is easy! If choosing the right shoes is difficult for you, do not miss this part and choose the right shoes more carefully.
What should we pay attention to when buying shoes?
Choose medical shoes to prevent back pain.
To get rid of back pain, choose your shoes more sensitively and use medical shoes because wearing inappropriate shoes can sometimes cause back pain.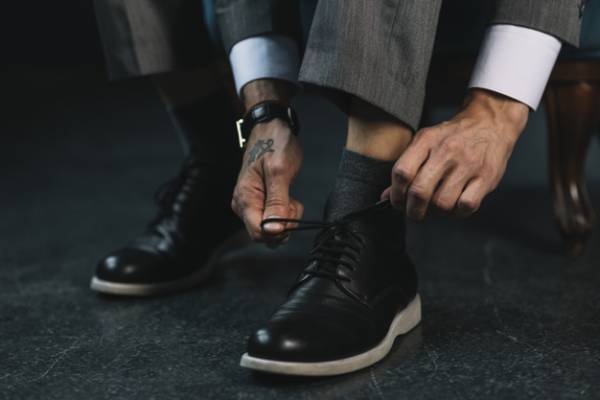 Choose the sole of your shoe more carefully.
To choose the right shoes, you need to select the sole of your shoes more carefully. For example, if you want to select the right shoes for walking, select shoes that do not have a thin sole because when walking, a lot of pressure is applied to the heel, and if the sole of the shoe is light, the wrist is damaged.
When walking, moving, and touching the ground from heel to toe, choose shoes with a very flexible sole.
Wear shoes that fit your needs
If you have diabetes, you should be aware of the disease and its conditions, but your choices may be limited due to the illness.
Buy the right shoes during pregnancy.
During pregnancy, shoes should be such that they do not put too much pressure on your heels and lower back, and the sole is flexible. During this period, get shoes that fit the size of the foot because, during this period, the foot becomes slightly swollen.
Pay attention to the width of the front of the shoe
To choose a suitable and comfortable shoe, pay attention to the width of the front part of the shoe and choose the same width of your foot.
Buy shoes from reputable brands.
Buy from reputable brands that produce excellent and standard shoes and be sure of their quality.
Avoid wearing high heels for a long time.
Make sure the heel size of your shoes is not too big, high heels cause joint discomfort and focus body pressure and weight on the soles of the feet and waist, so use high heels only for special occasions. High-heeled shoes cause the ankle to twist quickly when twisting.
Shoes suitable for walking
Wear appropriate shoes for any occasion; for example, use light and comfortable shoes on long walks and avoid wearing heavy shoes such as boots.
General information about choosing before buying shoes
Avoid wearing sandals and slippers that are used at home or on the beach at work.
The most common formal shoes are lacquered and shiny shoes. If you do not like it, you can wear flat black leather shoes for formal occasions completely polished with wax.
If you want to have a good choice, wear leather shoes. Nowadays, leather shoes with rubber soles are also popular, but using these shoes is a matter of taste.
Your shoes, your reputation:
It is well known that wherever you enter, the first thing that catches everyone's eye is your shoes. Your shoes show themselves sooner than anything. This character defines you for the people present to some extent earlier than your language. So even if it was a minor issue, it was so important that we decided to offer tips on how to buy better formal shoes.
If you want to buy formal shoes for the summer season, it is better to use thinner leather shoes and are generally made of light fabric models.
The type of combination of formal shoes with this type of pants is exceptional. If you wear big shoes, it does not look good at all, but if your pants are formal, wearing more giant shoes with big soles is not a problem, and you can easily use any model.