It is challenging for women to find the right heel for their shoes.
The right shoes with the right heel for your height and body
The health of the legs and spine is endangered by using an inappropriate pair of shoes, so you should not only pay attention to the design and model of the shoes. When choosing shoes, pay attention to the shoe's heel and choose a shoe with a right heel for your body in terms of shape, height, and even arch.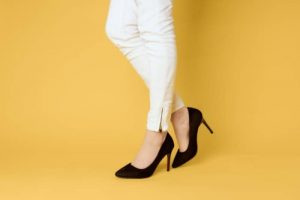 Shoe guide suitable for different limbs
Which heel is suitable for a tall woman?
If you are a tall person, you do not need to wear high heels, but if you are interested in wearing these shoes, try all its different forms, but do not forget that the heel height should not be more than 5 cm.
If you are tall and thin, square heels, one-piece heels, and platform heels are suitable for you, but if you are tall and fat, use narrow heels to look slimmer.
Which heel is suitable for short women?
If you are less than 160 cm tall, you can wear any shoe with any heel. Every type of shoe heel, from heel to needle heel, is suitable for you. The higher the heel of your shoe, the more elongated and tall your body will be so that your short stature will be hidden from others. Note that if you are fast and fat, do not wear shoes with two or three centimeters heels.
Celebrities who are short (height less than 160 cm):
Ariana Grande – 1 meter and 53 cm
Ellen Page – 1 meter and 55 cm
Lady Gaga – 1 meter and 55 cm
Vanessa Hudgens – 1 meter and 55 cm
Maisie Williams – 1 meter and 55 cm
Elizabeth Taylor – 1 meter and 57 cm
Emilia Clarke – 1 meter and 57 cm
Selma Hayek – 1 meter and 57 cm
Christina Aguilera – 1 meter and 57 cm
Amanda Seyfried – 1 meter and 59 cm
These people are stars about one meter and fifty centimeters tall, but they look taller because of wearing high heels.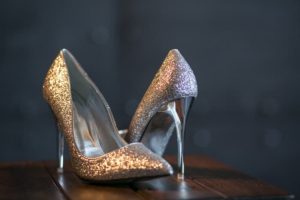 Which heel is suitable for women with boyish bodies?
If your body is boyish, you can also wear shoes with 12 cm heels, but if you do not want to look too feminine, shoes with comfortable heels give you a little feminine elegance, shoes with square heels, and ballet shoes. Wear high heels. , But never wear platform shoes and high heels.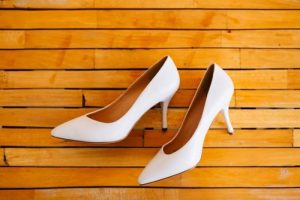 Which shoe heel is suitable for obese women?
Women who are overweight and obese should be careful in choosing the heel of their shoes and choose shoes with high heels and needles to hide the obesity of some limbs.
Be careful to make your body more beautiful; you should choose high heels, so never wear short heels. Note that platforms are not suitable options for you.