Nutrition
Are you familiar with all benefits of pomegranates?
Pomegranates are full of nutrients needed for good health. The various antioxidants in them protect the heart and prevent cancer. Pomegranates are rich in vitamin C and antioxidants, which can help delay the signs of aging. These antioxidants fight skin inflammation and treat acne and dark spots.
They also lighten the skin naturally, but this is not the only property of red pomegranate seeds, but this fruit has many properties.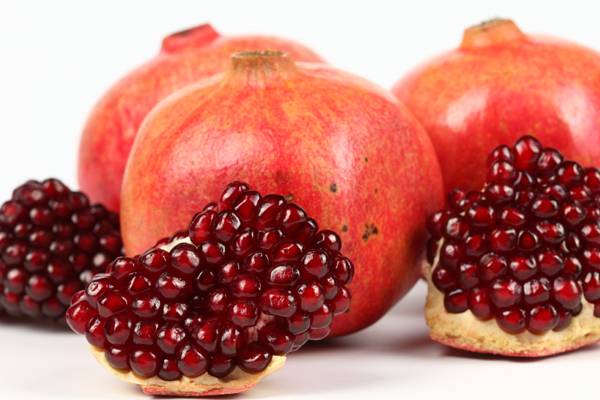 Increase skin health with pomegranate
Pomegranates are rich in vitamin C, which is an essential nutrient for skin health. They are also full of antioxidants that work great for the skin by delaying the signs of aging (such as wrinkles).
You can combine two tablespoons of pomegranate peel powder with one tablespoon of lemon juice and honey and mix well to form a soft dough. Apply this on the face and neck and leave it for 15 minutes. Rinse with lukewarm water. It can remove dark spots, treat pigments, and even lighten the skin. It also has anti-aging properties.
Treatment of skin problems of the properties of pomegranate:
Antioxidants in pomegranate seeds and powder fight skin damage and acne. 2 tablespoons of crushed pomegranate seeds and one tablespoon of turmeric can be a surprise. All you have to do is apply it to the affected area and wash it off with cold water after 15 minutes.
The use of pomegranate seed oil is known to treat eczema. Mixing crushed pomegranate leaves with water and drinking it can help alleviate this condition.
Pomegranate can increase the skin's ability to protect itself from the sun and be useful in treating melasma.
Pomegranate Benefits for hair:
Pomegranate is a powerful antioxidant that strengthens hair follicles and improves blood circulation. Seed oil is known as an effective treatment for curly, dry, and untidy hair.
Improve hair health from the properties of pomegranate:
Eating pomegranate seeds can help strengthen hair follicles. Because seeds, especially seed oil, contain acid, it is considered an ingredient to strengthen hair. It is also known to improve blood circulation and stimulate hair growth.
Pomegranate to prevent hair loss:
Pomegranate juice strengthens hair follicles and prevents hair loss.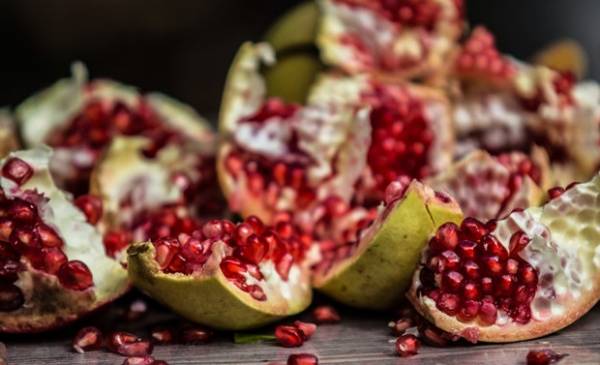 Pomegranate juice to improve the heart:
Pomegranate juice helps maintain heart health through arterial elasticity and reduces inflammation of the arteries. It also reduces disease. The extract also helps reduce the risk of arterial blockage, lower harmful cholesterol levels, and increase acceptable cholesterol levels.
Maintaining blood sugar levels is one of the properties of pomegranate:
Despite fructose, pomegranate extract does not raise blood sugar levels. Research has shown that people with diabetes who drink pomegranate juice for two weeks have not experienced increased blood sugar levels.
Maintaining blood pressure levels from the properties of pomegranate:
Pomegranate extract reduces lesions and swelling of blood vessels and reduces high blood pressure. Pomegranate acts as a natural aspirin, diluting the blood and improving blood flow.
Pomegranate to protect against cancer:
These antioxidants in this extract kill free radicals and prevent cancer cell growth. Pomegranate extract is said to kill cancer cells. This fruit is very useful in preventing prostate and breast cancer.
Soothe the abdomen by consuming pomegranate:
Pomegranate increases the production of enzymes that aid digestion. Add a teaspoon of honey to a glass of pomegranate juice to cure indigestion.
Boost the immune system from the properties of pomegranate:
The antioxidants in this extract stimulate white blood cells and increase their efficiency. This extract has antimicrobial and antibacterial properties and helps reduce oral bacteria that cause worms and infections.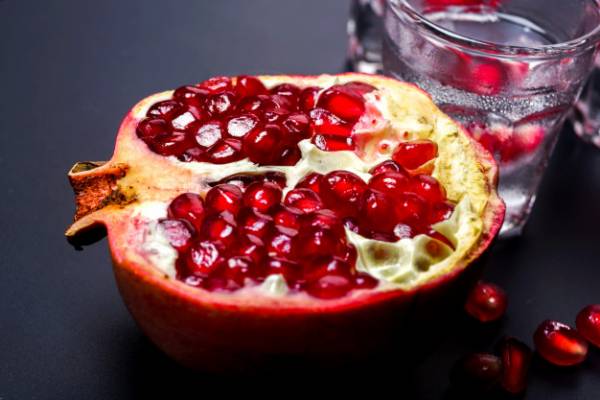 Improve digestion of pomegranate properties:
Pomegranate helps the stomach and liver when it reaches the digestive system. It also helps relieve urinary tract infections and ease the flow of urine. It is rich in dietary fiber and helps regulate bowel movements.
Pomegranate to prevent anemia:
Anemia occurs when the body has low levels of red blood cells. High levels of iron in pomegranate juice help produce red blood cells. It is also an excellent treatment for red and painful eyes – just put a few drops of the extract in the eyes.
Pomegranate helps to repair cartilage:
Pomegranate juice can relieve arthritis and inflammation of the bones. Regular pomegranate juice consumption is said to prevent Alzheimer's and other neurological problems and excrete kidney stones and even help with erectile function.
Pomegranate suitable for prenatal and useful for pregnant women:
Pomegranate extract contains many vitamins and minerals and folic acid, all of which are essential in the prenatal diet. Its anti-inflammatory properties help improve blood flow to the mother and fetus. The potassium in pomegranate juice prevents muscle cramps during pregnancy and even prevents preterm labor Takes.
Treatment of dry skin using pomegranate:
Pomegranate oil is useful for treating dry skin because it contains omega five, retains skin moisture, and helps heal damaged skin.
Prevention of skin cancer Properties of pomegranate:
Pomegranates are useful in fighting skin tumors. Apply it directly to the skin and let ellagic acid work better – it prevents cancer cells' growth.
Disadvantages and side effects of pomegranate consumption:
As mentioned, pomegranate tastes excellent and has many benefits. But it can have some side effects.
Pomegranate has effects on enzymes:
Enzymes in pomegranate can block certain enzymes in the liver. If you have certain medications for liver disorders, consult your doctor before consuming this fruit or its extract.
What are the side effects of pomegranate?
Much sugar of pomegranate:
Although it fights diabetes, pomegranate is a preventative fruit. If you have diabetes, avoid eating pomegranates.
High-calorie pomegranate:
If you are on a diet and checking your calorie intake, do not eat this fruit or its extract. Pomegranate is high in calories and can also cause weight gain.
Excessive consumption of pomegranate causes digestive disorders:
Excessive consumption of this fruit causes many disorders. Some of them are nausea, vomiting, abdominal pain, and diarrhea. But these symptoms usually subside after a few hours. Excessive consumption of pomegranate can also irritate the digestive system.
Allergies:
Consumption of this fruit also causes many symptoms that lead to allergies. These symptoms include:
Painful swallowing
Itching
Skin problems
Swelling of the face
Difficulty breathing
Pain and swelling in the mouth