Housekeeping
Ways to remove sticky grease stains from cabinets
Avoiding oil grease stains on the stove is inevitable when cooking. Over time, these stains make the kitchen look ugly. Areas most affected by these oil stains are cabinets, hoods, and stoves.
Cleaning these oil stains from kitchen utensils with a dry or damp cloth will waste time and energy. Many chemical cleaners do not work well in combination with the dust on the device, and also, ammonia-based cleaners are harmful to health. You can also read Magic Trick To Shine And Clean The Kitchen Sink.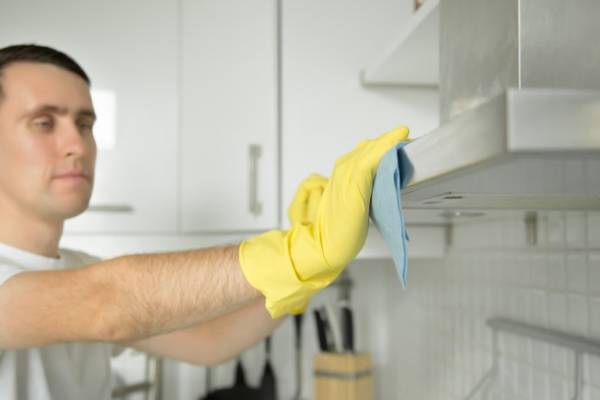 Basic and effective techniques
Dip a paper towel in a little mineral oil.
Clean your hood's oil surface and stove with this paper towel to remove oil stains. If there is a high concentration of oily substances and other substances combined with oil, you can add some baking soda to the mineral oil and apply it to the desired areas.
Using another paper towel, clean the surface again to remove the oil left on it. This will help you clean the device more easily next time and make the desired surface look more glossy.
Then combine equal amounts of warm water and white vinegar.
Using a cloth or sponge, clean your kitchen cabinets with this solution and remove light oil stains created on them. For harder stains, apply white vinegar directly and clean your surfaces with a damp cloth with cold water.
You can also use a combination of hot water and baking soda to clean your kitchen hood filter and to use this method. It is enough to boil some water in a pot and then add baking soda in a small amount to it, and Stir well to combine thoroughly, then dip the hood filter into it and clean it with a cloth.
If the lubricants are not well cleaned, repeat this process, and finally, rinse the hood filter with hot water.
You can also clean your stove and kitchen cabinets with a cloth towel and a solution of hot water and baking soda.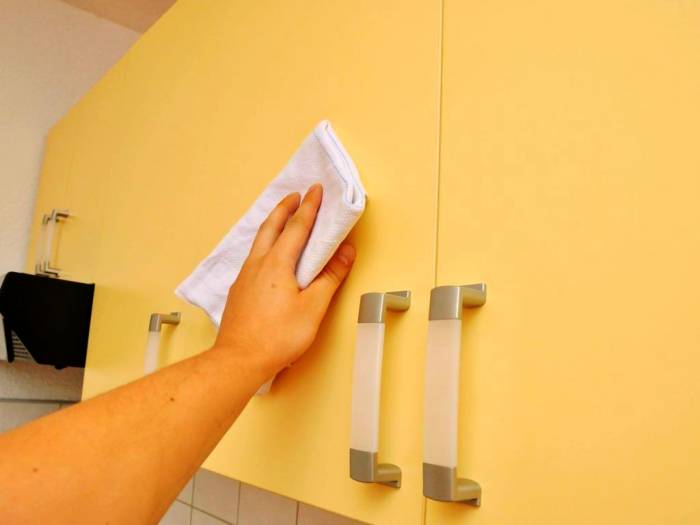 If you do not have mineral oil available, you can use vegetable oils in the same way. Vegetable oil is a safe, effective, and natural substance for cleaning stainless steel and wooden items from oil stains. However, it is better to use mineral oil to clean the desired surfaces because using vegetable oil may make your kitchen utensils yellow and sticky after a while.
Another easy way to get rid of kitchen oil stains is to use baking soda paste and hydrogen peroxide as a degreaser, especially to clean the hood.
Also, the combination of lemon and soda has a significant effect on removing fat stains.
Dishwashing soap is an alkaline product that, in combination with hot water, will have degreasing properties. Fill your sink with hot tap water, add a tablespoon of dish soap, and use a sponge to make circular motions to remove oil stains from your cabinets. Then wash your cabinets with cold water.
Low-quality metal cabinets lose their color or rust if washed too much, so drying them is as important as cleaning them.
After cleaning your cabinets, protect your cabinets with vegetable oils such as lemon oil, oak oil, pine, maple, and other oils and prevent further contamination.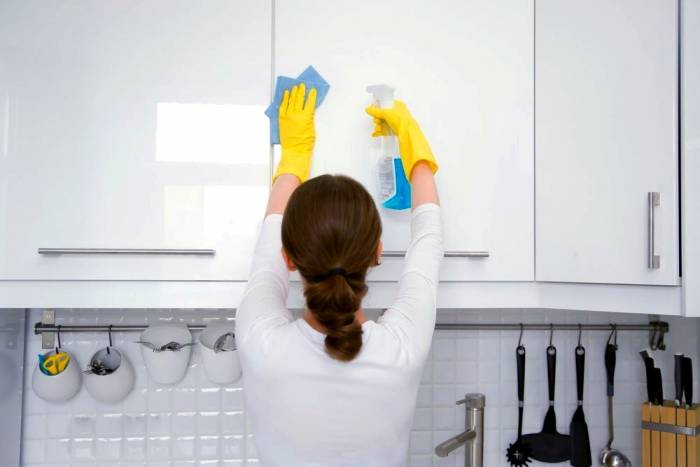 A way to get rid of oil stains
To clean and remove oil stains from the wall surface, determine the path of the oil sprayed on the wall and wipe the stains in the direction they were sprayed because this will make it easier to remove stains.
Remove oil and other stains with a soft cloth with high absorbency that does not scratch the wall.
Pull the fabric from one side of the wall to the other or from top to bottom and avoid wiping the surfaces in a circle. Wipe the surfaces with a towel immediately after each cooking.
After cleaning metal surfaces, wipe them thoroughly with a dry cloth as the water can destroy the metal over time.
Other applications for removing kitchen contaminants
Candle wax:
Using candle wax, you will be able to remove many impurities created on your kitchen tiles and ceramics.
Rice water:
Using rice water to remove grease stains on the stove is an easy, economical, and environmentally friendly method. Rub the rice water on your stove's surface and allow it to dry, then quickly wipe off stains on the stove with a damp cloth.
detergents :
A mixture of warm water and detergent is very useful in cleaning oil stains, but be careful because these substances' chemical composition may damage your skin.
Lemon and baking soda:
The combination of lemon and baking soda is a great combination to remove newly created fat stains.
Hot water :
If the oil stain is fresh, you can use hot water to immediately remove grease stains from the stove, floor, or other kitchen utensils.
Use baking soda to remove oil stains.
As we said in the section on wet housekeeping secrets, to remove hard stains, mix a glass of lukewarm water (240 ml) with a glass of baking soda to form a paste, then knead the dough using a cloth. Or rub a sponge on the stains and wipe the dough off the surfaces with a clean cloth.
Mix vinegar and water to clean fat levels
To clean the fat levels, equal mix amounts of vinegar and lukewarm water, pour into a sprinkler and sprinkle on the stains, and then wait 5 minutes for the vinegar mixture to dissolve the stains. Finally, wipe the surfaces on which you have sprinkled vinegar with a damp cloth and use a dry cloth to dry it.
Polishing on metal surfaces using olive oil
Dip a tablespoon of olive oil in a soft cloth or cotton swab to coat your metal surfaces so that they do not stain and have shiny metal surfaces. You can use metal polishes instead of olive oil.
Other tips for removing grease stains
Clean your kitchen hood at least once every two weeks to prevent grease and dirt stains from accumulating on it.
Ideally, the hood filter should be cleaned once a month.
Some filters can be washed in the dishwasher.
While cooking, cover the pot and pan with the lid as much as possible and not put your greasy hands on the kitchen cabinets.
Do not use hard, wire brushes, or even coarse sponges to clean metal surfaces as they will scratch metal surfaces.
Get rid of stains on the wall quickly to get rid of stains.
Use a non-chlorine cleaner to clean fingerprint surfaces.