Nutrition
Pears properties and health benefits of this delicious fruit
Who does not like juicy and sweet pears, especially in summer? It is a juicy and delicious fruit that can be added to the food basket and lose weight. This fruit is rich in fiber and has a perfect cooling effect, and pear antioxidants help fight many diseases and problems and increase the body's immunity.
They also contain a lot of nutrients and minerals. It would help if you consumed a pear every day to enjoy its health benefits. Fresh pear juice is used for the best result.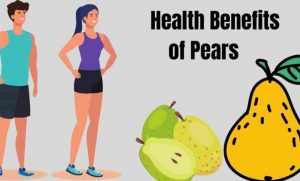 Health benefits of pears:
Fighting free radicals
This fruit is rich in vitamins and minerals—Vitamin C, vitamin K, and copper fight free radicals that damage the body's cells.
Prevention of heart disease
One of the best properties of this fruit is the fiber in it, which lowers cholesterol in the body and thus protects against heart disease. Daily consumption of this fruit can reduce the risk of stroke by up to 50%.
Cancer prevention
High amounts of pear fiber inhibit and kill cancer cells and prevent colon cancer. Also, eating one pear a day can prevent up to 34% of breast cancer in postmenopausal women.
Pears do not have an allergic reaction.
Allergic reactions occur less frequently after eating this fruit than other fruits and are among the few infants' fruits.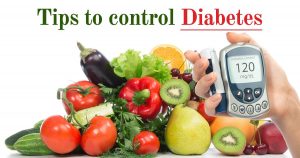 Blood sugar control
Although this fruit is slightly sweet, with a low glycerin index and high fiber, it helps control blood sugar levels and prevents diabetes.
Improving the immune system
Another pears property is that large amounts of antioxidants such as vitamin C and copper help strengthen the immune system to fight various diseases.
Prevention of osteoporosis
it is essential to maintain your body's pH and get the recommended amount of calcium a day. The body's pH can be maintained through diet with daily consumption of fruits and vegetables. This fruit is rich in boron. It can quickly help absorb calcium daily.
Increase energy levels
Large amounts of pear sugar give you energy when you feel weak because its sugar is quickly absorbed by the body and converted into energy.
Improve digestion
An average pear provides about 20-25% of the allowable daily fiber. Because this fruit's fiber is insoluble, it quickly passes through the large intestine and prevents colon polyps. A large amount of fiber in pears helps digest food and improves it.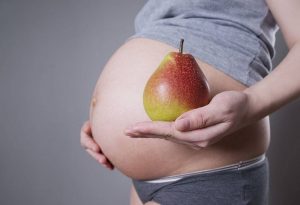 Good pear for pregnant women
Folic acid is essential for pregnant women because it helps protect the baby against congenital disabilities. This fruit contains folic acid, so it is recommended to use this fruit regularly during pregnancy.
Pear suitable for weaning children
It is always recommended to give this fruit to breastfed babies because it contains little acid, so it does not cause digestion problems. You can nourish this fruit with the skin, but there must be no hard surface. No, so as not to harm the child. Avoid giving pears to children with diarrhea.
Treatment of colitis, arthritis, and gout
Pears, if consumed regularly, can prevent colitis, osteoarthritis, and gout.
Blood pressure regulation
The glutathione in this fruit is an anti-cancer and antioxidant that helps control blood pressure.
Reduce and treat fever
This fruit quickly cures fever with its cooling effects.
Improve inflammation
Pears have anti-inflammatory properties that reduce the inflammation of osteoarthritis and other similar problems.
Improve shortness of breath
During the summer, shortness of breath due to heat is very common in children and adults. Therefore, eating pears on hot days is recommended.
Treatment of throat problems with pears
This fruit prevents throat problems during the summer. So it is good to consume it regularly to enjoy all its benefits.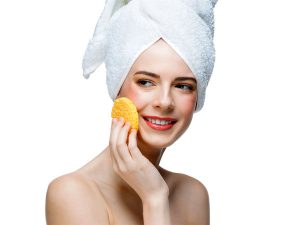 Benefits of using pears for the skin:
Fiber to prevent skin damage
Pears are rich in dietary fiber, which plays an essential role in maintaining the skin's softness and radiance and reducing collagen damage, thus softening our skin.
Keep wrinkles away
Eat pears every day to prevent facial skin aging. This fruit is rich in vitamin C (a powerful and fantastic antioxidant), vitamin K, and copper. All elements can withstand free radical damage, thus protecting skin cells and protecting against severe damage.
Finally, they help the skin resist any wrinkles.
Treatment of oily skin
If you have oily skin, this fruit can be useful for you and prepare one of these fresh fruits and mix it with a little honey, use this mixture three times a week as a mask, which does not secrete more than Prevents sebaceous glands.
Acne treatment
People with acne can use this fruit because it contains large amounts of vital vitamins and minerals. This fruit can increase and strengthen the body's immunity, thus enabling the skin to fight acne, pimples, and other types of skin infections.
To keep the skin moist for a long time.
This fruit is good for oily skin and dry and flaky skin because it contains natural cleansers that help maintain the natural content of the skin and water and give it natural moisture.
Therefore, this fruit's juice is widely used to prepare moisturizing lotions, and its regular consumption can smooth and soften your skin.
A natural scrub
The natural enzymes in this fruit make it the primary cleanser. From this fruit, you can quickly get rid of dead skin cells in the surface layer and get rid of them. Pear extract can also increase blood circulation in the skin as a factor.
Lip treatment
The lactic acid in its extract can keep lip cells healthy and absorb them for a long time and make your lips softer and smoother.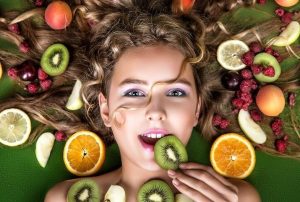 Benefits of using pears for hair
The first thing to note is that it can create healthy hair. It also contains sugar-free natural alcohol and nourishes hair follicles and scalp, keeping it moist and healthy.
Reduce dry hair
The moisturizing properties of this fruit are beneficial for reducing hair dryness. Also, it contains a large amount of vitamin C, which acts as a natural antioxidant and helps restore dead cells' health.
Remove hair roughness
Regular consumption of pears is an effective treatment for the loss of coarse hair.
Recover hair electricity
If your hair has lost its shine for a while, do not worry because this fruit can help you, then all you have to do is make a natural hair mask at home.
Combine some fresh ripe pear extract with two tablespoons of apple cider vinegar and apply it to your hair; it will help regenerate and shine your hair.
Shine and stabilize hair color
It is much easier to maintain hair color with this fruit. To do this, you have to make a mask from this fruit and then add some soybean oil to it and apply it evenly to your hair. After an hour, wash with a mild shampoo, and you can easily see the difference.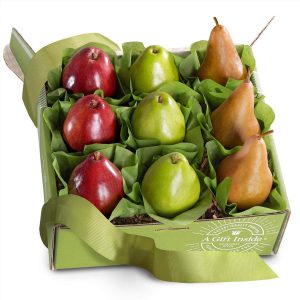 How to choose and buy pears:
Choosing and buying the best pear is more critical than other fruits.
Pears should not be too firm or too loose, and the skin should be without the slightest damage. When buying it, make sure that the upper part is not too soft or too tight near the stem. To do this, instead of squeezing the whole fruit, gently press your fingertips on this part.
How to store pears:
If you want to store sweet pears, put them in the refrigerator, and if you want to keep them at room temperature, put them in a container without washing because moisture can destroy the fruit quickly.
You can also put them in a perforated paper bag, which will help them grow because it helps them get enough oxygen.
Side effects of overuse of pears:
This fruit has no side effects; however, if you have a health condition, reduce their consumption:
If you have diabetes, do not eat too many pears.
If you suffer from bloating, avoid consuming too much of this fruit, and also remember that fruits that are high in fiber can upset the stomach and lead to vomiting or diarrhea.
Choose only red or fully ripe pears that are perfectly healthy and easily digestible.
Also Read:
A complete examination of the properties of sweet potatoes
The best drink to eliminate bloating. Completely herbal