Housekeeping
The secret to choosing the right carpet for home decoration
How can you choose a carpet, right? The floor does not look good without a carpet because you can change the look of the whole house with a carpet, but sometimes how people use the rug is a little confusing.
Carpet suitable for home decoration:
Use rugs that separate places
Use a rug that can separate different areas; now, if your room is large, you can easily separate the two parts with two rugs.
Create variety
For better decoration, you should use carpets that have enough variety. When using two rugs in a room, you should pay attention to the size of the rugs and consider the same size for both.
Create harmony
When using more than one rug, it is better to use mats in harmony not to have an unfavorable view of your home environment.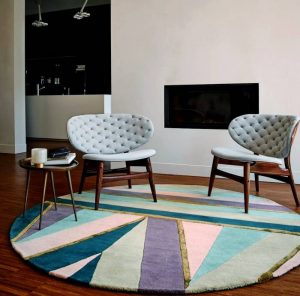 Control the volume
When choosing carpet, pay attention to your wallpaper pattern because you should not do anything that makes the wallpaper pattern and carpet pattern make the room look small; for example, when your wallpaper design is minimal, you can use several carpets with crowded designs.
Look for the correct color pattern.
You should use the color of the carpet to match the background color and pattern of your room, and on the other hand, you should first buy furniture and rugs to make a better decision.
Cover the wall
You can also use small rugs for part of the room wall.
Create a focal point in your room
You can use carpets to make your room look bigger; these carpets should have a large design in the center to make the room look bigger.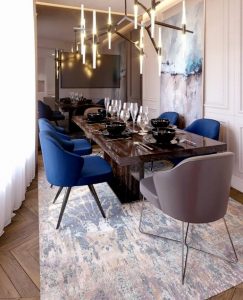 Play with shapes and use them
Your rug should not be rectangular, so let the design of your furniture influence the choice of a rug. This way, you will know what model of a rug to use. Round and oval rugs can also be suitable for relatively round furniture, and the use of rectangular rugs is not necessary.
Change the decoration of your room.
One of the attractive decoration ideas is to change the carpets of the room and use suitable colors with the change of seasons.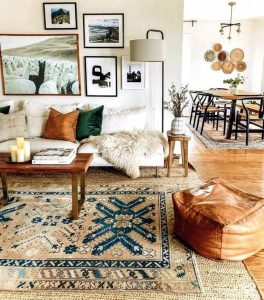 Be sure to choose the right size.
The rug you buy should not cover the entire space of your room, and you should leave part of the top and bottom of the carpet empty. Pull back the back of the chair on the rug.
It is better to buy a rug for your room so that when you wake up and put your feet on the floor, your feet are on the carpet.
Use a layer of the carpet.
You can buy a large sisal carpet in a neutral color for the house's beauty and put a patterned rug on it.
Before buying other home appliances, buy a rug
Buy carpets before buying home appliances, because this way you can choose home furniture more harmoniously than carpets.