how to do a pedicure at home for myself
Pedicure is one of the most beautiful methods for toes that you should do before nail design, that is, cut the extra flesh around the nail, trim the nails, trim the nails, and so on.
You can use special nail polishes and stencils to design your toenails; you can choose simpler designs to design your toenails at home and easily design your nails. The nail designs that you see below are in various colors, flowers, wreaths, wreaths, simple and jeweled, from which you can get ideas and design your nails in this model.
Learn how to pedicure your feet at home:
Do you know that your feet can say a lot about you? Adorned legs are a sign of a proud and confident woman. You do not need to spend money to get beautiful legs, and all you have to do is follow the steps in this section for a pedicure session at home.
Steps to do toenail pedicure:
Elements:
Spa tub
Salt/bath shampoo
A special foot scrub
Nail clipper
Cuticle
Nail file
Wash your nails
Cuticle cream
Clean towels
moisturizing cream
Cotton pad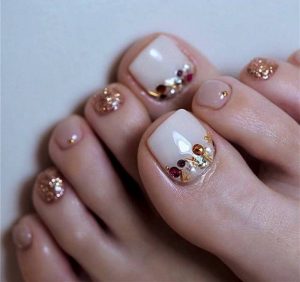 How to do your toenails pedicure at home?
First, clean your nails with nail polish remover and cotton and then smooth your nails with a nail clipper and then shape your nails using a nail file.
This is probably the easiest part of a pedicure and then put your feet in warm, fragrant water as this is a good way to relax after a stressful day.
Fill a bowl with warm water to cover the ankle, and you can add shampoo and a few salt crystals to the liquid, or you can use half a cup of salt, which reduces inflammation and reduces any pain. It gives and eliminates roughness and also acts as a detoxifier.
Add the juice of a whole sour lemon and one or two drops of shampoo, and you can also add a few drops of vegetable oil, which usually calms the nerves.
Sit for a few minutes and wet your feet well, and while doing so, listen to some soothing music that acts as a stress reliever, then towel dries your feet.
Foot scrub
When your feet are dry, apply a little cuticle cream on your toenails and massage. While this cream softens dead skin and you can also use foot scrub that removes rough, dry, and dead skin.
How to prepare toenail pedicure cream:
If you do not have cuticle cream at home, follow these steps:
Elements:
Three tablespoons olive/almond oil
One tablespoon coconut oil
One tablespoon glycerin
Manuals:
Heat the olive oil in the microwave and add the coconut oil and vegetable oil or glycerin to the ingredients, your cuticle cream is ready.
If well maintained, it can last a long time.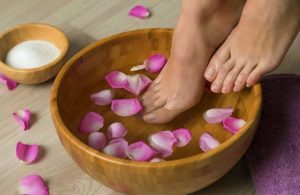 You can also make a scrub at home:
Elements:
Two tablespoons brown sugar
One tablespoon honey
Two tablespoons oatmeal powder
One tablespoon lemon juice
One teaspoon olive oil
Manuals:
Mix barley and sugar, add lemon juice and honey to the mixture, add olive oil, and use.
Foot moisturizer
Your feet are now fresh and clean, but you need to moisturize them to feel young. A strong moisturizer should be used, and you can massage the feet, ankles, and calf muscles for 10 minutes and you can also use a mixture of almond oil and olive oil to massage the feet after the cleansing steps.
Mix a teaspoon of each mixture with a few drops of vegetable oil that you want to act as a foot massager and massage your feet well when using it, because regular massage stimulates the brain and increases blood circulation, and also with this You nourish the skin and strengthen the leg muscles.
If you have cracks on your feet, mix some Vaseline with lemon juice and apply it to your heels. Cover your feet with plastic and wear loose cotton socks and leave it overnight and the next morning; your feet will be soft and beautiful.
Do this twice a week, and be sure to clean and moisturize your feet every day, and you will soon have beautiful feet.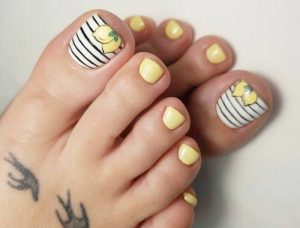 Beautify your nails
After completing all the above steps, you can beautify your nails with your favorite nail polish.
First, for regular nail polish, apply a base nail polish on your nails, and you can also apply clear nail polish as a base coat.
Apply a clear base on your nails and let it dry a bit, then apply your white nail polish on your nails and let it dry for a few minutes and then apply another coat of nail polish on your nails.
Other toenail pedicure tips:
If you do not have time to do all the scrub steps regularly, you can rub your feet with footstone twice a week while bathing to clean the dead skin.
If you notice any infection or darkening of the nails, consult your doctor immediately.