Nutrition
What is Cayenne Pepper? What are its health benefits?
Cayenne pepper, also called bell pepper, is a type of hot pepper that is mild and balanced due to its capsaicin. This type of pepper has several benefits for the body. In this article, we have told you everything you need to know about the help of this pepper.
What is Cayenne Pepper?
Cayenne pepper belongs to jalapeno peppers (a hot pepper) and bell peppers. This type of pepper is used as a spice to flavor food. Traditional Chinese and Ayurvedic medicine also use red pepper to treat circulatory problems.
The spicy taste of cayenne pepper is due to an active ingredient called capsaicin, which is found in ointments to treat muscle and joint pain. Capsaicin has the following properties:
Pain reliever;
Weight control;
Relieve itching;
Reduce inflammation;
Treatment of colds and congestion;
Nervous system protection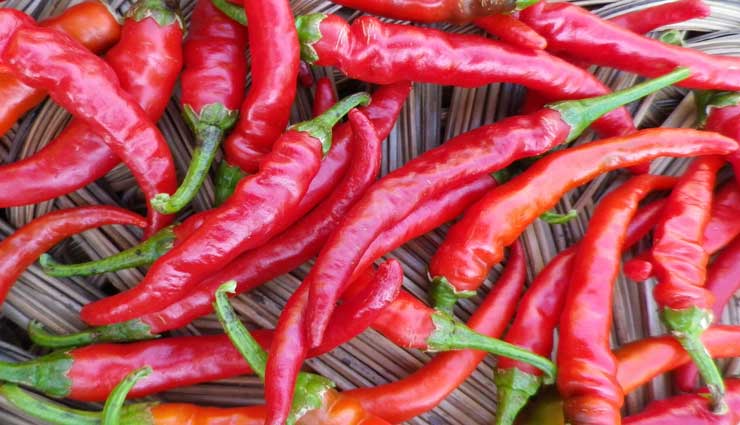 What are the healing properties of bell peppers?
Scientific evidence has not confirmed all of the above healing properties, but some researchers have found compounds in cayenne that have several healing properties. Here are some of these properties.
Improves antioxidant activity
Cayenne pepper contains a variety of antioxidants, including:
Vitamin C;
Beta-carotene;
Choline;
Lutein;
Zeaxanthin;
Cryptoxanthin (a rich source of vitamin A).
Antioxidants help keep people healthy by scavenging free radicals. Accumulation of free radicals in the body leads to diseases such as cancer, heart disease, and neurological diseases such as Alzheimer's. By eliminating these radicals, the body avoids these risks.
The body produces some essential antioxidants, but the rest must be proper nutrition.
Reduce cold symptoms
Some people use bell peppers to treat coughs, congestion, or colds at home. Capsaicin solves these problems by narrowing the arteries that dilate in the nose and throat. Researchers have found that capsaicin effectively relieves symptoms such as sneezing, runny nose, and congestion caused by allergies or smoking.
The researchers also examined capsaicin spray and found that if the runny nose was not caused by an allergy and was a sign of a cold, the runny nose would stop 10 minutes after using the spray.
Other studies have shown that this pepper has antibacterial properties. Scientists have concluded in laboratory studies that capsaicin can fight and inhibit a group of streptococcal bacteria belonging to group A of these bacteria. This bacterium causes sore throat and some other diseases.
Preparation of the home remedy capsaicin
To prepare a home remedy, prepare the following ingredients:
1/4 teaspoon cayenne pepper;
1/4 teaspoon ground ginger;
One tablespoon apple cider vinegar;
One tablespoon honey;
Two tablespoons of water.
Mix all the above ingredients thoroughly to get a homogeneous mixture. Then make tea from this mixture like other teas. This tea cleanses and heals infected sinuses.
However, the effectiveness of these treatments has not yet been fully confirmed.
Pain relief
The researchers developed a cream used for volunteers with osteoarthritis in their experiments. Capsaicin relieves pain. Capsaicin reduces the amount of a chemical called P, which sends a pain message to the brain. This experiment showed that this cream with long-term use could ease the pain and allergies caused by osteoarthritis.
Other studies in athletes have shown that capsaicin supplements reduce the pain and discomfort caused by strenuous exercise.
However, researchers are concerned about the possibility of gastrointestinal upset after long-term use of capsaicin.
Fix skin problems
As mentioned, the antibacterial properties of capsaicin can protect the body against Streptococcus pyogenes. This bacterium is one of the factors that cause people with skin and soft tissue infections such as jaundice and cellulite. Therefore, using skin pads containing capsaicin can reduce itchy skin caused by skin diseases such as diarrhea and dialysis. The dialysis process sometimes causes itchy skin.
Weight control
Many foods containing cayenne pepper increase the body's metabolism and thus lose weight. One study found that consuming 1 gram of bell pepper per meal increased core body temperature and burned extra calories. Of course, there is little evidence to support this claim.
Research has also shown that people who consume this pepper eat less fatty, sweet, or salty foods.
In a study of healthy volunteers, the researchers also found that people who took 2 to 4 mg of capsaicin daily for 12 weeks lost 6 percent less body fat than people who took the placebo alone.
Of course, the problem with these studies has been bell peppers combined with other foods, so we can not mention the role of capsaicin in this weight loss.
Cayenne pepper also makes you feel fuller. Other scientific studies have confirmed that capsaicin is effective in weight control and can be a valuable part of weight loss programs.
Eat less salt
Although consuming small amounts of salt is good for the body, drinking too much can endanger a person's health and lead to heart disease and high blood pressure.
Interestingly, cayenne pepper makes food tastier and reduces the need for salt. In one study, the use of this pepper in a soup made the volunteers who participated in the experiment reluctant to add more salt to the food when eating the soup.
Use pepper when cooking.
The use of cayenne pepper in cooking gives a delicious taste to food. Here are some ways to use this pepper when preparing food:
When frying potatoes, add a little red pepper powder.
This pepper can be used in stews and soups.
Fresh cayenne pepper can be used when baking cornbread or chocolate cake.
Add a little pepper when preparing egg-rich foods, such as delicious Italian frittata.
If you enjoy a spicy chocolate drink, add a little pepper when preparing this drink.
Make a delightful sauce with this pepper and a few other simple dishes.
safety tips
When using cayenne pepper in the kitchen, be careful not to touch your eyes. This pepper may irritate and itch your eyes and skin.
Remember that spicy food can cause stomach upset or heartburn. So do not over-consume this pepper.
Excessive consumption of bell peppers in some people has dangerous side effects such as heart attack.
The harms of cayenne pepper
Cayenne pepper is not suitable for gastroesophageal reflux disease and irritable bowel syndrome.
Many foods cause allergic reactions in some people, but studies have shown that allergies to this type of pepper are infrequent. Some allergies can lead to anaphylaxis, a very severe and deadly allergic reaction. However, if you have hives, swelling, and difficulty breathing after eating red pepper, see your doctor right away.
Some people have asked if eating bell peppers is harmful to children? Researchers have answered that children should have different nutrients, and if you use this pepper in your food type, it will not be a problem for children. But if you use this pepper from time to time or just starting to use it, add a minimal amount of this pepper to your baby's food.
Be sure to consult your doctor if you plan to use capsaicin.