1. Eliminates skin irritation
Among the most important benefits of rose water is its anti-inflammatory properties. Internal and external diseases can be treated using this property. Rose water can even be used to soothe irritation and discomfort caused by eczema or rosacea.
2. Properties of rose water for facial spots and reduce skin redness
Rose water can reduce redness and discomfort caused by it if your skin sometimes turns red. Rose water can be used to cool and soothe the skin. Rose water reduces inflammation, redness, blemishes, and puffiness. The anti-inflammatory properties of rose water also help to reduce acne.
3. Protects skin cells
Rose petals and rose water contain powerful antioxidants that can prevent cellular damage. It has been shown that these antioxidants inhibit lipid peroxidation, providing strong cellular protection. Antioxidants in rose water also provide nutrients to the skin.
4. Reduce fine lines and wrinkles
The topical application of rose water can reduce wrinkles. Rose water temporarily fills in fine lines and even helps prevent new ones from forming. Due to its anti-aging properties, rose water is used in beauty products to reduce wrinkles.
5. Heal cuts, wounds and burns
As an antiseptic and an antibacterial agent, rose water is useful for cleaning and fighting infection at the site of cuts and burns, and it encourages faster healing of cuts, burns, and wounds.
6. Balancing pH and skin oil
If your skin is dry some days and oily other days, or if the pH of your skin is out of balance, you can use rose water. Rose water restores the pH level of the skin and reduces oiliness and dryness.
We have acidic skin with a pH of 4.5 to 5.5. Skin care products have a pH between 6 and 7.5. A high pH can cause diseases such as rosacea, psoriasis, acne, and increase wrinkles. Because rose water has a low pH, it balances the pH of the skin.
A healthy pH balance ensures that the skin's acidic coating works properly and fights bacteria, allergens, contaminants, and other substances that try to enter the skin. Therefore, rose soothes and calms the skin and reduces irritation.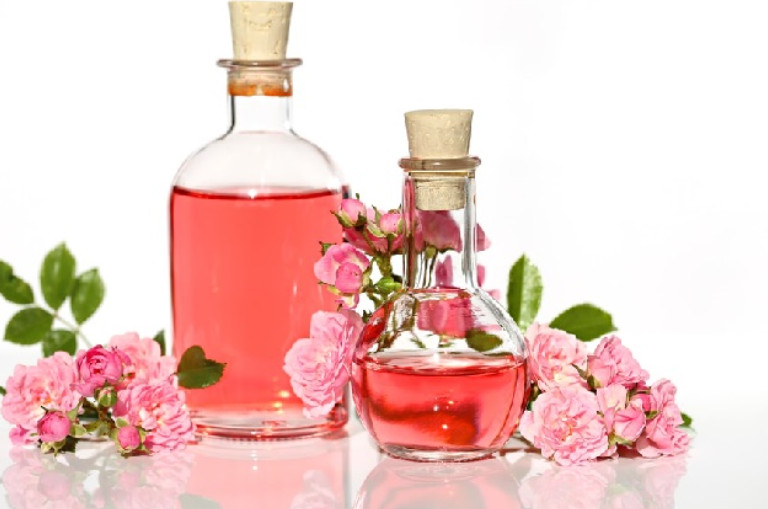 7. Hydrate the skin with rose spray
The secret of youth and radiance of the skin is moisture. The cold winter weather decreases air conditioning and heating humidity, causing the skin to lose water and become white and flaky.
Rose spray, according to a study in 2014, is extremely effective in hydrating the outermost layer of the skin, especially in the winter. Rose extract strengthens the skin's defense barrier and reduces the rate of water evaporation.
Using rose water spray on your skin can help treat dry skin despite using lotion. Immediately after showering, spray rose water on your skin and apply your favorite lotion.
8. Open skin pores
The pores of the face are closed with impurities and toxins, and rose water can remove these impurities and rejuvenate the face. Rosa water cleanses and brightens skin, removes impurities, and promotes the skin's ability to absorb nutrients.
It also shrinks large pores to smooth the skin. Cleansing properties of rose water make the skin smooth and balanced.
9. Temporary tightening of the skin
Rose water can temporarily tighten skin and improve its appearance.
What kind of skin does Rose water benefit?
Each type of skin has its own needs:
Rose water is a mild substance that is beneficial to skin that is sensitive to other substances.
Rose water balances the skin's natural fat, so it is beneficial for oily skin.
Rose water is a natural moisturizer that provides the skin with the necessary moisture.
Rose water balances skin oils and hydrates dry areas.
How to use Rose water:
Rose water can be used alone on the skin or in combination with skin moisturizers and natural oils such as coconut oil. There are several ways to use Rose water:
To prepare the skin for other products, use rose water instead of a cleanser or toner. Spray rose water on your face after washing it. After that, apply serum or other products to the skin and use a moisturizer. Apply sunscreen in the morning.
You can drink pure rose water to reduce redness and other skin problems, as well as get nutritional antioxidants.
You can also spray rosewater on your skin. It is so effective on its own that no other ingredients are needed.
If you are preparing a pink mask that requires fluids, use rose water instead of water to enhance its properties. Rose water makes the mask more nutritious. Additionally, rose water can make the smell of some mask ingredients more tolerable.
To prepare the skin for makeup, or to refresh your makeup after a long time, pour rose water into a spray bottle and spray several times. The properties of rose water are refreshing, emollient, and brightening.
Every day, spray rose water on dry areas such as the back of the hands, feet, and face. Wet a cloth with rose water and apply it to very dry skin (for example, eczema). Cover it with a dry cloth and leave it on the skin for a few hours.
Spray rose water on a cotton pad to soften and clear the skin. After cleansing your skin in the morning and at night, wipe it evenly with a pad. Cotton pads exfoliate and soften the skin.
Side effects of Rose water:
Topical or oral consumption of rose water is not known to be harmful. Allergies are the only complication. Some people are allergic to rose water and experience symptoms such as burning, itchiness, redness, and burning and discomfort of the skin. Consult your doctor if you experience any of these side effects after taking rose water, as they could indicate an infection or an allergic reaction.
After applying rose water to a small part of the arm, if there is no allergic reaction or adverse reaction within 24 hours, apply it to other parts of the body.
Manufacturers sometimes add perfume or use stimulants to increase the scent of roses. Check the ingredients before buying. The fewer ingredients in the list and the more rose extract, the purer the product.
rose water for face
rose water benefits
rose water toner
best rose water for face
rose water benefits for face
rose water benefits for skin
rose water for skin whitening