Unfortunately, your skin does not improve with age. With age, wrinkles and brown spots on the skin increase and skin care becomes more important. A skin serum is one of the products that will help you in this area. Simply apply a few drops of the skin serum to your skin daily to treat skin problems. This article discusses how to use this useful product and its benefits. Stay with us until the end.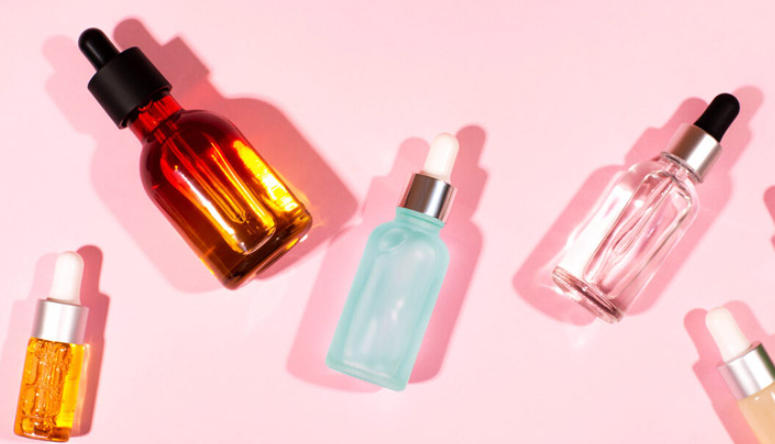 How does skin serum work?
Skin serums contain a high concentration of active ingredients, according to dermatologist Tsippora Shainhouse. As a result of the high concentration of active ingredients, more active molecules are able to penetrate the skin for optimal effectiveness, resulting in faster results.
Since skin serums are lightweight and deliver active ingredients quickly to the skin, they are best applied after cleansing and followed by a moisturizing cream. Consider serum a secret weapon used to treat skin problems, such as:
discoloration;
darkness;
fine lines;
Skin serum benefits
The use of a skin serum or a closed face serum has its own advantages. Here are some key benefits of adding this product to your skin care regimen:
Skin absorbs it quickly
Serums have lighter formulas than moisturizers, and they are more easily absorbed by the skin. Consequently, the facial serum is an ideal first step in the exfoliation process.
Skin that is sensitive is soothed
According to dermatologist Dr. Melanie Palm, skin serums are often suitable for people with oily or acne-prone skin due to their light formulation.
Reduces the appearance of fine lines and wrinkles
There are some serums that contain ingredients like retinol that reduce wrinkles and fine lines on the face.
Free radicals and new damage to the skin are protected by it
Ingredients commonly found in skin serums include:
vitamin C ;
vitamin E ;
ferulic acid;
green tea ;
resveratrol;
Astaxanthin.
The effect is faster
The high concentration of active ingredients in skin serums may lead to more tangible results than other skin care products.
Your skin will feel light after using the serum
The serum quickly absorbs into your skin, so you won't feel heavy or oily.
The types of facial skin serums and their ingredients
It is important to know that there are different types of serums with different ingredients when choosing a skin serum. Generally, facial serums fall into the following categories:
Serums that fight aging;
Serums that lighten the skin;
Serums that hydrate;
Serums that fight free radicals;
Skin serums for acne-prone and sensitive skin;
Serums for tissue repair and improvement.
Serums that fight aging
Skin renewal and collagen production are caused by anti-aging serums. These serums often contain retinol or bakuchiol, according to Dr. Palm.
Serums that lighten the skin
To improve skin tone, skin lightening serums contain antioxidants and anti-pigmentation ingredients. This type of skin serum may contain the following ingredients, according to Dr. Palm:
Vitamin C;
glycolic acid;
kojic acid;
ferulic acid;
mushroom extract;
licorice root ;
Lactic acid.
Serums that hydrate
They contain hyaluronic acid, a molecule that holds water in the skin to make it look younger and fresher. Often, hydrating serums contain vitamin B5, which hydrates the skin and makes it look smoother.
Serums that fight free radicals
Free radicals are combated by antioxidants. The skin can be damaged by free radicals. Use a serum containing vitamins C, A, and E, as well as resveratrol, to prevent free radical damage to the skin.
Sensitive and acne-prone serums
It is common for anti-acne serums to contain salicylic acid or similar herbal derivatives. These serums also contain nicotinamide (a form of vitamin B3) as a soothing ingredient. Combined with other active ingredients, it minimizes irritation and soothes sensitive skin by hydrating and anti-inflammatory.
Skin serum: how to use it
You should use a face serum as a base layer under heavier products like moisturizers, sunscreen, and makeup. By doing this, such problems can be prevented:
oxidative damage;
skin dehydration;
premature skin aging;
The appearance of wrinkles.
After cleansing and strengthening your skin, you can use the face serum once or twice a day.
What is the best time to use face serum?
It is best to use anti-blemish and antioxidant serums in the morning, since light, including UV and visible light, produces free radicals.
It is often recommended to use anti-aging serums at night. Consequently, the ingredients work with the body's nightly activity to repair and regenerate the skin.
To keep your skin hydrated, use hydrating serums twice a day.
Skin serum warnings
Serums may irritate sensitive skin due to their high concentration of active ingredients. Test the serum on a small area of your skin before using it extensively. You can also use it on your face if you are not allergic.
With a skin serum, you can boost your skin care routine with a product that has more active ingredients than cleansers and moisturizers. Face serum should be used after cleansing and before moisturizing. With regular use, you will notice positive changes in your skin as it is designed to nourish, protect, and hydrate it.
Please share your experience and opinion about facial serums in the comments section with us and our users.