Dress
The five secrets to keeping a leather jacket in good condition
Keeping leather and suede coats in good condition requires special care. You need to know these methods if you want to save money on one of your most valuable wardrobe items. An elegant leather jacket, whether it is completely formal and simple, or casual and colorful with many decorations, is an important garment that should be treated with care.
How to maintain your leather jacket
There is a difference between a leather jacket and the rest of your clothes. In the same manner, you cannot throw these clothes in the washing machine and expect them to come out clean, fresh, and healthy.
Leather jackets require special care and attention. As usual, you can read some of the methods of maintaining these types of clothing from the label on the back, but this may not provide you with all the tips you need to maintain coats and leather jackets. To avoid ruining your leather clothes with small mistakes, it is better to look at what has been learned over years of experience.
1. It is better to maintain a leather jacket than to repair it
In the event you have just bought a leather jacket for yourself and have not worn it yet, it is important to remember this point before wearing a leather jacket.
Keep your leather coat or jacket soft, prevent cracking, and preserve its value by using leather spray or wax.
Whenever you use a spray, always test it on a small section of clothing before spraying the entire coat to ensure that it fits and does not damage or discolor it. Test the spray on a spot that is not visible on the jacket, such as under the collar.
Use Vaseline on leather coats
In case your leather jacket is too dry and is on the verge of cracking, but you do not have access to leather wax, you can use Vaseline instead.
Keep in mind that Vaseline should never be applied directly to the skin at high concentrations. After dipping your hand in Vaseline, rub it on a leather coat.
If it is too late and water, ink or other materials have damaged your leather jacket, it is best to fix the problem first and then apply wax or spray to protect it on your agenda.
2. Allow the water stain on the leather coat to dry naturally
If you get stuck in the rain or water spills on your leather clothes in any way, you should not throw them in the hair dryer or attempt to dry them with one. Natural leather clothes can be damaged by direct heat. The leather coat should be hung where there is enough light and air flow for it to properly dry.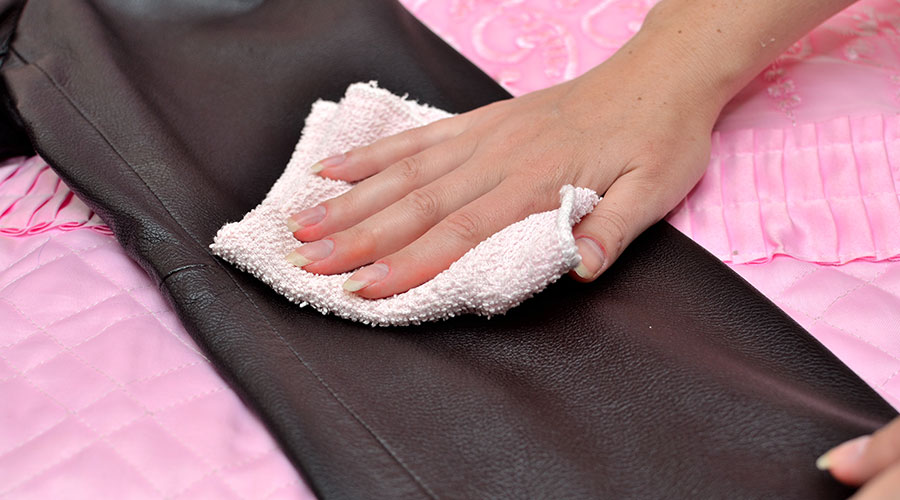 3. Use alcohol to remove ink stains from leather coats.
Has your shiny milky leather jacket ever had a black spot on the sleeve? The best thing to do is to leave the stain to a specialist, but if you have to, you can use an alcohol towel to clean the ink.
Ink stains on coats and leather jackets can be removed with alcohol towels. Never use this method on suede coats.
Furthermore, do not use colored cloth to remove ink stains and do not pull the cloth too hard on leather clothes.
4. Apply leather moisturizer to old leather jackets.
Old leather coats can be softened and protected with leather fabric softener or moisturizer. For a new, high-quality coat and jacket made of thin and soft leather, it is not necessary to use a moisturizer very soon.
By using a moisturizer, you will extend the life of your leather jacket and prevent it from cracking and breaking.
5. When in doubt, contact leather specialists.
The damage caused by large stains, prolonged use, or tearing of the leather is some of the reasons you need a leather specialist to save your valuable leather jacket.
Finally, it is best not to overwash your leather jacket. It will gradually fade if you wash it too much. Small stains on the coat are not a cause for concern.