Housekeeping
The Allure of the Pussy Willow: An Emblem of Resilience and Beauty
The pussy willow is a captivating plant that has captured the hearts of garden enthusiasts and homeowners alike. The charm of pussy willows extends far beyond their soft, silvery catkins, as these plants also boast a fascinating history and an extensive list of uses.
The Salix discolor, more commonly known as the pussy willow tree, is a plant species indigenous to North America. This remarkable tree is just one member of the extensive pussy willow family, which is made up of over 400 unique species. The wide array of pussy willow trees is reflected in their diverse range of shapes, sizes, and colors. These trees can adapt to various environments and climatic conditions, making them a favorite among plant enthusiasts.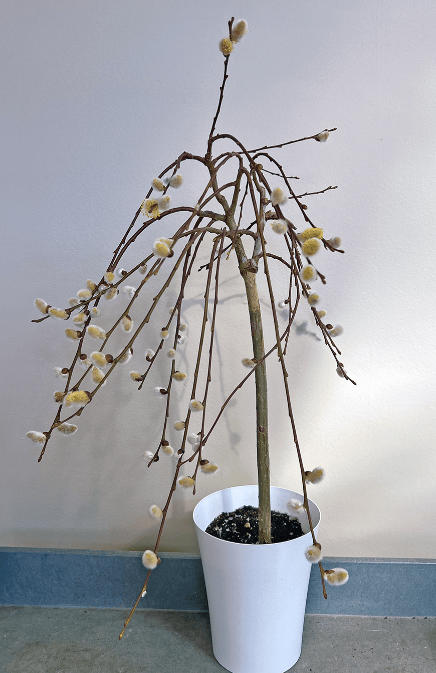 One particularly notable variant of the pussy willow tree is the weeping pussy willow. This fascinating tree lives up to its name with a distinct weeping form, characterized by branches that fall downwards in an elegant, drooping pattern, forming an umbrella-like canopy. The cascading branches of the weeping pussy willow offer a captivating sight, particularly when they are covered in the tree's distinctive fluffy catkins.
These pussy willow branches become a true spectacle in the spring when they blossom, transforming the tree into a stunning display of soft, silvery flowers. Whether standing alone as a statement piece in a garden or being a part of a larger landscape, the weeping pussy willow tree is a show-stopper.
Its distinct silhouette creates a stunning contrast against the skyline, and its silver-colored flowers add a unique aesthetic appeal. When in full bloom, the weeping pussy willow is truly a sight to behold. It stands as a testament to the sheer beauty and variety found within the family of pussy willow trees.
As much as it is breathtaking, the weeping pussy willow tree is also robust, able to withstand a variety of soil conditions. This resilience, coupled with its spectacular beauty, makes the weeping pussy willow a desirable choice for both practical gardeners and those with an appreciation for natural elegance.
One of the standout characteristics of the pussy willow is indeed its captivating branches. The phrase 'pussy willow' owes its origin to the fuzzy, paw-like appearance of the catkins that grow on these branches, reminding many of the soft paws of kittens. These enchanting catkins have solidified the pussy willow's status as a plant with a charming aesthetic appeal.
As winter makes way for spring, the pussy willow branches undergo a striking transformation. The branches that were bare and stark in the cold of winter suddenly burst into life. As if overnight, they are adorned with an array of fluffy, silvery-gray catkins, creating a sight to behold.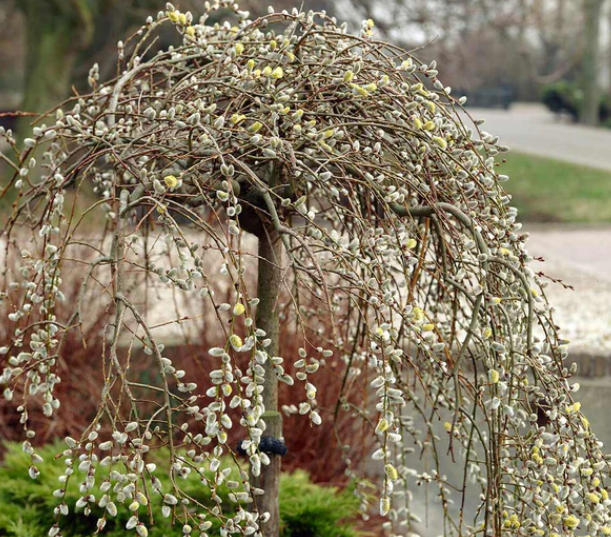 These soft, fur-like blooms make the pussy willow tree instantly recognizable and have contributed significantly to its popularity. These blooms, appearing in early spring, often symbolize the transition from the bleak winter to the vibrancy of spring, making the pussy willow a symbol of resilience and renewal.
Whether used as pussy willow decor in homes or appreciated in their natural habitat, the charm of the pussy willow branches continues to captivate. For those interested, pussy willow branches for sale offer a chance to bring this piece of nature's art into their own spaces, fostering an atmosphere of tranquility and natural beauty.
The enchantment of the pussy willow, in essence, stems from these unique branches. From the black pussy willow with its distinctively dark catkins to the pink pussy willow with its unusual color, the diversity of this plant is as vast as it is fascinating. This transformation that occurs on the branches of the pussy willow is undoubtedly a significant part of its allure, proving that nature, in its simplest form, can be utterly enchanting.
The allure of pussy willows extends to their many vibrant and striking varieties. The black pussy willow, for instance, is an exotic variant with a peculiar beauty. It's distinguished by its almost black catkins – a stark contrast to the conventional light, silvery hue. The unique coloring offers an eye-catching contrast against the backdrop of a clear early spring sky, creating a stunning sight to behold. The almost monochromatic aesthetic of the black pussy willow can add an element of sophistication and contrast to your garden, making it an appealing choice for garden enthusiasts seeking to break the traditional garden color scheme.
On the other hand, the pink pussy willow stands out for its delightful dash of color. The catkins of this variant boast a lovely pink hue, a deviation from the typical greyish-silver catkins associated with pussy willows. This splash of pink brings a hint of the extraordinary, brightening up any garden with a touch of charm and whimsy. For those seeking to infuse their garden with a burst of color, the pink pussy willow makes for an excellent choice.
The French pussy willow, an uncommon variety, is a sight to behold with its distinctive aesthetics. This variant stands out due to its larger than usual catkins, which create an impression of abundance and exuberance. This striking appearance, coupled with the pussy willow's robustness and adaptability, makes the French pussy willow an appealing addition to diverse landscapes.
Pussy willows, due to their iconic branches, have made their way into home decor. Pussy willow decor has been a growing trend, with the branches used in various artistic arrangements, adding a touch of nature's elegance to any space.
Purchasing pussy willow branches or even entire plants has never been more accessible. There's an increasing trend of pussy willow branches for sale, both in physical nurseries and digital platforms. These branches, known for their unique, furry catkins, can effortlessly bring a touch of nature's elegance into your home. They serve as versatile elements in floral arrangements and decor, bringing a soft, silvery pop of texture and visual interest.
If you wish to experience the beauty of these plants in their full glory, purchasing the entire plant could be a better choice. Pussy willow plants for sale are a popular option among garden enthusiasts and homeowners wanting to introduce a low-maintenance yet attractive element to their landscape. With a pussy willow plant in your garden, you can witness the spectacular cycle of these plants as they burst into furry catkins in the spring and give way to subtle greenish-yellow flowers in late spring to early summer.
From local nurseries that provide an in-person purchasing experience, where you can handpick your desired pussy willow branches or plants, to online shops offering a wider array of options with the convenience of home delivery, buying pussy willows has become incredibly easy and user-friendly. The variety is vast – from the captivating weeping pussy willow to the exotic black pussy willow or the eye-catching pink pussy willow, there's a pussy willow for every preference and every garden theme.
Remember, your investment in a pussy willow plant contributes not only to the aesthetic appeal of your home or garden, but also supports biodiversity by providing a valuable resource for pollinators. When considering pussy willows for sale, you're also investing in a piece of nature's remarkable design.
Moreover, weeping pussy willow trees for sale provide an excellent option for those seeking a stunning, easy-to-care ornamental tree. With their swooping branches and delicate catkins, these trees can truly transform a landscape.
The pussy willow flower, while not as well-known as the catkins, is equally remarkable. In late spring to early summer, the fuzzy catkins give way to small, greenish-yellow flowers that attract a variety of pollinators.
There's even something for the color enthusiasts: the pussy willow paint color. This gray shade, inspired by the soft hue of the pussy willow catkins, has become a go-to for interior designers seeking a neutral yet sophisticated palette.
Pussy willow trees for sale provide a golden opportunity to introduce these magnificent plants into your landscape. Whether it's a single branch or an entire tree, these awe-inspiring plants are sure to add a unique charm to any setting.
In conclusion, the pussy willow, with its array of forms, colors, and uses, offers endless possibilities. Be it a weeping pussy willow tree for sale or a bunch of pussy willows cat tails, this unique plant never ceases to mesmerize.