It is possible to make homemade and natural mascara using vegetable oils for women who want long and thick eyelashes.
Make your own natural and herbal mascara to strengthen and thicken your lashes
Natural mascara also strengthens and thickens eyelashes easily made at home with natural ingredients and vegetable oils useful for hair and eyelashes.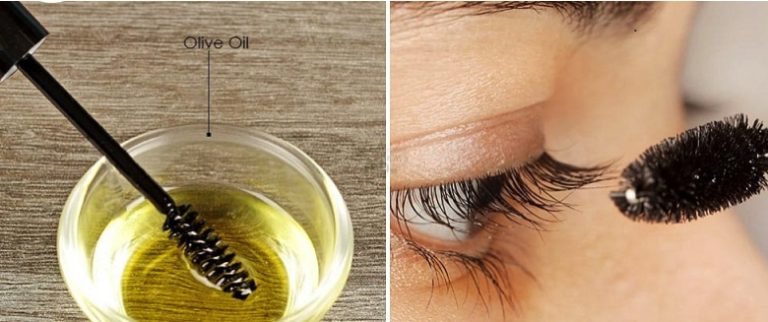 What is the best way to make natural and herbal mascara at home?
By preparing this cosmetic, you can strengthen your eyelashes and stimulate their growth quickly. In order to prepare this natural mascara, you will need:
Oil of castor

Walnut green skin essential oil
Recipe:
It would be helpful if you had an unbreakable crystal container in which to melt the wax and put 15 grams of white Vaseline in it. Let it cool and then add 4 to 5 grams of castor oil, 1 gram of walnut green skin oil, and 1 gram of lavender extract.
Here is a recipe for homemade mascara:
Before going to bed, apply a drop of this cream to your eyelashes and massage it in. Your eyelashes will become longer, thicker, and blacker in less than three weeks, so you won't need mascara anymore.
Recipes for natural mascara, wax, and olive oil
The ingredients are:
A half-teaspoon of wax

Olive oil, half a tablespoon

Mutton pen brain in a tablespoon
Recipe:
Melt the wax with boiling water vapor, then add the pen core and stir the mixture. Drop by drop, add the olive oil to the bowl while stirring.
Pour this cosmetic into one of these cosmetic storage containers after it has cooled.
Here's how to make natural and homemade castor oil mascara:
Fill an old mascara brush or lacquer container with these ingredients:
A 1/4 container of castor oil, a 1/2 container of vitamin E oil, and a 1/4 container of aloe vera gel.

Use this cosmetic brush to combine these ingredients. You can thicken your lashes with castor oil. You can thicken your eyelashes with castor oil. Aloe vera gel accelerates the growth of eyelashes by lifting them with Vitamin E oil.
Lower backlash strengthening mascara made from hazelnuts and almond kernels:
Mix walnuts, hazelnuts, or almonds well with one or two drops of olive oil to prevent spilling. Make use of it.
Making homemade mascara requires the following tools:

Coconut oil, a teaspoon

A teaspoon of vitamin E oil

One or two teaspoons of honey wax or soy wax

3 to 4 teaspoons of aloe vera gel

Three capsules of activated charcoal

One-piece mascara tube, old or new

Plastic bag of a small size
The first step. Make sure the mascara tube is clean
It is recommended that you clean and dry an old cosmetic tube thoroughly before using it for making homemade cosmetics, but it is not necessary if you are using a new tube.
To thoroughly clean the inside of the tube, use mildly formulated baby shampoo to clean the tube and mascara brush.
The second step. Combine the contents
Place the bowl of mascara contents over a bowl of hot water to melt the ingredients. Allow the ingredients to melt without stirring by hand.
The third step. Aloe vera gel should be added
Mix the melted ingredients with 3 to 4 teaspoons of aloe vera gel.
The fourth step. Charcoal activated
Pour the contents of three activated charcoal capsules into the ingredients and stir well.
The fifth step. A plastic funnel can be made by following these steps
Fill a small plastic bag with the material, then poke a small hole in it.
The sixth step. Fill the mascara tube with the contents
Transfer the contents of the plastic bag into the mascara tube, and if it seems that the ingredients will not spill, push the ingredients into the tube with this cosmetic brush to make room for the rest of the ingredients.