In order to change their look and make their face more beautiful, many women dye their hair in order to change the color of their hair. As the cost of living has increased sharply, many women dye their hair at home instead of going to a hairdresser.
 Get scissors first before dyeing your hair.
When dyeing your hair at home, trim the ends of damaged hair before coloring. Furthermore, it is better to cut your hair short and dry before coloring, since dry and brittle hair cannot hold color well and after a short time, the stain disappears and the fur changes color.
 Rankings of hair colors
The market offers colors 1 to 10. Grade 10 color makes hair lighter, while first-class color makes hair darker. As a measure of hair color, the following can be used:
One black, two very dark browns, three dark browns, four browns, five medium browns, six light browns, seven dark blondes, eight medium blondes, nine light blondes, ten light platinum blondes. The 11th and 12th-grade hair colors in some catalogs can also be combined with the primary colors to make Tamo lighter. The numbers after the dot indicate the combination of the primary color with the sub-colors, such as 1/2, 1/1, and 1/3.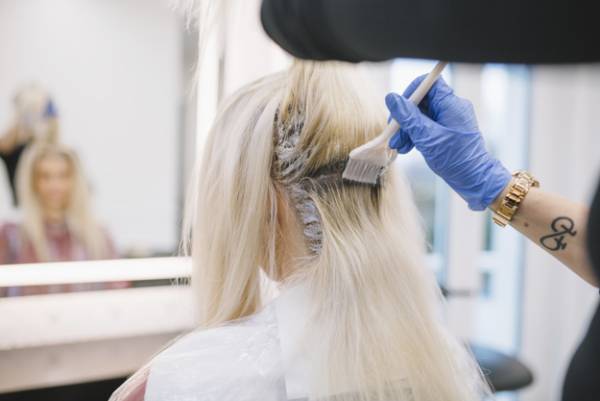 Learn about your hair color neutralizers.
It will be easier to color your hair if you know the color cycle. The color of your hair is a combination of three primary colors: red, blue, and yellow. Colors such as orange, green, and purple are secondary colors.
The pigment under the hair is one of the most important factors in hair coloring. Depending on the pigments under your hair, the color you apply to your hair may not be what you want.
Whiten your hair
First, apply 20 or 30 volts of oxidant to your white coat, leave it for 5 to 7 minutes, and then rinse. Wash and dry the whitest hair first.
Apply the color one degree darker than your desired color on the hair since the hair strands lack pigment, so the color appears lighter. Because white hair absorbs more paint, it should take 45 minutes to paint it.
Dry hair can be given life by dyeing it.
Dyeing your hair causes dryness, brittleness, and hair loss. Color changes the hair's natural state and removes moisture. Saffron oil contains natural fatty acids that restore enough water to dry hair.
Apply a few drops of saffron oil to your dry hair in the palm of your hand. When done regularly, this restores moisture to your hair without making it greasy.
Wash your hair with a shampoo for colored hair. Before entering a pool, wash your dyed hair with chlorine-free water. Wet hair should not be combed. Blow-drying your hair will cause it to lose moisture.
When coloring your hair, pay attention to the oxidant number
In hair dye, the oxidant accelerates chemical activity. The dye makers determine the type based on your desired results.
The oxidant 1 lightens the color slightly.
The oxidant 2 opens and lightens white hair.
It has great lightning power with the least amount of color.
It is recommended to use oxidants with a grade of less than 30 to avoid removing too much sulfur from your hair; ammonia has the same effect.
Permanent hair dye contains ammonia, which separates the hair cuticle and allows stain to penetrate the hair. The hair will lose diameter and weight if the ammonia used in the shade is too strong, causing more hair sulfur bonds to separate and the hair to tighten.
Make sure you avoid colored spots when coloring your hair
Apply a moisturizing cream to your face, ears, neck, forehead, etc., so that your skin color does not change.
Cover your neck with a towel, as dye causes inflammation.
If you spill paint on your clothes, you will ruin them.
Wear gloves before coloring your hair.
If your skin becomes stained while dyeing your hair, use medical alcohol to wipe the dye off.
 What container do you use to mix the colors?
Using a paintbrush, mix the desired color with an oxidant in a non-metallic container.

What is the best place to start when coloring your hair?
Be sure to dye your hair if you have never dyed your hair and have natural or unpainted hair so that each strand has enough color. Paint the coat beginning with the ends and lengths so the hair color is 2.5 cm away from the hair roots, i.e., do not dye the hair roots, wait for 10 minutes, and then paint the roots.
For thin hair, the hair color should be on it for 30 minutes, and for thick hair, it should be on it for 40 minutes. As we mentioned earlier in the make-up and beauty section of the wet fashion world, you should start coloring your hair from the back and work your way forward. Dyeing gray and white hair is best done from where the gray or light coat is more prominent, for example, at the front of the head.
To prevent hair loss, rinse your hair with cold water or lukewarm water after coloring.
It is allergenic to dye eyebrows and eyelashes.
Because hair dye contains many chemicals, dyeing eyebrows with it can cause severe allergies.
How do I dye coarse hair?
As your hair softens, the cuticle layers will absorb the color better. If your hair is coarse and resistant to color, soften it before coloring.
The solution to not coloring coarse hair
Don't dye your hair without experimenting, and don't rely too much on the colors on the box.
Before dying your hair, put some dye on your neck or ears to see if you are allergic to the dye.
The stain should be washed immediately if you experience symptoms such as redness, swelling, inflammation, and discomfort in your skin. Don't rely on the paint on the box to select the desired color. Make sure your stylist chooses a color that complements your skin tone.
When coloring your hair, avoid these mistakes
You should wash your hair with shampoo a few hours before coloring it to get better color. Colored hair dries faster if it is kept wet.
How do I choose the right hair color?
Dark skinned people should choose wine, copper, chestnut, hazelnut, and brick colors.
For people with fair skin, gray, pearl, matte brown, smoky blonde, and light blue or red hair colors are suitable.
For people with oily and tanned skin, milky, rose, copper, pea cream, brown, hazelnut, and honey hair colors are suitable.
It is suitable for pink and red skin to have cream hair color, dark olive color, and dark brown color.
Blue-eyed people have blue, gray, dark brown, brown, and black hair.
Amber-eyed people should wear golden, hazelnut, copper, and burnt brown hair colors.
Is hair coloring responsible for whitened hair?
Genetics plays a major role in gray hair development. Genetically, some people bleach their hair earlier, while others do so later. The cause of hair bleaching is certain diseases, such as endocrine diseases, nervous system diseases, physical and mental shocks, which, when the condition is improved or treated, the hair returns to its natural color. However, previously grown hair remains white.
Is dyeing hair damaging?
Infrequent use of hair dye does not harm the hair, but dyeing the hair often damages the hair material, and if you dye your hair too much and the hair roots are damaged, you will have this problem. You shouldn't dye your hair more than five or six times a year. Hair follicles are damaged by excessive coloring, and your hair loses its freshness and suppleness as a result.