Nutrition
Basil oil with wonderful properties for health and beauty
Basil oil is a type of vegetable oil that is widely used in aromatherapy. Basil oil, which is obtained from the basil plant, has many health benefits. This oil contains various types that are intended to promote health. This type of compound is composed of linalool, a substance that has been proven in some scientific experiments to reduce stress.
In ancient times, like traditional Indian medicine, basil oil was used for its healing properties. This plant treats diarrhea, cough, mucous secretions, intestinal problems, indigestion, and skin diseases.
Basil leaves and seeds are one of the main treatments of this particular plant, which is often used in foods and various recipes worldwide. The oil is popular in Europe, Central Asia, India, and Southeast Asia and is widely used for cooking in the Mediterranean but is still an active ingredient in countless Italian recipes. In addition, basil oil is used in the preparation of pasta and salads. The health benefits of this oil are as follows:
All the properties and benefits of basil oil:
Cosmetic applications
This oil is applied topically on the face as well as on the skin. Improves hair radiance and matte skin appearance. Therefore, this substance is fully used in countless skin supplements that are claimed to increase skin color. In addition, basil oil is used to treat acne's signs and symptoms and other skin diseases.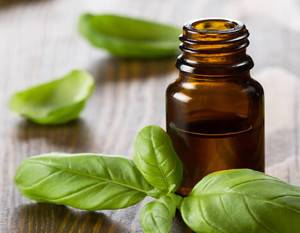 Digestive problems
Basil oil can be used orally to treat intestinal problems, nausea and indigestion, and other gastrointestinal diseases.
This oil may also reduce unwanted gas and excess gas production quickly and is also used to help with intestinal pain. Like other vegetable oils, you should consult a reputable aromatherapist before taking the oil orally.
Influenza treatment
Basil oil is useful in treating colds, flu, and related fevers. Due to its antispasmodic properties, it is usually useful for combating cough symptoms.
Improve the respiratory system
In addition to the effect of basil oil on reducing cough, it can be used to fight asthma, bronchitis, and sinus infections.
Benefits of disinfection
This oil has very high antiseptic and antibacterial properties, so it is more immune to several types of bacterial infections. This oil is also safe for oral consumption. Therefore, basil oil may prevent infections in the body's organs and is very useful in treating chest infections because it is a known natural antibiotic and prevents many pathogenic bacteria.
When used in cooking, basil oil ensures that any germs are removed from the cooked food and completely safe to eat. In addition, this oil offers attractive fragrances and nutrients.
Improve stress disorders
This oil has a rejuvenating effect whenever it smells and can be consumed, dealing with nervous tension, fatigue, melancholy, migraines, and depressive disorders. Because basil oil is soothing, it is traditionally used in aromatherapy. Following the use of this oil, there is more strength and mental focus.
Strengthen blood circulation
Basil oil strengthens blood circulation and improves the body as well as various metabolic functions.
pain killer
Basil oil is an analgesic and relieves pain. That is why this oil is commonly used to treat arthritis, wounds, injuries, burns, bruises, wounds sports injuries, surgical treatment, aspirin, and headaches.
Eye health
This oil is a cure for eye problems and can quickly lower blood pressure in the eye, although it can only be used with a doctor's permission.
Treatment of vomiting and nausea
This oil can be used to prevent vomiting, especially when the source of nausea is motion sickness, but there are other reasons. Basil essential oil can also be a great treatment for itchy bites and bee, insect, and snake bites.
Reducing the severity of diseases
The light aroma of basil oil helps relieve sinus congestion and prevents coughing. In addition, it has antispasmodic properties that are very effective in treating cough.
Improve respiratory problems
Basil oil, which is applied to the skin like a compress, can easily reduce the number of symptoms of sinus infections, bronchitis, asthma, and allergies. This refreshing oil can easily remove blockages inside the chest and sinuses and help treat these types of respiratory infections. Basil oil improves respiratory problems when used in diffusers and spreads it in the room or house air.
Treatment of skin diseases and wounds
Basil oil, used properly on the skin, can easily reduce many skin problems. Also, the antibacterial properties of basil oil make it an excellent solution for treating cuts along with other superficial injuries.
Basil oil can be poured a few drops directly on the wound, or it may even be diluted in a suitable carrier oil and used as an antibacterial compress.
In addition to disinfectant, basil oil is an analgesic, so it is a double treatment for wounds. The soothing properties of basil oil also effectively reduce pain caused by arthritis, muscle aches, and burns.
Mix a few drops of basil oil with a suitable carrier oil, apply it on muscle or even joint pain to relieve muscle pain and cramps.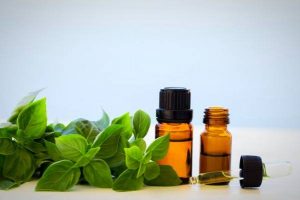 Fighting internal infections
Basil oil may be taken orally with other bacterial and viral infections to fight bacterial infections of the bladder.
Insect repellent and treatment of insect bites
In the summer, all families should have a bottle of basil oil in their medicine cabinet as it is a great alternative to chemical treatments for insect bites. Basil oil can be used in mosquito bites, bee stings, and snake bites.
The use of basil oil on wounds or even on such damages will certainly reduce pain, itching, and burning and eliminate the possibility of infection with any piercing or even burning of the skin.
Basil oil may also be used only as an insect repellent as well as to control insect bites. Pour 5 to 6 drops of basil oil in four ounces of distilled water or even spring water in a glass spray bottle. Spray the mixture before spraying this special natural insecticide in the room. Flies do not like the specific smell of basil. Your children should use basil oil right on the skin or even carrier oil to prevent insect bites. This oil helps reduce swelling as well as burning pain.
To strengthen the hair
Basil oil is great for dry, red, and damaged hair. It nourishes the hair and increases hair growth, and prevents hair loss.
Treatment of depression and anxiety
Because basil oil has compatible modulating properties, it is very useful in calming the nerves and thus reducing mental fatigue as well as depression. Its aromatic properties are traditionally used to soothe and calm the human soul. In addition, this particular oil has been instructed to gain mental strength and clarity in mind.
Benefits of Basil Oil for Mind and Nerves
Basil oil has nerve regulating properties. It is used as an excellent treatment for depression, anxiety, and various neurological problems. It strengthens the nerves and also stimulates the nerves. It eliminates confusion and creates psychological stability. Its effects on the brain can also be serious because it activates the sympathetic nerves, strengthens the adrenal hormone, and increases brain and mental health. You can use it to treat problems such as paralysis and epilepsy, in addition to the set of psychological issues that can be treated with this oil. This oil is used to reduce mental fatigue whenever combined with black pepper oil.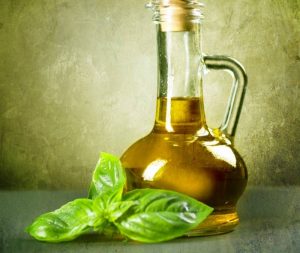 Benefits of Basil Oil for DNA
Basil oil has been shown to protect DNA from damage. The flavonoids in basil oil protect the body at the cellular level. Two flavonoids in this oil that are especially useful are mumps and vaccine. These water-soluble flavonoids protect DNA as well as white blood cells. Basil oil can be used to control cell damage caused by radiation or even oxygen damage.
Anti-inflammatory benefits
Basil oil is an excellent anti-inflammatory agent and is used in almost every type of chemical and even herbal medicine to treat inflammation. This method relieves pain in people who deal with joint pain, rheumatism, and osteoarthritis, along with other musculoskeletal pain. The effects of basil oil, in addition to overcoming migraines, are also prominent. Intestinal inflammation is also treated with basil oil. This is a very effective natural painkiller for some problems and body aches.
Benefits of Basil Oil for the Heart
Basil oil is rich in vitamin A, beta-carotene, antioxidants, magnesium, and other elements and minerals. All of these features help to promote heart health. Antioxidants also prevent the oxidation of cholesterol, pressure in the heart, and thickening of blood vessels, thus preventing the risk of stroke. This oil protects against the attack of free radicals on the heart and blood vessels. Blood flow increases because the blood vessels are healthy and calm. This oil prevents irregular heartbeat as well as heart spasms.
Anti-cancer benefits
Basil oil has been shown to have anti-cancer properties whenever tested in laboratories. The antioxidants in basil help fight the free radicals responsible for cancer even if they can't cure cancer.
Benefits of Basil Oil in Traditional Indian Medicine:
Amenorrhea (lack of menstrual cycle): Use basil oil on the ankle and heel and the lower abdomen.
Autism: Massage one drop of oil and three drops of coconut oil into the legs every night.
Insect or bee stings: Dilute basil oil with three drops of carrier oil and massage the affected area 1-2 times a day.
Bronchitis: Spread the oil all over the room or house, add 1-2 drops to clothes or steam bath, and massage inside the chest.
Bursitis: Massage in areas of pain and inflammation can cure these problems.
Wrist Tunnel Syndrome: Massage this oil with three drops of oil on the affected areas.
Chronic Fatigue: Apply basil oil topically around the legs or even spread them fragrantly.
Abdominal cramps: It can be used orally (for example, inside a capsule) or even massaged into the affected area.
Wounds: To prevent infection, easily dilute the oil and apply it to the injury.
Earache: Dilute one drop of basil oil with three drops of carrier oil and massage the ear's back. Do not use inside the ear.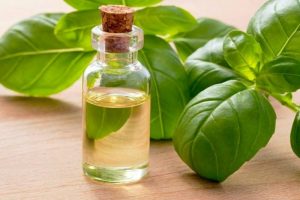 Shoulder pain: Combine deep blue oil with a carrier oil and rub in that area once a day.
Oily hair: A solution containing a small shampoo or baking soda, water, apple cider vinegar, and basil oil.
Prevention of sweating: The use of basil oil with dilution based on skin sensitivity is useful for cleansing the lymphatic system.
Infertility: Spread at home for 20 minutes every day and use the ankle and foot reflex points and the spot on the genitals.
Breastfeeding: Apply just one drop on the breasts and usually massage the lymph under the arms.
Mental fatigue: To strengthen the senses, or even massage the toes and the feet, perfume your body with this oil.
Migraine: To relieve pain, apply basil oil on the neck as well as parts of the pain
Mouthwash: Rinse your mouth with a solution containing a drop of oil as well as some water 1 to 3 times a day. You can also add a small amount of lemon essential oil.
Muscle spasm: Rub the spasm area with a few drops of basil oil.
Muscular dystrophy: Massage topically inside the body as well as in the reflex points of the foot.
Ovarian cyst: Spread it for 20 minutes every day, inhale it, and massage the oil inside the ovary 1-2 times a day.
Schmidt syndrome: rubbed topically on the reflection points of the legs.
Snakebite: Gently rub the diluted solution on the area.
Spider bites: Use a drop of basil oil (diluted for sensitive skin).
Muscle cramps during childbirth: During childbirth, massage the lower back to the reflex points of the legs.
Viral hepatitis: If possible, spread or even inhale basil oil and massage the legs and the whole body.
Wounds: Gently rub on specific areas or above the reflex points.
Hold a small undiluted basil essential oil bottle to increase sensitivity and concentration and inhale through each nostril if needed.
Use 2-3 drops in the dispenser to reduce anxiety, depression, physical and mental fatigue, tension, and stress. You can add 2-3 drops of oil to 1 ounce of carrier oil as well as body massage. For more use, add lavender or mint.
For arthritis, muscle spasms, or even rheumatism, massage 2-3 drops per ounce of carrier oil and the affected areas. Hot compresses can also accompany it.
Use 2-3 drops of oil per ounce of carrier oil to remove the blockage and apply on the chest and the back.
For headaches or even migraines, use 2-3 drops in a hot or cold compress.
To help regulate the menstrual cycle. Use 2-3 times often inside the player.
Basil is a great opener and can be used to relieve congestion in the lungs and sinuses. Pour 2 or 3 drops of oil in your hand and rub them together. Would you mind washing your hands and placing them on your nose as well as your mouth? Take a deep breath, then take a deep breath. You will notice that the lungs begin to clear quickly. Some people use basil as well as lemon oil to relieve sore throat. Pour two drops of basil on your fingertips, apply on the affected area, and then continue the same steps with lemon oil. If you have sensitive skin, you can put both oils in the carrier oil, such as olive oil, coconut oil, and even canola oil in the carrier oil.
Other possible uses include respiratory, gastrointestinal, kidney problems, fever, epidemic, malaria, liver and gallbladder issues, menstruation, anxiety and depression, chills, colds, fainting, insect repellent, memory and alertness, nose, hiccups, and more.   To better understand the use of basil oil, look at the available features.
Use of basil oil:
Basil essential oil is beneficial in the body's cardiovascular, skeletal, and skeletal systems. Be sure to follow these tips and safety tips:
Aromatic: can be spread in the air or even inhaled immediately.
Topical: It can be applied directly to the skin or even in carrier oils, such as coconut oil, for young or sensitive skin. Start with one drop to 1-3 tablespoons of carrier oil and increase it if necessary.
Oral: It is generally thought to be used for cooking as a drop of refined oil or even as a safe food supplement.
In general, you can apply the oil directly to the skin without diluting it. However, first, try it on a small skin area to make sure your skin is sensitive.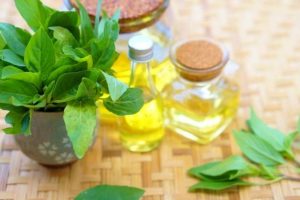 Warnings and signs of using basil oil:
While basil has many healing properties, it can also be relatively dangerous if used improperly.
Basil oil often irritates a person's skin unless used in very small amounts. Therefore, the best way to use this oil is to dilute it in a carrier oil or even sweet almond oil.
You should consult a health professional before consuming basil oil orally. Although some aromatherapists believe that basil oil can easily boost breast milk, most doctors recommend that pregnant and lactating women avoid basil oil in various forms other than regular cooking.
If you buy aromatherapy products with basil oil (or any other essential oil), check the label to ensure it is safe for pregnant women. Some are not.