In the last trimester of pregnancy, you are tired and upset and preparing for the birth of a baby. At this stage, pregnancy symptoms and tightening of the skin intensify while you are still working. In the last trimester of pregnancy, you will experience symptoms such as swelling of the legs, itchy skin, constipation, frequent urination, bleeding gums, insomnia, and illness.
Working in the last trimester can be difficult for mothers because the physiology in the last trimester starts at 28 weeks, which will be accompanied by a series of new changes in your body.
As your baby grows in size and weight, you will feel more kicks, back pain, and pelvic pain due to the change, and your baby will use your bladder as a pillow. During this period, you will experience swelling in the ankles, feet, hands, and sleep disorders.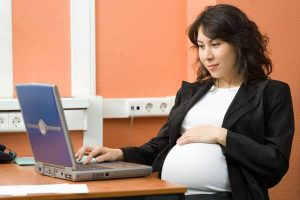 Stress and anger increase and you may feel that you do not have enough time to do things and do not do your job well, and you always feel tired. All of this is combined with the physiological changes mentioned above, and you guarantee that finding energy, vitality, and recovery is hard work, especially when you go to work.
Important tips for pregnant women working in the last three months of pregnancy:
Common barriers to work in the last quarter
Challenge of working pregnant women:
It is a sleep disorder that lowers self-esteem.
Difficulty concentrating and doing things in working pregnant women:
Hormonal part, sleep deprivation, stress part.
All of this makes your mind jump and work everywhere and be less focused.
Problems of pregnant women at work
Discomfort behind the desk or standing all-day
As you gain weight in front of your body, the position of your pelvis changes, and as your abdomen enlarges, the pressure on your spine increases.
Frequent urination
Because of the baby's pressure on the bladder, you have to go to the bathroom during the day.
High levels of stress and excitement
You experience stress due to hormonal changes and personal expectations at work.
Forgetting
The combination of stress, lack of sleep causes forgetfulness.
Tips for working pregnant women:
Going through this situation requires three parts: food, movement, and mentality.
Food for working pregnant women
The baby inside you is growing, and you need to eat more; you need 300 kcal per day. The most important thing to consider is the food quality – so eat a complete meal with plenty of green vegetables, fish, carbohydrates, and fiber. You can use healthy foods for your baby; you can use the following program for feeding during this period.
Eat small, frequent meals to measure stomach volume; this will reduce the symptoms of heartburn and constipation, making the digestion process easier.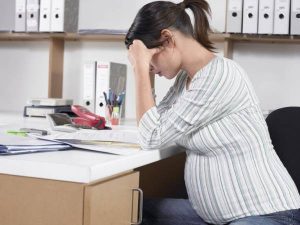 Do not eat behind the table; this exercise helps reduce stress.
Drink plenty of water, the lymphatic system is all over the body, carries fluids, expels toxins, and swelling of the joints occurs if blocked. By drinking more water, the lymphatic system flows, which means that the pain reduces the swelling of the joints. Focus on nutritious foods that are good for your baby's growth, concentration, and energy. When you have enough energy, you and your baby will feel better.
What can working pregnant women do for more comfort?
Women's movement
Whether you are pregnant or not, sitting or standing for long periods is bad for your health.
"Watching TV every hour can reduce our lifespan by an average of 21.8 minutes. On the other hand, smoking reduces our life expectancy by about 11 minutes." Pain, dull dizziness, difficulty concentrating, and stress can be associated with movement in three months. These symptoms may appear at work, especially in the last trimester of pregnancy.
Workplace breathing exercises help release the diaphragm, which balances the workplace and has more benefits for reducing stress.
Using the right ergonomic chair helps you put less pressure on your spine and body. This not only makes your work environment more efficient but also reduces stress.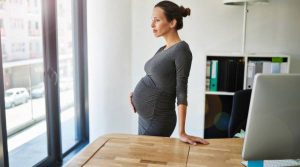 Set your phone to a specific time, and when you hear it, walk a little and be active.
Get up to talk on the phone; this improves blood circulation, reduces swelling, and prevents joint strain.
Only three working days a week Pregnant women who work more than 32 hours a week in a stressful job and this causes their baby to cry after being overproduced or to be born underweight, they have to work their hours. Reduce to 24 hours a week during pregnancy.
Do stretching exercises
You will gradually get pain with overweight and physical changes, so do stretching exercises to relieve the pain. When working, use foam rollers and massage your body, especially your chest, thighs, and shoulders. These areas become narrower during pregnancy and beyond due to local changes.
How do working pregnant women prepare for childbirth?
Mental fitness
Regardless of the model of birth, you have considered all the requirements before and after delivery. Consuming this energy is for peace of mind and calms your mind. When you reach puberty, think more about the future, try to focus on the present to stay calm because calm is very important in the last weeks of pregnancy.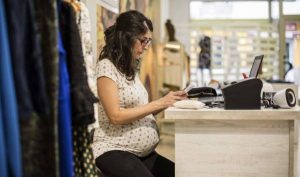 Here are four ways:
Ask for help
Get help from co-workers to complete work projects to reduce stress.
Do not get too involved
Move slowly, be realistic; you do not have to do what everyone wants.
Take a few days off, especially if you have a small child at home
The need to do everything and take care of the kids on the weekends can mean that you have not spent the weekend in peace.
What are the recommendations for working pregnant women?
Wear comfortable clothing and shoes
Since nothing is more annoying than tight clothing, clothes are not too hot or cold. When you are comfortable, you will have less tension and more relaxation.
Do not specify a specific date of birth
Considering history can be tedious. Communicate with your body This method reduces stress and greatly reduces your stress and expectations, allowing you to cope with the flow more easily.