Medical
Argan oil for regrowth of shed hair
Argan oil is extracted from argan trees in Morocco and is also called liquid gold because it is rich in vitamins, fatty acids, and minerals. These nutrients help nourish hair and improve hair growth. Evidence shows that argan can reduce hair damage, improve the health of the scalp and hair, and stimulate hair growth.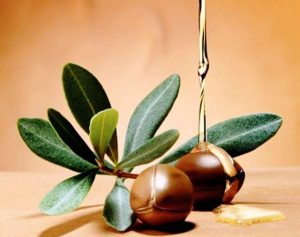 What are the nutrients in argan oil?
Argan oil contains vitamin E, sterols, polyphenols, ferulic acid, carotenoids, squalene, and essential fatty acids that help soften and moisturize hair.
Vitamin E in argan contains tocopherol, which has antioxidant properties.
 Essential fatty acids – oleic acid, alpha acid, linoleic acid, palmitic acid, myristic acid, and stearic acid are some of the nutrients in argan due to their antioxidant properties, reduce free radicals, and oxidative stress, as well as damage.
Argan oil also contains beta carotenoids that protect hair from UV rays and free radical damage.
The polyphenols in argan, which have antioxidant and anti-inflammatory properties, improve scalp and hair health.
Ferulic acid is an antioxidant that protects hair from UV damage and premature aging.
Squalene, which is naturally present in hair fat, promotes cell growth and also has antioxidant, cleansing, and softening properties, so it can keep your hair moisturized and protect it from free radical damage.
Sterols retain hair moisture, which helps keep hair moisturized.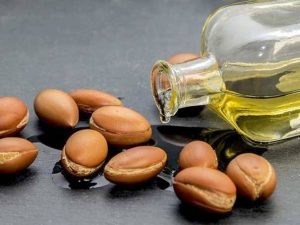 Benefits of Argan Oil for Hair:
Argan helps hair shine and softness.
Argan improves the hair's elasticity, prevents the hair's fragility, and strengthens its stem.
Argan can protect hair from damage to hair dye, chemicals, hairdryers, etc.
Argan contains nutrients needed to rejuvenate damaged hair.
Argan contains vitamin E, which helps reduce fat peroxidation. Lipid peroxidation is the process of fat degradation by oxidative free radicals. Vitamin E helps reduce oxidative stress, which is one of the main reasons for reducing hair loss and damage.
Argan has antimicrobial and antibacterial properties and can improve the scalp's health and prevent fungal infections such as dandruff.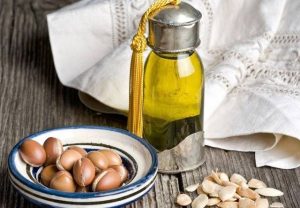 How to use argan oil:
Argan oil shampoo
Argan oil shampoo is excellent for repairing and improving hair growth and can make hair shiny and soft and reduce its fragility. Argan shampoo can be used like other shampoos.
Pour some shampoo in the palm of your hand and massage it on the scalp and hair shaft. Then wash your hair with cold water. Shampoo your hair for two consecutive days to improve the appearance of your hair.
Combine argan oil with emollient
Argan hair conditioner is ideal for hair growth because you can combine pure argan with conditioners.
Pour a few drops of argan in the palm of your hand and rub your palms together and massage the scalp thoroughly with your thumb.
Argan mask
You can apply pure argan overnight as a hair growth mask on your hair.
Pour a lot of oil into a bowl and heat it. Massage the oil on the scalp, hair shaft, and tip of the hair for 15 minutes.
Cover your hair with a towel, let the oil stay on your hair overnight to be completely absorbed, and then wash your hair in the morning with a regular shampoo.
Applying a hair mask on the hair overnight helps to absorb all the nutrients in the oil and makes the hair very soft and shiny.
 Argan mask and castor oil
Combining castor oil with argan works well because both have similar benefits. Castor oil helps to soften hair and repair damaged hair, and prevents hair loss and dandruff.
Mask of coconut oil and argan
A mixture of coconut oil and argan oil is another ideal combination for hair growth because both oils can penetrate the roots and nourish the hair. This combination can repair hair damage and protect it from UV rays.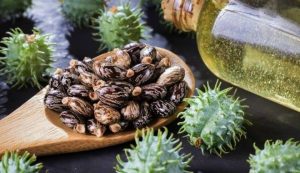 Frequently Asked Questions about Argan Oil:
Does argan help hair regrowth?
Argan is rich in natural phenols, which are helpful for hair secretory sacs. This oil not only promotes new hair growth but also helps you to have long and beautiful hair.
Can you put argan on your hair overnight?
Massage some argan on the hair and scalp, and then wrap your hair with a towel so that the pillow does not get greasy and stay on the mob overnight (or a few hours), then wash with regular shampoo. Rubbing argan oil on your hair overnight is a great way to absorb all of its excellent nutrients.