Housekeeping
A small bedroom can be maximized with these 7 tricks
You should keep these tips in mind if you have a medium or small bedroom and want to make the most of it.
1. Avoid placing a sofa and chair in the bedroom.
A lot of people like having a sofa, chair, and pillowcase in their bedroom, but if your bedroom is small, you better give them up! You should have a compact bed in your room that takes up little space. Additionally, you can place a shelf on top of the bed which is a great place for photo frames and decorative items, as well as enhancing your room's decor.
2. Store extra items under the bed.
Select a bed that you can store your belongings under if you have a small space. You can store your belongings in large drawers at the bottom of some bed models. Your clothes, shoes, and belongings can be stored under the bed at the end of each season to create more space in your closet and home. You don't realize how much it helps to create more space in the house!
3. Hang shelves, use wall hangers, and fold away tables to create more space in the house!
Place some items on the wall if your room is small. You can mount a table or a shelf on the wall and place books on it, hang clothes and bags from a wall hanger, and even hang a shelf or shelves on the wall. The wooden boards on some wall tables can be folded and can be hung from the wall.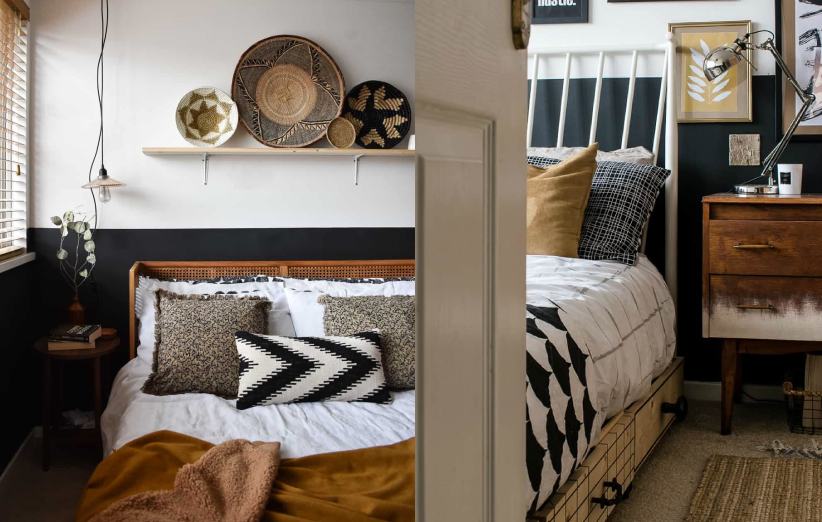 4. Take advantage of corners and empty spaces.
You can store your belongings under the bed and on top of the bed. However, there are other dead spaces like niches, behind doors, above radiators, and next to walls that you can utilize. Hang your clothes on a hanger at the back of the room, for example. You won't need a dressing table if you keep your jewelry and cosmetics box on the shelf. On top of the radiator, place a shelf and your bedroom furniture.
5. Use your closet effectively.
Make good use of your closet space if you are one of those people who have a lot of clothes and want to tidy up your wardrobe. Wrap some of your seasonal clothes and store them under the bed. Hang your clothes and scarves with metal pendants. Fold your daily clothes and place them in large baskets on the floor of the closet.
6. Hang the TV on the wall.
A vertical arrangement is ideal for a small room. In a small bedroom, it's best to mount the TV on the wall so it doesn't take up space.
7. Add short curtains and lace to the bedroom.
Many people make the mistake of using heavy, multi-layered curtains in their bedroom, which take up a lot of space around the window. Instead, install short curtains in neutral colors for small rooms. Curtains and wicker curtains also make the room seem larger, and they are very small in size.
In general, you can decorate the small bedroom in the best way possible so you can put more items in your bedroom. Folding boards that can be folded during the day will give you more space in the room. Instead of placing the pot on the wall, you can place your pots on the wall to make the room more beautiful and not take up too much room. Also, you can place your bed pillows so that you can sleep and rest on them at night and use them as a place to sit and lean during the day. The bedroom looks larger when it is painted in neutral colors like white, cream, and gray.