Cooking
Recipe: Delicious chicken sandwich at home
Recipe: Delicious chicken sandwich at home (45 language subtitles)
The chicken sandwich is one of the most popular and delicious types of sandwiches globally, which is made with different ingredients.
Ingredients for a chicken sandwich for 2 people:
Chicken breast 1 pc
1 onion
8 mushrooms
Tomato paste 1 tablespoon jam
Garlic 2 cloves
Parsley 1 small bunch
Onion 2 stalks
Pickles 4 pcs
Mayonnaise 1 tbsp
Ketchup sauce 1 tbsp
Enough salt and black pepper
Enough thyme and paprika
Enough turmeric and oil
How to make a simple chicken sandwich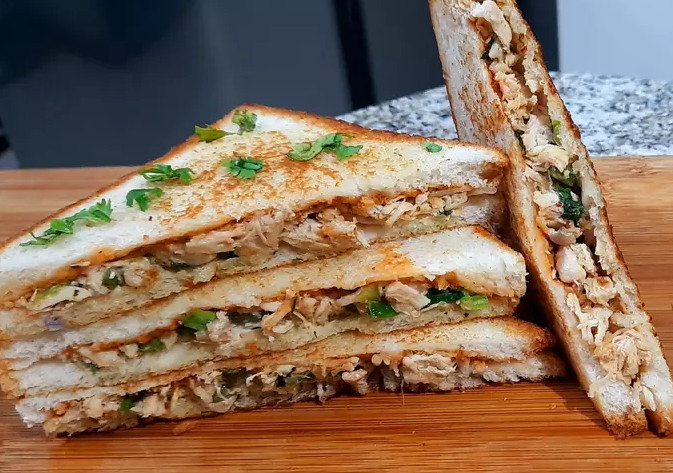 Step 1
To prepare a delicious chicken sandwich, first pour the chicken breast with 2 glasses of water, 1 clove of garlic, and some salt and turmeric in a suitable spot, then place the pot on medium heat until the chicken breast is completely cooked.
Step 2 – For the chicken sandwich
After the water in the pot starts to boil, collect the white foam with a spoon on the water's surface and throw it away. This means that the chicken meat does not have a spicy taste and smell at the end of cooking.
Step 3
After the chicken is fully cooked, take it out of the pot, chop it finely and set it aside. Then chop the onion into thin slices, put a suitable pan on the heat and add some oil.
Step 4 – Chicken sandwich
Then add the chopped onion to the pan and fry well. Note that onions should be soft and not overcooked. Then chop the mushrooms into slices and add to the pan.
Step 5
Then increase the heat under the pan and fry the mushrooms quickly. This prevents watering the fungus. Then add some salt, black pepper, thyme, paprika, and turmeric to the pan.
Step 6
Now fry the ingredients a little to get the aroma of the spices. Then add the chicken pieces to the pan and fry a little until they are fried, then gather the ingredients in one pan and add the tomato paste on the other side.
Step 7 – Chicken sandwich
We have to fry the tomato paste well until it is completely fried. After the tomato paste is well fried, grate the garlic and add to the pan. After frying the garlic, mix all the ingredients until smooth.
Step 8
At this stage, remove the pan from the heat and prepare the sandwich sauce. For this purpose, chop the Rajafari and onion into small pieces, then pour into a suitable container.
Step 9
Now grate the pickles with a coarse grater and add mayonnaise and ketchup to the dish. Then add some salt, black pepper, and paprika, then mix the ingredients well until smooth.
Step 10 – Chicken sandwich
Then, pour some chicken mixture into the baguette, add the desired amount of sauce, and rub on the ingredients. If you wish, we can also use some sliced ​​tomatoes and onions.