Cooking
Apple cake with delicious cinnamon
Recipe: Apple cake with delicious cinnamon (subtitle 45 languages)
Undoubtedly, one of the most delicious cakes globally is apple cake, which, combined with cinnamon and walnuts, can make it taste more delicious. This cake has a soft texture, and you can easily prepare this cake for a large number of people.
Ingredients for cinnamon apple cake
1 cup flour
1/2 cup sugar
Milk or water 1/2 cup
2 eggs
Butter 75 g
Baking powder 1 tbsp
Tip vanilla a teaspoon
Cinnamon 1 tablespoon jam
1 large apple
Raisins 1 tbsp
Chopped walnuts 1 tbsp
Liquid oil in the required amount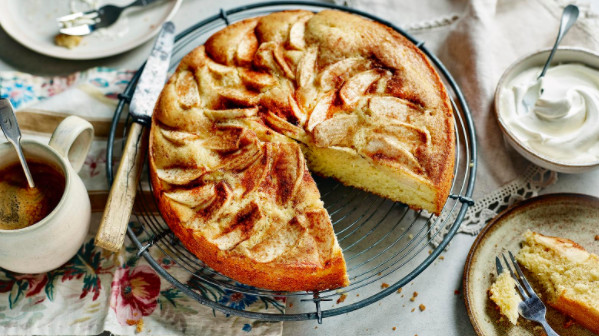 Cinnamon apple cake recipe
The first step is to prepare the apple cake.
First, take the butter out of the fridge to soften it a bit. This will make the butter mix better with the other ingredients, then turn on the oven to 180 degrees to heat the cake ingredients while preparing.
second stage
Peel an apple and mix it with raisins and walnuts. Add a little butter, pour into a saucepan and cook over medium heat.
Third level
Soften the butter pour the sugar in a bowl, and mix with an excellent electric mixer until it is completely homogeneous, then add two eggs to the ingredients and mix with a good mixer. After the eggs are mixed, add milk or water and stir again.
The fourth step
Then mix the flour, baking powder, vanilla, and cinnamon and sift several times. Then add to your ingredients little by little and mix well with a hand mixer until the ingredients are combined, and the cake dough is smooth.
Step Five
Grease the desired mold, pour the apple and walnut mixture, spread it with a good spoon, add the cake yeast, and leave it in the preheated oven for 45 to 50 minutes to cook.
Additional tips about apple cake
The preparation time of raw materials and supplies is about 20 minutes
And the cooking and waiting time are about 50 minutes.
Apple cake can be served as a snack – dessert.
Note that the amount of raw materials and preparation order is suitable for 4 people.