Medical
What you need to know about antibiotics during pregnancy
Every mother's pregnancy is the sweetest and most enjoyable time of her life. Along with these sweet moments and pure experiences, there are also many difficulties. Prohibition of many drugs is one of these difficulties, which has become more challenging during the Corona epidemic. During this time, one of the most common concerns for pregnant women is getting coronary attacks, or rather, their nightmares. But why? As a result, the doctor cannot prescribe the necessary medications to get through this period, which prolongs the healing process. At the end of this article, we answer common questions about whether the use of antibiotics during pregnancy is harmful or not.
What are antibiotics?
Antibiotics are drugs that treat infections caused by bacteria. Bacteria are microorganisms that live in and on our bodies. Many bacteria are harmless or even beneficial, but some can cause infections.
Here are some common reasons why antibiotics may be necessary during pregnancy:
Acne treatment;
Pneumonia;
Skin infections;
Sinus infections;
Upper respiratory tract infection;
Urinary tract infections (UTIs);
Preterm delivery;
kidney infection;
Appendicitis;
Gallbladder disease (cholecystitis);
STDs;
Can antibiotics be taken during pregnancy?
According to Dr. Lucky Seckon, taking antibiotics during pregnancy is safe. Furthermore, just as with the Corona vaccine, the benefits of antibiotics during pregnancy often outweigh the risks. "Leaving the infection untreated during pregnancy can be dangerous since it can get worse."
Knowing the type of antibiotic to use and when to use it are important parts of the equation. The safety of safe antibiotics depends largely on gestational age.
For Classifying Permitted and Unauthorized Antibiotics During Pregnancy, the American School of Pharmacy (ACCP) uses the Food and Drug Administration's (FDA) Drug Classification:
A: Drugs that, according to human studies, do not pose a risk to the fetus or mother.
B: Drugs that have not been tested on humans but have shown to be safe in animal studies.
C: Drugs that have been shown to cause adverse effects in animal experiments but have not been confirmed in humans. Such drugs should not be used during pregnancy unless there is no alternative.
D: Human experiments have shown that these drugs are dangerous to the fetus, so mothers should be fully aware of their risks before taking them.
X: Medications that are contraindicated during pregnancy and can cause serious fetal abnormalities.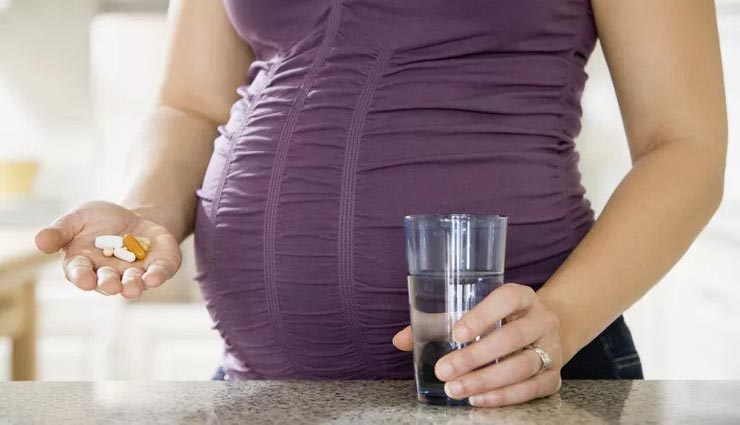 Pregnant women should use antibiotics with caution.
1. Nitrofurantoin
One of the antibiotics used to treat urinary tract infections in pregnancy is nitrofurantoin. Nitrofurantoin use during pregnancy has been linked to some birth defects. To avoid possible birth defects, the American School of Obstetrics and Gynecology recommends that doctors avoid prescribing nitrofurantoin in the first trimester of pregnancy (when most fetal development occurs).
2. Sulfamethoxazole (Bactrim) and trimethoprim
Trimethoprim is another antibiotic commonly used to treat urinary tract infections. Combining it with another antibiotic called sulfamethoxazole is common.
During pregnancy, there are many concerns regarding the use of sulfamethoxazole and trimethoprim. It is recommended that you avoid taking these medications in the first trimester of pregnancy because they have been linked to an increased risk of birth defects.
Trimethoprim also counteracts the effects of folic acid, so it should not be taken. Intake of folic acid during and before pregnancy reduces the risk of neural tube defects and other birth defects in the fetus.
Antibiotics during pregnancy without authorization
Due to the potential risks to the fetus, some antibiotics are not prescribed during pregnancy.
1. Tetracycline
Tetracyclines (including minocycline, oxytetracycline, and doxycycline) are used to treat acne and respiratory infections. Taking it in the second or third trimester of pregnancy may cause discoloration of the developing fetus' teeth, as well as bone and tooth impairment. Tetracycline should not be taken after the fourth month of pregnancy, according to experts.
2. Streptomycin
Due to the possibility of fetal hearing loss, streptomycin, which is used to treat tuberculosis, is not recommended during pregnancy.
3. Ciprofloxacin
Ciprofloxacin is often prescribed to treat urinary tract infections, but it is not given to pregnant women because it can cause abnormal bone growth in the fetus.
Complications of antibiotics in pregnancy
Antibiotics have their own side effects on pregnant and non-pregnant people alike. However, some antibiotics are safer than others. Mother and fetus are least likely to experience side effects from those in categories A and B.
The most important thing is to consult a doctor before taking any antibiotics. The doctor will be able to prescribe the safest antibiotic for you.
Frequently Asked Questions About Antibiotic Use During Pregnancy
If I take antibiotics before I know I'm pregnant, what should I do?
While many antibiotics are considered safe during pregnancy, taking some before the 20th week increases the risk of miscarriage. According to a 2017 study, azithromycin, ciprofloxacin, and bacterium increase the risk of miscarriage in the first trimester.
If you have taken one of these antibiotics before finding out you are pregnant, do not panic. You didn't know. For advice on how to stop or continue taking it, you should see your doctor.
Are antibiotics safe when trying to conceive?
Before taking antibiotics, consult your doctor if you are not currently pregnant, but are trying to conceive or have a chance of getting pregnant.
Is amoxicillin 500 mg safe during pregnancy?
It is safe to take amoxicillin during pregnancy. Amoxicillin is classified as safe for use during pregnancy by the US Food and Drug Administration (FDA). Consult your doctor before taking it, however.
At what point can I stop taking antibiotics?
While most antibiotics can be resumed after delivery, certain precautions must be taken if your baby is breastfeeding. Check whether the medicine you are taking is safe for your baby, as it can pass through your breast milk.
Even though it is difficult to get urinary tract infections and respiratory diseases during pregnancy, treating them with antibiotics is safe for you and your baby. In some cases, exposing the fetus to an untreated infection is more dangerous than exposing it to antibiotics. During pregnancy, your doctor is the best person to prescribe medication, so consult with your doctor first to ensure your baby and yourself are receiving the safest treatment.