Everything you need to know about dry shampoo
No dermatologist recommends washing your hair every day because if you use too much shampoo, the natural oil will destroy the scalp and lead to dry hair or hair loss.
On the other hand, oily hair is not tolerable, and in some cases, it is not possible to access the bathroom and use regular shampoos, so dry shampoo works like a miracle and helps us in these situations. If you want to know more about this product and its advantages and disadvantages, join us.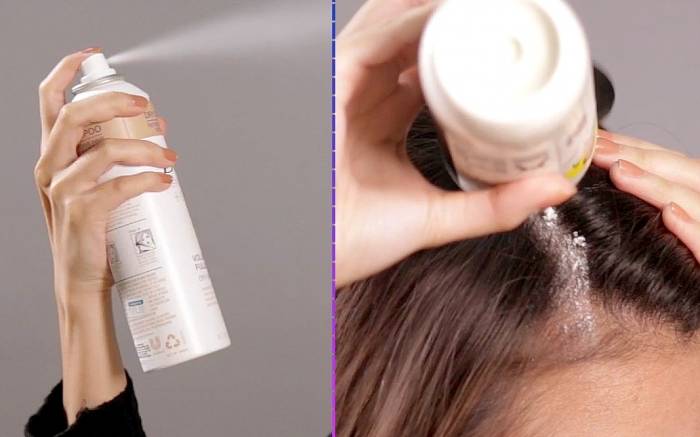 What is dry shampoo, and how does it work?
Dry shampoo is a product whose primary purpose is to reduce grease and hair pollution—no need to wash. Dry shampoo is made from corn powder or rice starch, which is usually available as a spray. Some brands sell the same wreaths in powder form so that people can apply them to their scalp.
What is the difference between dry shampoo and regular shampoo?
Hair should be washed and cleaned regularly due to grease, airborne contaminants, scalp, and other contaminants, all with regular shampoos.
After using a regular shampoo, you should rinse your hair, but dry shampoos are a group of shampoos whose active ingredient does not need an aqueous environment to be effective and does not need to be washed. These shampoos are similar to hair spray, and you should spray them on your hair from a distance of 20 cm, and after a few minutes, dry your hair with a towel.
The purpose of producing dry shampoo
Because too much washing damages the hair, the researchers looked for a formula to clean the hair without water and eventually launch a dry shampoo.
Use is recommended in the following cases:
If you are traveling and do not have access to water and baths.
If you have an urgent session and your hair is greasy, and you do not have a chance to take a shower.
If you have a debilitating illness and can not take a bath, you are at complete rest.
If you have a skin disease and your skin should not come into contact with water.
If you have extensive fractures and burns.
Methods and steps of using dry shampoo:
Make sure your hair is not wet.
If you want to use a dry shampoo spray, leave it about 8 to 10 inches away from the hair roots. If you're going to use it only for oily parts, you can focus on these areas and not on the whole hair. If you want to use a powder type, split your hair and apply the powder directly to the roots of the parts that look oily.
Massage the product on your head to spread it all over your hair. If the product is white on your hair, you can use shampoo and comb your hair to apply it more easily.
Now that you are sure that your hair is clean start styling it. Of course, do not use appliances that have a high temperature.
Is hair cleaned with dry shampoo?
Dry shampoo is composed of substances that absorb fat. Existing substances such as talc sit on the skin and hair and absorb fat and dirt. These substances are removed from the hair by drying the hair with a towel or brush, but dry shampoo can not remove the contamination as much as the classic shampoo and washing the hair with water.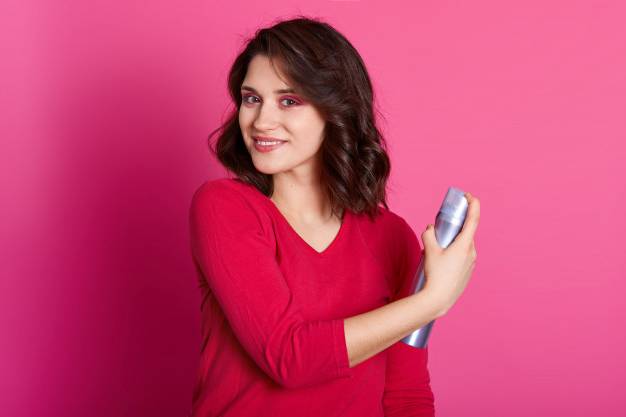 Benefits of using:
Absorbs fast and excess fat from the hair.
Eliminates contaminants.
Keeps hair clean during the day.
Gives more volume to the hair roots.
It makes the hairstyle more durable, improves the texture of the hair, and is therefore suitable for thin and straight hair.
Cleanses the hair after exercise.
No need to wash.
It saves time and speeds up your work.
Slows down the process of fading hair color. If you have just dyed your hair, you want this color to stay on your hair longer. Dry shampoo helps the color last, mainly if you have used temporary paints because you no longer need to wash them underwater.
Helps with the health of dechlorinated and colored hair.
Bleaching your hair to highlight or prepare it for a light color can damage your hair, and every time you use shampoo, conditioner, or hairdryer, the damage will increase, but if you want to reduce the damage, Give, reduce all products and use dry.
Prevents excessive drying of hair. Natural scalp oils are for the softness and softness of the hair, but when the hair is very curly or long, these oils do not reach the whole hair and only accumulate on the scalp, but dry shampoo reduces skin oil. This fat is spread throughout the hair.
It keeps your hairstyle like a ponytail, texture, tomato, or any other style in place and stays the same without being sticky and greasy, and you can use your hairstyle throughout the day. Enjoying.
Dry shampoo makes hair smell good.
Refreshes and perfumes the hair, absorbs excess oil and pollution and eliminates all unpleasant odors.
It will be very useful when your head is busy.
Side effects in case of overuse:
Excessive and long-term use of dry shampoo can destroy the outer layer of the hair and damage the creatine and brittleness of the hair, causing the hair to lose its freshness. Sometimes using dry shampoo causes eczema and dermatitis.
Things to know when using:
If your hair and scalp are dry or very dry, do not use this shampoo and use a dry conditioner instead.
If you have dry and thin hair, but your scalp is oily, use dry shampoo from the roots of the hair and not the entire scalp.
Do not use too much dry shampoo. You are allowed to use this product once or twice a week.
Never use heat for hair after washing, and try to style it naturally.
Putting dry shampoo on your hair indeed keeps your hair clean and tidy, but it can never replace the original shampoo because it does not thoroughly clean your hair. So washing your hair with regular shampoos should be part of your weekly routine, and you should not just rely on dry shampoo.
Under no circumstances should you use dry shampoo on wet hair.
Do not overuse the product. Especially if only parts of your hair are greasy. In this case, use shampoo only on oily areas of hair.
Do not spray too close to the hair.
Massage the hair roots so that the product is more easily absorbed and works better.
If the product turns white on the hair, wait a few minutes to absorb and look better.
Effect on hair types:
Dry shampoo for thin hair:
Some thin hair can see the best performance through dry shampoo because, as we said in wet, it shows clean hair, but it also shows more texture, volume, and thickness of hair.
Just remove the shampoo 10 to 12 inches from the hair and then spray it on the roots.
For oily and thick hair:
If you feel that using dry shampoo does not affect you, you may need to use a powder type. The powder type is more robust and works better for people with very oily and thick hair because it absorbs more fat and directly hits the roots of your hair.