Digital
Three golden rules for buying a TV
Buying a TV has become much more complicated than in previous years because many features and a wide range of models and sizes have confused many buyers in the market.
A wide range of buyers go to a certain size just because of the price, and regardless of its capabilities, they buy it, and another group pays attention to the labels on the side of the TV. Others go to the market only because of prejudice against a particular brand and buy the TV regardless of the quality of other brands.
We have nothing to do with these people, and our target is those who want to shop professionally. They want to buy the best model due to the image quality and valuable and practical capabilities, so it is better to pay attention and get what you want by reading this article.
Three golden rules of buying a TV:
Ignore most of the specifications written on TV
When you buy a TV, you must have noticed the narrow bar next to the screen. A colorful bar that overwhelms the countless capabilities of the TV in your eyes to convince you to buy it. Many people even keep the label next to the TV for a few years so that others know the specifications of the TV in addition to themselves.
Other than the size of the TV, which is usually listed at the top of the label, the rest of the specs are almost useless to you. This label is good for distinguishing TV from each other, but if you think you have more numbers and specifications, TV is better, you're mistaken. For example, which professional buyer would consider having an HDMI port on the label as a feature? It is like saying that the TV has control!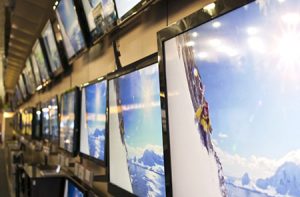 Bigger is always better.
Forty inches is usually recommended for bedrooms and small environments and 55 to 65 inches for large halls and settings. But, outside of features like HDR, 4k, and smart features, the best way to spend money is to fit the size of the TV. Indeed when you look at those who have gone for a smaller size with a slight price difference, there is undoubtedly regret in their eyes. If you want the TV to become the entertainment center of your home and gather everyone around you, be sure to get the largest possible size. Of course, unless you have space, limit yourself to smaller sizes.
Your TV must support 4k and HDR capabilities.
TVs that use 4k resolution are also known as UHD. The number of pixels is four times the 1080p image quality. Although this number seems like a lot on paper, in practice, their resolution is a bit difficult compared to the previous generation of HDTVs. On the other hand, making 4K screens is easier for manufacturers and therefore, their price is much lower than before. In addition, HDTV technology was soon removed from the production line, and you took home an old burnt technology.
Most 4K TVs also support HDR. This feature widens the color gamut, and you see more contrast. With this feature, unlike the 4K story, we will most likely see an image change. How much of this change depends on your TV model? Despite some inadequate hardware specifications, you may not even be able to see it.
But in any case, you need HDR video content to see it and do not think that each image displayed will show you a different quality. In short, if you are not stingy, you will choose the 4K model and how much better that it also supports HDR so that you can rest easy for the next few years.
image quality
Among the various sizes and capabilities, and types of the attractiveness of today's TVs, the goal of professional customers is to find the best picture quality according to the price paid. If you are not interested in buying a TV with the best picture quality, it is better to list the TVs by price and choose the TV according to your budget. In this case, we suggest you buy the cheapest TV with your reputable brand. The purpose of writing this article is to provide a shopping guide for professionals. Your priority as a professional viewer should be based on image quality over other items mentioned.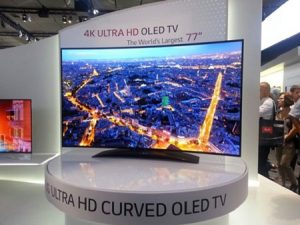 You will see the best picture quality on OLED TVs, but it is still not affordable for the general public.
Almost all TVs that use LED and LCD technology, no matter how expensive, their picture quality is not as good as OLED.
LED and LCD TVs that use local dimming have better picture quality than other models.
LED and LCD TVs that receive light from behind the screen are usually better than models that receive
The ability to display the darkest possible color, called contrast, is the most crucial factor to consider in image quality.
The degree of color saturation, directly affected, by contrast, is the second most crucial factor in image quality.
After the mentioned factors, the less essential elements are image resolution, color spectrum, video processor, exposure, and screen resolution (4k vs. 1080 resolution).
In bright environments, opaque screens are the best option to prevent image reflection.
The brightest screens also maintain image opacity, so don't worry about glossy screens.
Many people do not understand the effect of Opera Soap and are sure to turn it off and on to achieve the desired image quality.
Wrong picture settings on an advanced TV usually show a worse picture than the correct settings on an older TV.
Image quality cannot be determined by the number of pixels on the page. Even the points that we said may not cover all aspects thoroughly. If you have doubts about the specifications between these two options, read users' comments on the sites. Sites like CNET fully explain the reasons for the good and bad image quality.
Features that can be ignored:
Smart TV
As its name implies, Smart TV is an operating system installed on it so that you can access online broadcast networks and some software.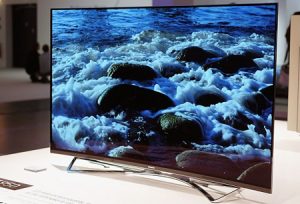 Curved plate
This feature was to show the ability of companies to make curved screens, and that's it! Due to competition to prove their worth, all companies followed this pattern and launched curved models. They said in the ads that this would make you more immersed in the image, but after a month of experience, you will realize that it has no use other than beauty and limiting the angle of view! In our opinion, this feature is not worth the money.
Remote control
Make no mistake! We do not want to say that remote control is bad. But recently, companies have begun to build controls with a touch screen or small size with a few buttons, and others have provided the ability to move the cursor on the screen. Not all of these controls work as well as they should, yet the controls, buttons, and high-resolution backlight provide the best user experience for you.
Slim TV
TVs are slowly becoming home decorations, and for this reason, companies have begun to make skinny and beautiful TVs. For example, the new LG TV is only three millimeters thick, and we recommend that you do not look for very slim models, especially with LED or LCD screens. Aside from the fact that you only pay for a few millimeters more, according to users, some of these TVs wear out or get into trouble after a period of monotony.