In today's turbulent and industrial environment, travel is one of the ways to reduce stress. We need tools that are portable for travel and entertainment. Plates and spoons are some of the most important things you can take with you on your trip. The best tool we have is a set of travel utensils. Travel items are made in a box made of durable and quality plastic.
For a variety of reasons, including thermal insulation and fragility, plastic travel containers are inexpensive and available in a wide variety of styles and colors. Travel utensils in various shapes and purposes are now available in the market and have many fans.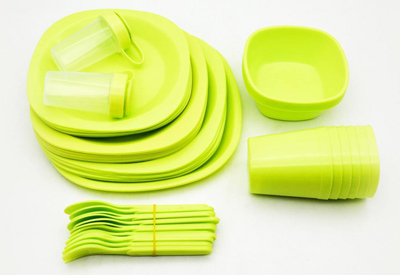 Apart from anonymous brands, many reputable brands have started to produce suitable quality plastic travel containers with various and cheerful designs and colors. Some of them make beautiful, practical, and hygienic containers that even have multi-year warranties.
Travel utensils such as thermoses, travel glasses, plates, appetizers, bowls, spoons, forks, knives, glasses, graters, and lid containers for food storage are produced in 4, 6, and 8 person types.
Tips when buying and storing travel items
When buying travel utensils and plastic utensils and the time of use, it is better to keep the following points: Buy only standard travel utensils with a valid brand and standard mark. The bottom or body of the container must have the name of the manufacturer. Never go for cheap, asymptomatic plastics that are neither of good quality nor hygienically approved.
The smell of dishes
To have travel utensils with new and high-quality plastic, it is better to smell them before buying. If it smells bad, know that old plastic has been used in its structure. The use of containers made of this plastic is harmful to health and usually not of good quality.
Thick and opaque
When buying, make sure that the travel utensils and plastic utensils are perfectly smooth, polished, and transparent. No extra impurities or patches are visible or opaque in the corners. This is one of the indicators of the quality and health of dishes.
Ensure that the dishes do not have any cracks, cracks, or scratches on their body because they will be the accumulation of germs.
The quality and type of materials used in plastic containers, the temperature and variety of food, and the time of food contact with the container should be considered when using plastic containers.
Travel utensils and very thin plastic utensils with various veins inside are not suitable, especially for the bride's dowry. When choosing knives, make sure they are made of thick plastic. A one-handed solid plastic that can be used for years and was confident that no problem would occur.
Choose containers with good flexibility and are not too dry and stiff, as they retain their original shape due to their use.
When washing travel utensils, try to avoid coarse detergents that scratch the surface. Also, do not use powerful detergents for passing for longer life and health of dishes.
If travel utensils or plastic utensils are scratched or broken, it is best not to use them for food anymore as it accumulates germs and bacteria. Even if dishes change shape or color due to use or changes in heat or temperature, they should still be discarded because they release chemicals that can be carcinogenic.