News
Roe v. Wade overturned by Supreme Court in landmark abortion decision
The Supreme Court reversed Roe v. Wade on Friday, effectively ending recognition of a constitutional right to abortion and giving individual states the power to allow, limit, or ban the practice.
In Dobbs v. Jackson Women's Health Organization, the court struck down a Mississippi law banning abortion after 15 weeks of pregnancy. The Republican-led state of Mississippi asked the Supreme Court to overturn a lower court ruling that prevented the 15-week abortion ban.
The Constitution does not forbid the citizens of each State from regulating or prohibiting abortion. Roe and Casey arrogated that authority to the Supreme Court. We overrule those decisions and return that authority to the people and their elected representatives," Justice Samuel Alito wrote in the court's decision.
Alito's opinion began with an exploration and critique of Roe v. Wade and its holding that states have "a legitimate interest in protecting potential life," but this interest is not strong enough to prevent abortions before 23 weeks of pregnancy, believed to be the point of fetal viability.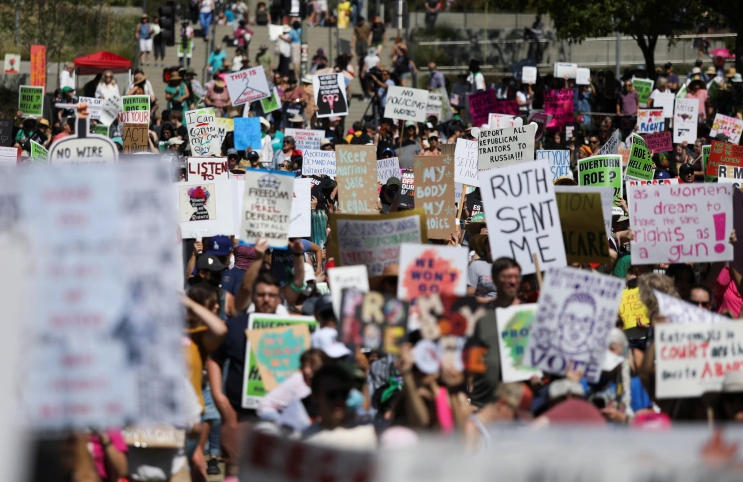 Los Angeles abortion rights advocates rally
In Los Angeles, abortion rights activists rallied in support of the procedure, with Planned Parenthood Los Angeles stressing that abortion remains legal in California.
"Planned Parenthood Los Angeles health centers remain open, and abortion remains legal in Los Angeles and California, and we will continue to fight to ensure every Los Angeles resident can access care, no matter what.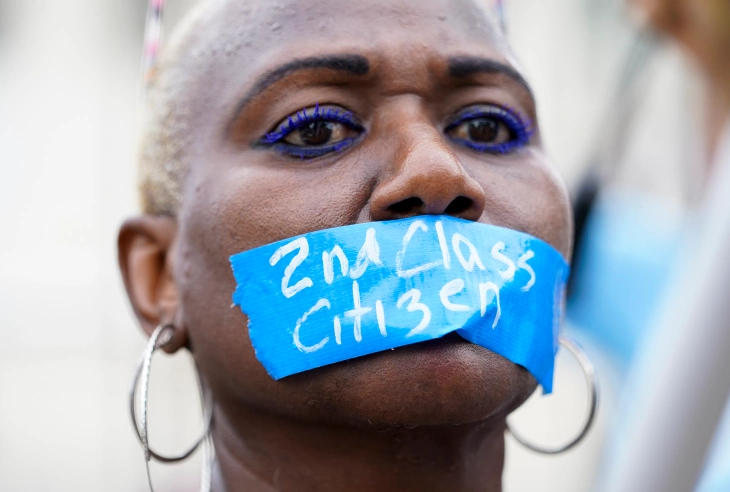 Furthermore, the majority opinion stated that the dissent did not provide any "serious discussion" of the states' interest in protecting the life of a fetus, while making clear that the Court's ruling "is not based on any view as to whether or when prenatal life is entitled to any of the rights enjoyed after birth."
The court discussed stare decisis – the concept of following established precedent.
However, he said, if the Supreme Court never overturned precedents, "American constitutional law as we know it would be unrecognizable.
Moreover, the Court asserted that Roe and Casey should be overruled for five reasons: "the nature of their error, the quality of their reasoning, the 'workability' of the rules they imposed on the country, their disruptive effect on other areas of the law, and the lack of concrete reliance."
Roe v. Wade abortion protections should be restored to federal law, according to Biden
As the Supreme Court overturned the landmark Roe v. Wade decision, President Biden urged Congress to codify abortion rights in federal law and restore Roe v. Wade's abortion protections. He urged protesters to remain peaceful and said, "violence is never acceptable."
President Obama condemned Friday the high court's ruling to overturn Roe v. Wade, which protected "a woman's right to choose" and "the right to make deeply personal decisions with her doctor without interference from politics."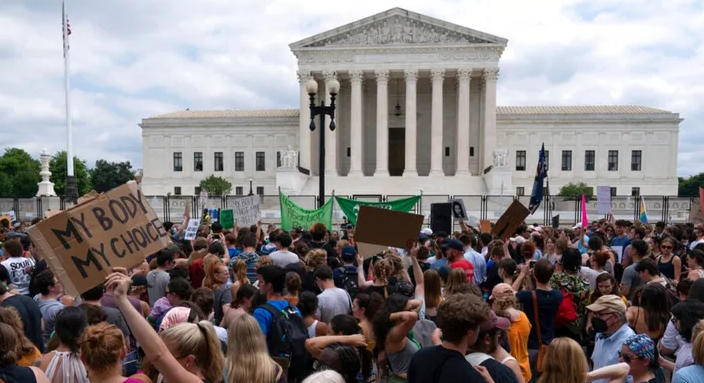 President Joe Biden condemns Supreme Court decision overturning nearly 50 years of abortion rights in the United States.
World leaders react to Roe ruling
A number of world leaders responded to the Supreme Court's abortion decision, with French President Emmanuel Macron expressing "solidarity with the women whose liberties are being undermined" by the ruling.
The Scottish leader said the ruling ushers in "one of the darkest days for women's rights" in her lifetime, noting that "the immediate consequences will be felt by women in the US – but it will embolden anti-abortion and anti-women forces everywhere.".
Bernie Sanders calls for Roe to be codified in law
According to Senator Bernie Sanders, the Senate filibuster should be abolished and abortion rights should be codified into federal law.
Filibusters allow legislators to keep debate on a measure open indefinitely, preventing it from coming to a vote. The minority party in the Senate now uses it routinely to block or slow down the majority party's agenda.
Sanders wrote on Twitter, "Democrats must now end the filibuster in the Senate, codify Roe v. Wade, and once again make abortion legal and safe."
Companies in the United States promise to help employees obtain abortions
A few large US corporations have stated they will support employees seeking abortions in states that ban the procedure or may ban it in the future.
Disney, Microsoft, and Meta – the company that owns Facebook – have confirmed that such assistance will include reimbursements or stipends for employees who need to travel out of state for medical treatment.
Legislators pledged to crack down on abortion travel to other states could complicate such processes. Meta said it is evaluating how it can assist employees who need to travel "given the legal complexities involved".
Netflix, on its part, said it would offer full-time employees and their dependents a $10,000 lifetime allowance to cover abortion-related travel expenses.
The Vatican praises the ruling of the US Supreme Court
Catholic Academy for Life has praised the US Supreme Court's decision on abortion, saying it challenges the world to reflect on life issues.
In a statement, the Vatican department said the defense of life cannot be restricted to individual rights because life has a "broad social significance".
A large country with a long democratic tradition changing its stance also challenges the whole world, the academy said.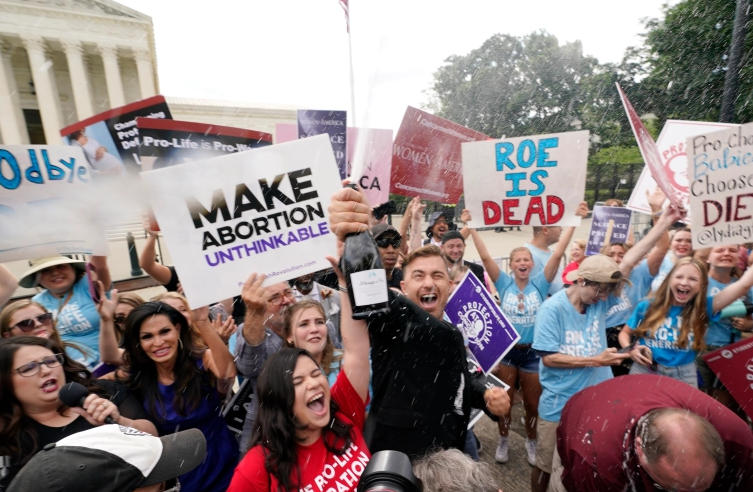 Canada's PM Trudeau criticizes the ruling
Justin Trudeau, the prime minister of Canada, has said that the US Supreme Court's ruling is "horrific" for women and that "no government, politician, or man should tell a woman what she can or cannot do with her body".
I want Canadian women to know that we will always stand up for their right to choose," he tweeted.
Trump: 'Something that will work out for everybody'
The Supreme Court's decision has been welcomed by former US President Donald Trump.
In an interview with Fox News Friday, he said: "This is following the Constitution, and giving back rights that had been long overdue." "I think this will work out in the end for everyone."
Trump nominated three of the six Supreme Court justices who voted to overturn Roe.
Appeals court decision 'especially dangerous' for religious minorities: Muslim Advocates
According to Muslim Advocates, a civil rights group in the US, the Supreme Court's decision is "particularly dangerous for those belonging to minority religions like Islam".
Although the court may not go far down this path, anti-Muslim government acts like the Muslim Ban and the adoption of anti-sharia legislation have shown that Muslims are particularly targeted by those motivated by paranoia and misrepresentation, the group said.
The results can be devastating to the civil and human rights of all Muslims in this country if that paranoia is coupled with state power.
Justice Department disagrees with US attorney general's decision
Deputy Attorney General Merrick Garland said the Department of Justice "strongly disagrees" with the Supreme Court's decision.
Despite the fact that Garland said the decision "deals a devastating blow to reproductive freedom in the United States," he also noted that the ruling "does not take away the right of states to keep abortion legal within their borders".
"We acknowledge that traveling to obtain reproductive care may not always be possible. However, women who live in states that have banned access to comprehensive reproductive care still have the right to seek that care in states where such care is legal. Further, under the First Amendment, individuals must remain free to learn about reproductive care available in other states and counsel each other about it," he said.
The radical Supreme Court threatens the rights of Americans: Pelosi
Nancy Pelosi, the Speaker of the US House of Representatives, has condemned the Supreme Court's decision, saying the health and safety of Americans were in danger.
The radical Supreme Court is eviscerating Americans' rights and endangering their health and safety this morning. Pelosi told reporters, "Congress will continue to combat extremism and protect the American people.".
"Today, the GOP-controlled Supreme Court accomplished their dark, extreme goal of taking away women's right to make their own reproductive health decisions."