waddling gait in pregnancy
One of the best and least dangerous exercises during pregnancy is walking, which benefits the baby and the mother. Walking plays an important role in the fitness of pregnant women and makes them experience a healthy pregnancy. With this useful exercise, you can experience the beauty of pregnancy and enjoy this sensitive and important period very much.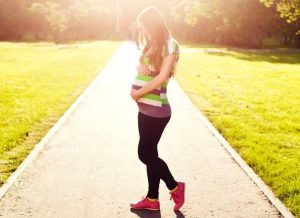 Benefits of walking during pregnancy:
Walking is a light and useful sport that has many benefits for babies and pregnant women. Unparalleled benefits of walking for pregnant women include:
Walking in Pregnancy and Pregnancy Fitness
Walking exercise during the critical period of pregnancy and maintaining fitness in the body's muscles is very useful for pregnant women worried about their weight during this period. Also, doing this exercise during pregnancy makes the limbs beautiful after childbirth.
Prevention of gestational diabetes
As we have said, walking promotes fitness during pregnancy. Walking during pregnancy can prevent gestational diabetes because diabetes is directly related to weight gain in pregnant women.
Reducing stress
Exercise is one of the ways to deal with stress at all stages of life. Stress is very common during pregnancy, partly due to hormonal changes but partly due to the negative thoughts of pregnant women and their worries, which are reduced by walking during pregnancy.
Increases the strength of natural pregnancy
Walking during pregnancy is the best way to exercise for those who have not exercised before this period. Walking during pregnancy reduces pregnant women's physical and mental problems, and by doing so, a normal pregnancy can be experienced during this period. Walking during pregnancy improves the body's resistance and improves the pain and difficulty of childbirth faster.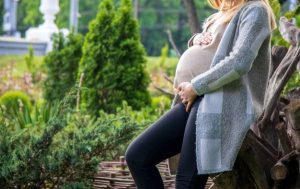 Reduces the risk of preterm birth
Walking during pregnancy balances a pregnant woman's weight and maintains balanced blood pressure during pregnancy, protecting pregnant women during preterm labor.
Having a healthy baby
If you want to give birth to a healthy baby, walking during pregnancy can be very useful because walking helps the weight of the mother and the fetus and protects the mother from various risks and diseases of pregnancy.
Increase the chance of a normal delivery
Doctors always advise pregnant women to walk to have a normal and safe delivery in the last months of pregnancy. Walking helps to flex the pelvic floor muscles, which ultimately leads to an easier labor.
What are the principles of walking during pregnancy?
Walking during pregnancy is also very beneficial for your body and soul. Enjoying the outdoors has a very positive effect on your psyche during pregnancy and also relaxes your walking.
But it would help if you had a serious plan for walking. Here are some good fitness tips, enhancing the effects of walking and improving health during pregnancy.
The most suitable position when walking during pregnancy
It is important to know that you should not walk on the street when bending in a stroller and bending your shoulders. This not only improves your health but also has a negative effect and causes your back pain. When walking during pregnancy, your posture should be perfectly straight and upright. Practice this at home by standing in front of a mirror.
Pull your shoulders back and put your abdomen in a comfortable position, and some women think that using a pregnancy belt is good for your body shape when walking. If you do not have a pregnancy belt, you can buy it at a maternity store or order it online.
Look forward as you walk.
When walking during pregnancy, do not focus on the ground with your eyes and look a few meters in front of your feet; this will prevent you from getting injured.
Do not run while walking during pregnancy and try to control your heart rate so that your heart rate is 140 beats per minute and only causes you to breathe and not be so fast that you can not speak.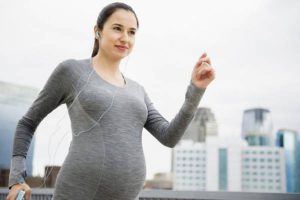 What should walking be like during the pregnancy months?
Tips for walking in the first trimester of pregnancy
 Do not change your normal walking habits too much.
 Choose the right walking shoes to be comfortable while walking and put less pressure on your feet.
 Do not walk in hot and humid weather as these weather conditions will cause you to overheat, and this factor can lead to disorders.
Tips for walking in the second trimester of pregnancy
 Avoid putting too much pressure on your back, depending on how you walk.
 Keep your head straight. Place your chin horizontally. Keep your hips just below your shoulders to prevent your back from bending and look straight ahead.
 Move your arms simultaneously as your body and walking rhythm maintain balance and increase walking speed.
Tips for walking in the third trimester of pregnancy
 Keep rehearsing it until you can say it with conviction and confidence.
 Avoid group walking or walking on rough terrain that could injure you and put you at risk of falling.