Nutrition
Nourishing Your Heart: Embrace the Power of Nuts, Seeds, and LSA
Discover the Heart-Healthy Benefits of Nuts and Seeds
In the pursuit of better cardiovascular health, health experts often recommend incorporating more nuts and seeds into your diet. These tiny powerhouses have been shown to reduce the risk of cardiovascular disease by an impressive 19%. Consuming pulses like nuts and seeds can effectively lower harmful blood lipids, including LDL cholesterol, which is a known risk factor for heart disease.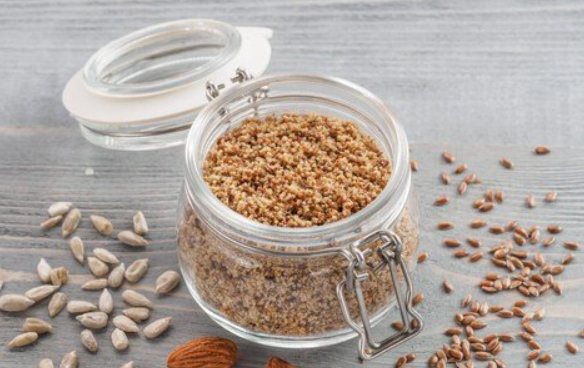 Introducing LSA: The Australian Superfood for Heart Health
The Aussies have long been ahead of the curve when it comes to innovative health foods, and one such gem is LSA – a blend of ground linseeds (flaxseeds), sunflower seeds, and almonds. Flaxseeds are abundant in alpha-Linolenic acid (ALA), a plant-based form of omega-3 fatty acids crucial for heart health. By grinding them, the nutrients become more readily available for our bodies to absorb. Sunflower seeds offer vitamin E and selenium, protecting against inflammation and heart disease, while almonds help reduce LDL cholesterol levels.
Delectable Homemade Seedy Oatcakes: A Heart-Healthy Snack
Ditch store-bought crackers, which may be low on seeds and high on processed ingredients, and embrace the goodness of homemade seedy oatcakes. Crafting your own is simple: mix 150g rolled oats, 150g oatmeal, 150g mixed seeds, salt, and pepper. Create a well in the center and add 75ml olive oil and 100ml boiling water. Stir quickly until it forms a firm dough, adding more boiling water if needed. Roll out the dough and cut out oatcakes using a 6cm cookie cutter. Bake them to perfection at 160C fan for 30 minutes, turning after 20 minutes.
Spice Up Your Meals with a Nutrient-Packed Seed Topper
If you have leftover seed packets in your cupboard, this is a fantastic way to put them to use, ensuring they're still within their best-before date. Avoid wastage by storing opened seed packets in airtight containers in a cool, dark place. They will stay fresh for a few months, but refrigeration can extend this to six months, and freezing can preserve them for up to a year.
Prepare a spicy seed topper to enhance your meals and boost your LSA intake. Toast 100g mixed seeds in a large frying pan until they slightly change color and pop. In a separate bowl, mix 1 tbsp olive oil with 1 tsp each of turmeric, coriander, cumin, and ½ tsp red chili flakes. Add the toasted seeds and mix well. Season to taste, and sprinkle this nutrient-packed blend over eggs, salads, soups, and veggie side dishes.