During pregnancy, the circulatory system expands to support the developing fetus, and the body produces more blood. These changes in the body system can lead to nosebleeds, also called epistaxis.
If you have nosebleeds during this period, do not miss reading more because the cause of nosebleeds, when to see a doctor, and how to prevent it are mentioned.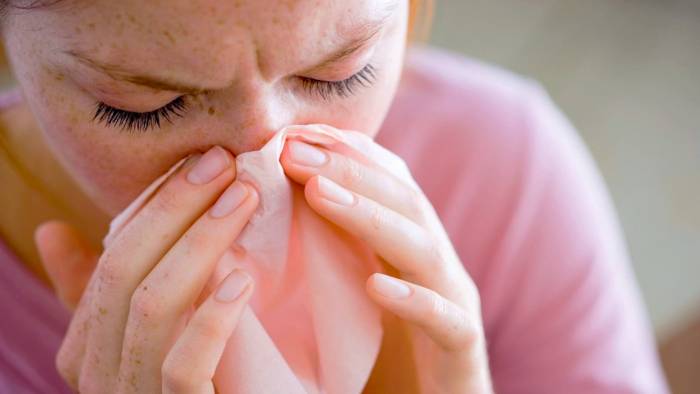 Are nosebleeds common during pregnancy?
Yes, nosebleeds are common during pregnancy and can be from one or both noses. Bleeding from the nose usually begins in the 16th week of pregnancy and often lasts until the end of pregnancy. Sometimes nosebleeds get worse as the pregnancy progresses.
Does bleeding from the mother's nose affect the fetus?
Although nosebleeds are unpleasant, they do not harm the mother or baby. Only frequent bleeding, especially in the last trimester, should be considered. Research shows that frequent nosebleeds may increase postpartum hemorrhage, so if you have severe nosebleeds in the previous trimester, your obstetrician or gynecologist may recommend that you have a cesarean section.
What causes nosebleeds during pregnancy?
During pregnancy, blood flow to the body's mucous membranes, including the nose, increases and causes them to swell and soften; breathing and sneezing can cause nosebleeds.
Taking antihistamines and anticonvulsants, which are prescribed for allergies, colds, or sinus problems, can dry out the nasal membrane and cause an itchy nose and disrupt the nasal membrane, and rupture blood vessels. Causes nosebleeds.
Colds or infections: Severe colds or nasal or sinus infections can dry out the nasal mucosa and easily rupture blood vessels. Therefore, irritation from a cold or disease can cause nosebleeds.
4- Dry air: Due to bad air or proper ventilation of the room, air cabin, and other dry areas, nosebleeds' risk increases.
How to stop nosebleeds during pregnancy?
Sit and lean against the wall. The head should be at a level above the heart.
Using your thumb and index finger, hold the soft, lower part of the nose just above the nostrils.
Breathe through your mouth and press your nostrils for about 10 to 15 minutes. This causes blood to come out of the nose instead of the throat.
4 – Now sit or stand to reduce blood flow to the nasal cavities and prevent further bleeding.
Place an ice pack or package of frozen vegetables on the bridge of the nose.
Do not bend your head or lie down, as this can lead to nausea.
If the bleeding does not stop 15 minutes after using the ice pack, continue again for another 10 to 15 minutes.
To prevent nosebleeds in the next 24 hours:
Do not sleep with the arch open
Avoid manipulating the nose
Avoid lifting heavy objects
Avoid strenuous exercise
Avoid hot drinks as blood vessels in the nose may thin.
Although nosebleeds are a harmless condition, in some cases, medical urgency may be needed.
When should I see a doctor?
In some cases, nosebleeds can sign an underlying condition and should be diagnosed by a doctor. Some of these conditions are:
Persistent chest discomfort or heavy breathing with nosebleeds
The nose begins to bleed after a small blow
Bleeding from the nose is accompanied by numbness, drooping of the face, or a tingling sensation in the limbs, which may sign a stroke.
In case of loss of consciousness
Nasal bleeding may be accompanied by fatigue, confusion, or distraction
Severe nosebleeds that do not stop even after 30 minutes
Blood does not clot and can stop bleeding.
The doctor will review the case and recommend treatment if necessary.
What is the treatment for nosebleeds?
Depending on the severity of the bleeding, treatment for nosebleeds may include:
Wound warming is sometimes done to close the bleeding point. Silver nitrate is used at the end of blood vessels to prevent bleeding. If the bleeding is severe, the site is completed using an electric current.
A minor operation is required in severe cases, including closing the blood vessels and stopping the bleeding. During surgery, local anesthesia is injected to numb the area under surgery.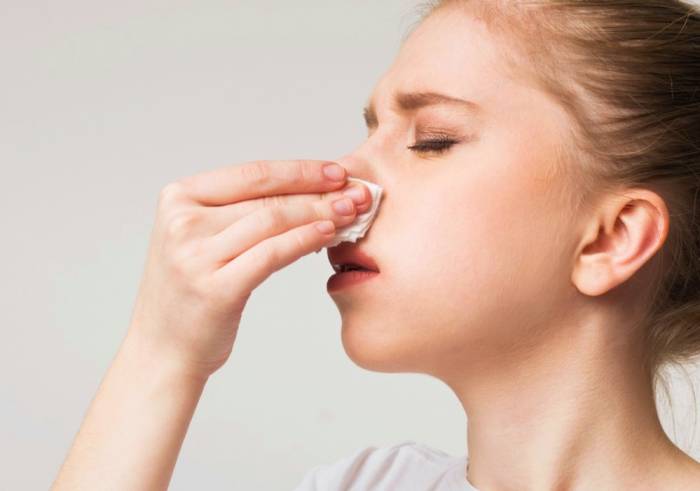 Drink plenty of fluids to keep the mucous membrane moist.
Avoid any anticonvulsant medication or spray that dries the nasal membrane.
Gently remove blood clots from your nose.
Use a humidifier at home, especially in winter or if you live in dry weather.
Avoid environmental irritants such as smoke, perfume, and chemicals that irritate the nasal passages.
When sneezing, open your mouth to reduce the pressure on your nose. This distributes the sneezing pressure and minimizes the risk of bleeding.
Use mild lubricants to moisturize the nasal membrane. Oil jellies, drops of salt water, or other gentle nasal sprays can also be effective. Coconut oil is also a good lubricant.
If you have been prescribed an anticonvulsant or nasal spray, take it as directed because too much can dry out and irritate the nose.
Some frequently asked questions about nosebleeds:
Do nosebleeds cause anemia during pregnancy?
Yes, recurrent nosebleeds can lower hemoglobin levels in the body and cause maternal anemia.
Is there a link between nosebleeds and high blood pressure during pregnancy?
Yes, progesterone and estrogen (pregnancy hormones) can dilate blood vessels and increase blood pressure. This increase in force on the narrow and sensitive arteries of the nostrils leads to nosebleeds.
What is the relationship between nose and headache during pregnancy?
Hormonal changes during pregnancy can destroy blood vessels and increase blood volume in the nasal passages and brain. Therefore, increased blood circulation causes nosebleeds and headaches in some women.
Can nosebleeds during pregnancy predict gender?
Not. It is a fictional myth that nosebleeds indicate the existence of a boy.
Pregnancy causes several changes in the body system, including nosebleeds in some women. Do not worry about nosebleeds because they are usually not necessary. On the other hand, worry can increase stress and anxiety, which is harmful and harmful to the mother and fetus.
Do not let any worries overshadow the pleasure of pregnancy, but if in doubt, talk to your doctor, and you will need help understanding how to prevent nosebleeds.