News
At least 14 missiles were fired by Russia at Kiev
As reported by the Associated Press, two rocket-propelled grenades damaged two residential buildings and injured five others.
It is the first air strike by Russian forces on Kiev since June 6th.
Vitali Klitschko, the Kiev mayor who visited the blast site, said the Russian missile strike was intended to intimidate Ukrainians ahead of the NATO summit. The NATO summit is scheduled to take place in Madrid from June 28-30.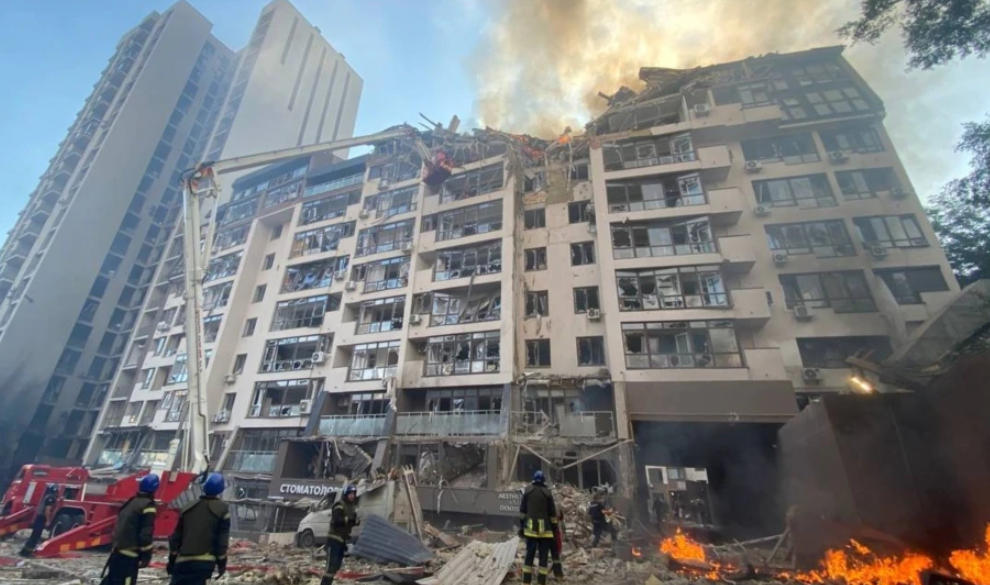 The attack occurs at a time when Russian forces are occupying the last parts of the Luhansk region in eastern Ukraine. After they seized control of the ruins of the city of Sivorodonetsk and its chemical plant, where thousands of Ukrainian soldiers and civilians sought refuge, the Russian advance in the region accelerated.
A Ukrainian official confirmed on Friday, July 25, that the order to withdraw Ukrainian troops from Sivorodontsk had been issued after weeks of fighting and opposition from Ukrainian forces.
For Russia, the success of taking control of Sivorodontsk, the last remaining Ukrainian part of the Luhansk region, is a key issue.
Besides the east, Russia has been firing dozens of missiles across Ukraine since Saturday.
Some of these missiles were fired from Russian long-range bombers based in Belarus, according to the Ukrainian Air Force Command.
A bomber struck shortly after a meeting between Russian President Vladimir Putin and Belarusian President Alexander Lukashenko on Saturday.
Putin said he intended to give Belarus the Alexander-M missile system during the meeting.
Reuters reports that the missile system will replace Soviet-era Scud missiles. The system consists of two guided missiles with a range of up to 500 km that can carry conventional or nuclear warheads.
On Saturday, the governor of Luhansk province confirmed the news of Sivirodontsk and said that Russian forces were seeking to take Lysichansk.
In eastern Ukraine, Sivirodontsk and Lysichansk are the focal points of the Russian offensive aimed at occupying the predominantly Russian-speaking Donbas region. With the capture of Lisichansk, Russian forces now control all major parts of the region.