Hair highlight vote does not require harmful chemicals or high costs. You can quickly achieve your hair's desired color with a few simple and effective natural methods at home.
How to highlight our hair at home with natural ingredients:
There is a natural lightening process whether you have dark, brown, blonde, or red hair. Sitting in the sun is an easy and effective way to lighten your hair, but if you want to lengthen the process, there are other natural ways to increase your hair's golden color.
1 – Highlight hair using lemon juice: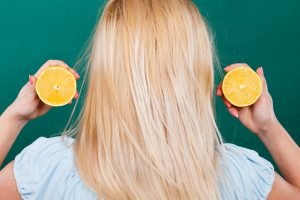 The first method:
Cut the sour lemon in half, pour it into a bowl with the juice or by hand. Drink as much lemon juice as possible, especially if you have long hair.
You can also add some cinnamon and emollient to lighten it. (Do You Know The Benefits Of Cinnamon?)
Make sure you do not put lemon seeds in it, as it will clog the spray bottle.
Avoid using sour lemon bottles because it contains preservatives that are not good for hair.
The exact amount of lemon will vary depending on how long the hair is.
The second method :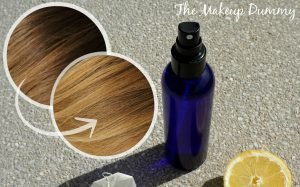 Mix lemon juice with water in a spray bottle. You should use two parts of lemon juice and one part water. Measure the lemon juice and then add the right amount of water. For example, two cups of lemon juice need one cup of water. Shake the spray bottle to mix the lemon juice and water.
If you use an old spray bottle, make sure it is thoroughly rinsed before pouring the lemon juice. Avoid using bottles containing toxic chemicals.
Third method:
Spray your hair with a mixture of sour lemon. Focus on the areas you want to lighten, whether all hair, ends or highlights. You can cover all your hair or a few strands of hair, depending on what you are trying to achieve.
If you want a better result, dip the cotton ball in the lemon juice mixture and rub it on the hair strands you want to highlight.
The more lemon juice is rubbed on the hair, the brighter it will be.
Sit in the sun several times; lemon juice is used with the sun to lighten the hair. Try to sit in the sun about three or four times a day. Each session should be between one and two hours. Be sure to protect your face and body with sunscreen and clothing when sitting in direct sunlight.
The fourth method:
Wash your hair and apply conditioner. Rinse the lemon juice mixture entirely from your hair. Then wash it and apply emollient. Lemon juice dries the hair, so a great conditioner is essential. You can see the highlights when your hair is dry.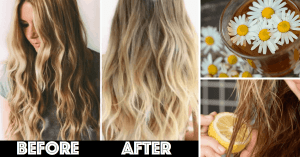 Boil a cup of chamomile tea. Use dried chamomile flowers or 3 to 4 chamomile tea bags to make a full teapot. Allow cooling when boiling. It should not be so hot that it burns the hand because you want to put it on the head.
Wash your hair with hot tea. If you want to lighten your hair, stand up and pour tea on your hair. Also, apply chamomile tea to the hair strands you want to highlight.
Sit in the sun and let it react with tea. Let the tea dry in the hair by sitting in the sun. There is no exact time to sit down, although the longer it is, the better.
Wash your hair and apply conditioner. Wash the tea from the hair. Then wash it with moisturizing and emollient products. When your hair is dry, you will see soft light and some highlights.
Repeat this process. It is unlikely that you will not see impressive results with chamomile tea. It usually lightens the hair gradually. You may need to try this method for several days in a row to get the results you want.
3 – Natural hair highlighting using honey: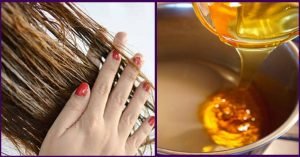 Pour honey and water into a bowl. Honey has natural amounts of hydrogen peroxide, so it is an excellent tool for lightening hair. Add a tablespoon of raw honey to a bowl with a cup of water.
Apply the mixture to the hair. Decide whether you want to lighten all the hair or just a few strands of hair you can apply a mixture of honey or water all over the head or just a few strands of the mixture. It is easier to use a brush to color the strands.
Leave the mixture on the hair overnight. Put on a bathing cap. Leave the mixture overnight to lighten the hair. If you do not want to let it stay overnight, you can let it stay for 30 to 60 minutes.
Shampoo and conditioner. Wash the honey thoroughly. It takes a little effort because honey is sticky. When dry, the color should be lighter. Repeat this process for even better results.
4 – Highlight hair using henna: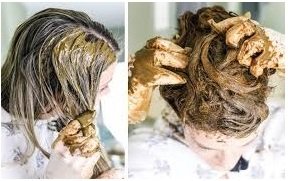 Make sure henna is the right choice. Henna usually turns reddish-brown. If your hair is naturally very dark, it will most likely be lighter than the standard color. However, if your hair is naturally light, henna may darken it. Use henna for darker hair if you want it to have a little redness.
Make henna paste; You should prepare the paste 12 hours before you want to dye your hair—mix three tablespoons of henna powder with enough boiling water to make a firm paste. You can use a spoon or something similar. Place the mixture in a cool place.
Henna stains clothes and body, so wear an old long-sleeved shirt and gloves for protection. To avoid staining these areas with henna, apply the cream on the neck to avoid staining them with henna.
Massage your hair with henna. Wear gloves when using henna. Either cover your whole head with henna or rub the strands you want to lighten. As much as possible, cover the henna on your head with a plastic shower cap.

Let the mixture stand for two or three hours. After two or three hours, remove the shower cap and apply the conditioner to the hair—Wash henna and conditioner before shampooing.