News
18 people were killed by a Russian missile strike on a shopping mall in Ukraine
Russia's missile attack on a crowded shopping center in Kremenchuk has left at least 18 dead and 59 injured, officials say.
Volodymyr Zelenskyy has called the attack "one of the most defiant terrorist attacks in European history," adding that Russia has the most terrorists in the world.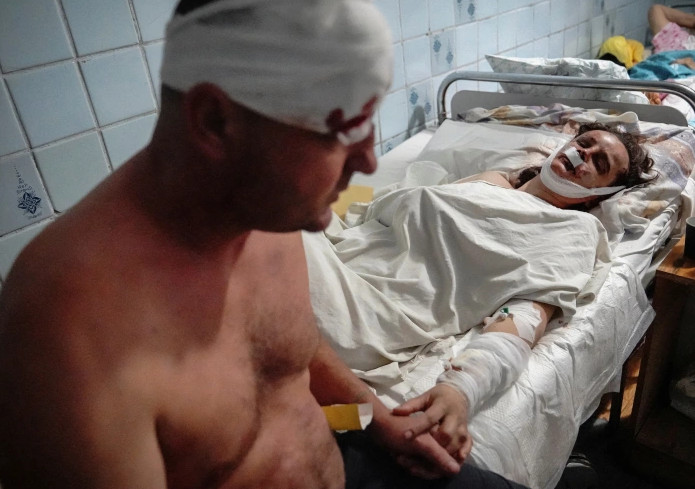 The attack has been condemned as "sickening," "cruel," and "horrendous," and Western leaders have vowed to hold Russia accountable.
Tuesday, the UN Security Council will hold an emergency meeting on Russia's targeting of civilians, with the Kremenchuk attack as the "main focus", the UN body reports.
According to TASS, Russian forces and separatists now control part of an oil refinery in Lysychansk.
Ukraine says more than 40 are missing in the Kremenchuk attack.
More than 40 people have been reported missing after a missile strike on a shopping mall in Kremenchuk, Ukraine's prosecutor general has said.
As firefighters and soldiers searched for survivors in the rubble, families of the missing gathered at the hotel across the street, where rescue workers had set up a base.
Zelenskyy: Russia has the largest terrorist organization in the world
Zelenskyy has called the Russian attack on a shopping mall in Kremenchuk, Ukraine, "one of the most defiant terrorist attacks in European history."
"Only insane terrorists could fire missiles at such a target," he said, adding that the attack was not "off-target" but "calculated".
He has urged the United States to recognize Russia as a "state sponsor of terrorism," a measure approved by the US Senate's Foreign Relations Committee on Friday.
"The Russian state has become the world's largest terrorist organization," he added. This is a fact. There is no doubt about it. It must be known that buying or transporting Russian oil, maintaining contact with Russian banks, paying taxes and customs duties to the Russian state is giving money to terrorists," Zelenskyy said.